In 2005, John Grogan turned some columns he wrote for the Philadelphia Inquirer about his deceased Labrador into the hugely successful best seller Marley and Me. The book was so profitable that its publisher, HarperCollins, hired Grogan to produce several more Marley books while he continued to write his three-times-a-week metro column. But Grogan became disenchanted with the Inquirer after its new owner, Philadelphia Media Holdings, fired many of his colleagues, and in February Grogan wrote his last Inquirer column ("Coming Home and Moving On").
Grogan left the Inquirer, but he left behind some assets—the hundreds of columns he wrote during his four years there, on which the Inquirer still owned copyright. So Brian Tierney, the paper's chief executive officer, cut a deal with Vanguard Press to publish a Grogan collection … without telling Grogan. Tierney then offered Grogan a percentage of the sales if he would endorse the book. Grogan refused. "I was totally blindsided," he told Publishers Weekly, infuriated that the Inquirer would help itself to "a piece of this very large audience I have with Marley & Me."
Far from endorsing the book, Grogan is noisily distancing himself from it. In a June 8 letter to booksellers (see below), Grogan's agent, Laurie Abkemeier wrote that Grogan refuses to "grant interviews, approve the use of photos, or make appearances" in support of the collection. Vanguard, meanwhile, is planning a first run of 150,000 copies.  Bad Dogs Have More Fun: And Other Tales of Animals, Life, and Familyis due out in September. Want to do the author a favor? Don't buy it.
Got a Hot Document? Send it to documents@slate.com. Please indicate whether you wish to remain anonymous.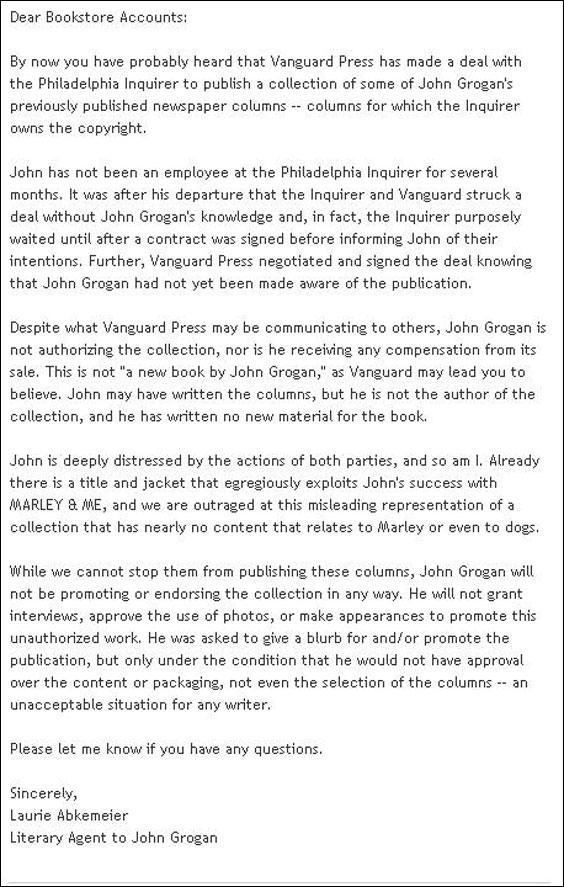 ---