On May 31, Valerie Plame and Simon & Schuster filed a federal lawsuit against Michael Hayden, director of the Central Intelligence Agency, and J. Michael McConnell, director of national intelligence, demanding that Plame be permitted to include the dates of her CIA service—Nov. 9, 1985, to Jan. 9, 2006—in her forthcoming memoir, Fair Game: How A Top CIA Agent Was Betrayed By Her Own Government. The complaint is excerpted below and on the following 11 pages (for the complete document, click here). Plame's lawyers point out that since these dates were previously made public in the Congressional Record and elsewhere, the CIA's effort to prevent her from writing them effectively makes "Valerie Plame … the only person in the world who is not entitled to publish this information" (page 9).
Plame quit her CIA job in January 2006. With no other employment lined up, Plame sought to collect her government pension. The chief of "retirement and insurance services" at the CIA replied with a letter verifying her dates of service (again: Nov. 9, 1985, to Jan. 9, 2006) but advised Plame (then 42) that she could not collect her "deferred annuity" until she reached age 56. Plame subsequently sold her book to Simon & Schuster for a reported $2.5 million, and the movie rights  to her life story to Warner Bros. for an undisclosed sum. She also signed up with the Greater Talent Network Speaker's Bureau.
The White House regards Plame and her husband, former Ambassador Joe Wilson, as ideological foes. Consequently, the Republican congressional majority had little interest in helping Plame out. But after the Democrats took over in 2007, they were only too glad to assist. On January 16, Rep. Jay Inslee, D.-Wash., introduced the "Valerie Plame Wilson Compensation Act,"  which, if passed, will allow Plame early redemption of her retirement benefits (approximately $1,800 per month). In introducing his bill, Inslee read into the Congressional Record Plame's 2006 annuity letter from the CIA, including the forbidden dates of her employment (i.e., Nov. 9, 1985, to Jan. 9, 2006). Inslee withheld only the name of the person who wrote the letter.
CIA regulations and secrecy agreements require that Plame's manuscript be reviewed and approved before publication. Plame "diligently worked" with the CIA Publication Review Board for "more than 10 months" to comply (page 3). The two sides reached an impasse over a single item (page 11): the contents of that January 2006 unclassified annuity letter stating Plame's "exact dates of service" as Nov. 9, 1985, to Jan. 9, 2006. The CIA is now attempting to "reclassify" (page 12) portions of the widely disseminated correspondence referring to her covert service. It is asking her to return the letter and all copies in her possession (page 10), and it demands that she "redact or fictionalize [!]" (page 8) this information in her book. How the CIA plans to confiscate the Congressional Record of Jan. 16, 2007 (not to mention just about every news story that's been written about this dispute) is anybody's guess.
Got a Hot Document? Send it to documents@slate.com. Please indicate whether you wish to remain anonymous.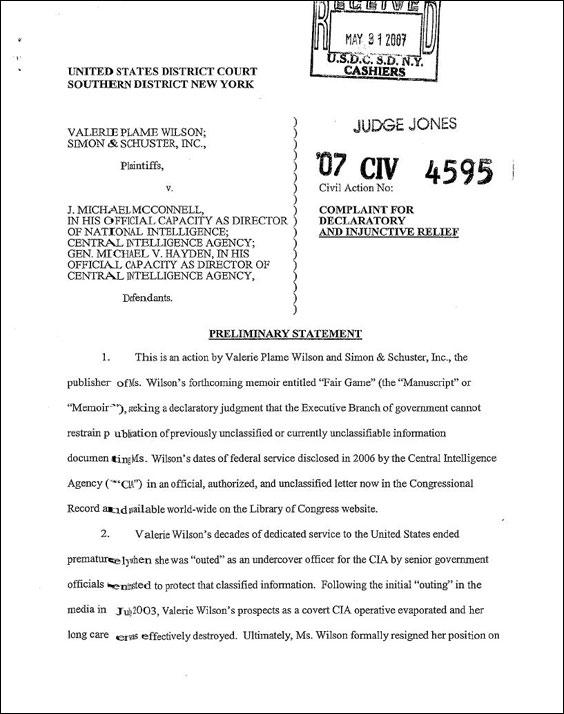 ---