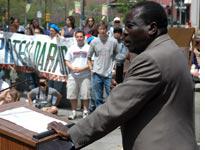 PHILADELPHIA—On Sunday, April 29, as part of the Save Darfur Coalition's Global Days for Darfur, a few hundred people in Philadelphia marched eastward on Market Street from City Hall to the National Constitution Center. Oncoming traffic slowed to observe the human mass, which radiated drumbeats, a ship of noise floating down a concrete canyon. The drummers, African-American teenagers from the Mount Airy Church of God in Christ, followed the leaders, quaking the pavement with their rhythms and trailing a hodgepodge of Americans, Darfurians, and Sudanese.
Two hours earlier, it was unclear if the event, organized primarily by a local grass-roots organization called the Darfur Alert Coalition, would be successful. Volunteers scurried to punch holes in the banners that kept tipping in the wind, while a Darfurian pharmacist named Badawi Osman observed the absence of his countrymen and worried half-jokingly that they might not show. "I'm going to be the only Darfurian," sighed Badawi, noting his compatriots' tendency toward lateness. Fortunately, dozens more arrived, greeting each other with pats on their right shoulders and handshakes.
They embedded themselves in the burgeoning crowd, which listened to various speakers for an hour before beginning the march. I walked in the company of Ahmed Elmardi, an abstract painter originally from Darfur's neighboring province, Kordufan. He had fled Sudan 17 years earlier, after its new Islamist government detained and tortured him for a month, part of its campaign to purge the University of Khartoum of progressive faculty members. After his release, Ahmed received a Fulbright scholarship to study fine arts at the University of Pennsylvania, and he has remained in Philadelphia ever since.
Although Ahmed is not Darfurian, his degree of accomplishment is characteristic of the Philadelphia community, which represents a highly educated and cosmopolitan minority of Darfur's predominately rural population. Nearly all its members have college degrees; still, in Philadelphia, they are often underemployed. "Eight and a half years, no practice," a Darfurian named Dr. Ibrahim Imam once said as he sat on my living room sofa. He had parked the taxicab he drives for a living outside. Different medical-licensing procedures between the United States and the rest of the world prevent him from practicing here until he passes the U.S. Medical Licensing Exam, which he hopes to take once he accumulates the necessary time and money. When I asked if he missed practicing medicine, he said: "Yeah. That's one of the problems, you see?" With his thumb and forefinger he pulled at the gray hairs of his beard. "I'm now 46 years old. Now, nobody believe me I am 46. Like 56, right? Because I'm thinking of what's going on in Darfur. And is the other thing is I'm medical doctor and I'm not working as a medical doctor. This is one of my problems, all times, day and night."
Like Dr. Imam, a large number of Philadelphia's Darfurians are former physicians who have moved here to be near the headquarters of the USMLE. Salah Hassan recently passed the first stage of the exam, after the completion of which he will apply for a residency. He practiced medicine in Geneina, a city in western Darfur, before warfare between local Arabic and African tribes drove him into Chad in 1999, the year that he claims is the start of the genocide that is commonly reported to have begun in 2003. Salah entered Chad without documents, and so he came to the United States with a Chadian passport, which for four years hindered his efforts to prove he was Sudanese so he could receive political asylum.
On Market Street, Salah marched alongside a few friends. When the crowd reached the Constitution Center's lawn, it organized itself into an informal circle, whose center served as a stage. One speaker was a young man who had stood out all afternoon because of his height and the peculiarity of clothing—a shirt and pants sewn from the same soft white fabric. He was Peter Ajak, a 23-year-old student at LaSalle University and one of the Lost Boys of Sudan. In 1989, he walked for one and a half months to Ethiopia, fleeing Sudan's brutal civil war with its Christian South. In 1991, Ethiopia expelled the Lost Boys, so Peter walked for another two months back to Sudan, which still blazed with civil war. Seeking safety, he walked for three more months to Kenya, where he was finally accepted as a refugee. Along these walks, Peter lost companions to many dangers: government aircraft and troops; violent, unsympathetic villagers; thirst and starvation; and wild animals, which, Peter said, "would prey on people."
When he experienced this trauma, Peter was younger than most of the Darfurian children who flitted about the Constitution Center's dandelion-pocked lawn. The girls were dressed in bubble-gum pink, their faces shadowed beneath the oversized blue "UN Peacekeepers Now" caps that fell over their ears. One of these girls was Sahar Dinar, an exceptionally pretty eighth-grader who left Darfur when she was 4. "When I was little," Sahar said, "it was very, very different. The place was green, you could stay up as long as you want to. But now you feel like a prisoner in your own home. You fear if you step outside your home you might be shot, killed, or raped."
As Sahar played, her mother socialized with the other Darfurian women, some of whom sat on chairs in a gravel pit beside the AV tent. They seemed exhausted, perhaps from supervising their children, but they welcomed my company. Ishraga Dousa, smiling as she spoke, told me she was from western Darfur, then apologized and said she meant Darfur was in western Sudan but that she was from northern Darfur. "We want to talk, but our language is not good, so we cannot do anything," she said. "Our people are suffering so much." Then she told me that she, too, had once been a doctor, first in Sudan and then in Saudi Arabia. She was joined by Mona Yousif, who had covered her nice outfit—a brown sequined blouse, a white floral headscarf—in the day's regalia, a blue "UN Peacekeepers Now" hat and a "Drumbeat for Darfur" T-shirt. Leaning forward toward my notepad, Mona summarized her work as a newspaper deliverywoman thusly: "I drive the paper and throw it."
Most of Philadelphia's Darfurians work extra hours and jobs to support their relatives. Back in Darfur, Badawi's father used to drive a truck, "but that was taken by Janjaweed," and he is now reliant on his son for a few hundred dollars each month. When I asked Ibrahim Hamid if he supported his family in Darfur, he swung his head emphatically to the right and said, "Definitely," before parting his mouth into its familiar mustache-flexing smile. Mahdi Baherdin came to the United States to be a student. "But I didn't know," he said. "I never try to go to school back because I just work hard." During the week, he aids a mentally disabled high-school student, and on weekends he works 12-hour days at a second job so he can help his family.
The night before the rally, Tigani Abu Algasim had driven his taxicab until 3 a.m. Still, he and other Darfurians showed up—a sizable chunk of a population whose exact number is unknown but which nobody estimates at more than a few hundred. As I circulated among them, a writer from a local paper noticed that we both wore "Drumbeat for Darfur" T-shirts and said he was glad that he was not the only one who hadn't remained objective. As the drumbeats dissipated, the circle unraveled and people began heading home. The Darfurians looked happy to be united for a few hours on a quiet Sunday with a city that on the following day would resume its routines. Across an ocean, their genocide endures.
---