In December 2005, two undergraduate women at Virginia Tech complained about inappropriate messages they'd received from fellow student Cho Seung-Hui. A licensed social worker, Kathy Godbey, assessed Cho's behavior and petitioned a Virginia magistrate for Cho's "involuntary admission" to a mental-health facility (see below). The magistrate found  "probable cause" to believe the young man was "mentally ill and in need of hospitalization" and issued a temporary detention order.
Cho was taken to the  Carilion Saint Albans Behavioral Health facility in New River Valley, Va. Using the four-page involuntary admission form provided by Virginia's Department of Mental Health, Mental Retardation and Substance Abuse Services, psychologist Roy Crouse observed that, although the patient's affect was "flat" and his mood "depressed," he "denie[d] suicidal ideations" (see Page 3). Crouse (a Ph.D., though not a physician as state law requires) wrote that Cho did not "acknowledge symptoms of a thought disorder." Cho's "insight and judgment [were] normal." Also noted in the exam: Cho had no previous psychiatric care and was not on medication.
The patient exercised his right to counsel by court-appointed attorney Terry W. Teel  (see Page 2), and his case was considered and decided by Special Justice and Guardian Ad Litem Paul M. Barnett. Justice Barnett found that although Cho presented "an imminent danger to himself as a result of mental illness," there were suitable "alternatives to involuntary hospitalization" available. Cho was ordered instead to get outpatient treatments (see Page 5). No record has been found to confirm whether Cho, who killed 32 people and himself  on April 16, ever sought or received the court-ordered treatment.
Got a Hot Document? Send it to documents@slate.com. Please indicate whether you wish to remain anonymous.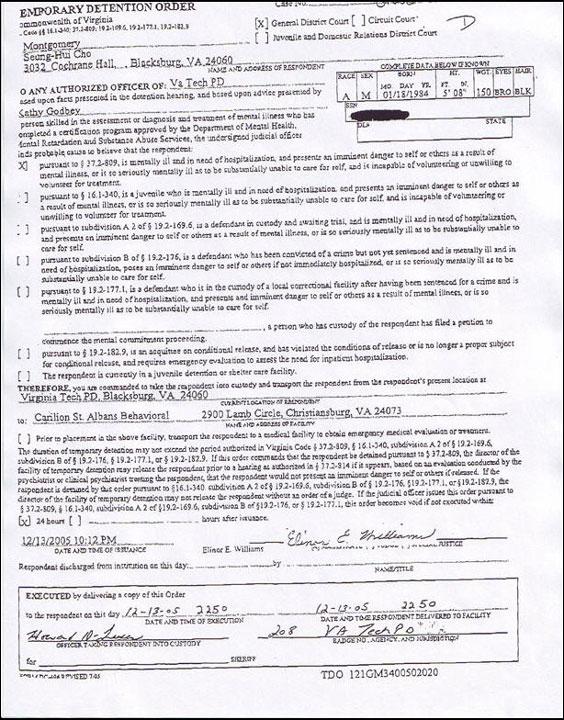 ---