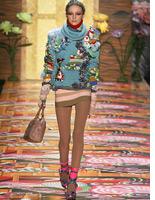 "When they said there was going to be a cocktail reception, I thought it would be around 7," a young jewelry designer said at a strange little gathering this afternoon for Fashion Week's official accessories exhibit. "Well, you know." It was fairly late in the party—around 3:30 p.m.—so things were getting out of hand. A photographer had actually hustled a cater-waiter bearing white wine (a jejune Riesling) into a photo op, chanting anxiously, "This is the shot. This is the shot." Another man passed some canapés that rather too closely resembled open-faced tuna-fish sandwiches. The editor of the luxury magazine of the Asbury Park Press was in full and glorious schmooze.
The venue was the lobby of Fashion Week's Bryant Park tent city, through which every attendee will pass this week, some of them eight times a day. One loves how the lobby's multibranded tackiness gives the whole game away. This is now Mercedes-Benz Fashion Week, so German cars flank the main entrance. DHL sponsors a "pickup" center that serves coffee. Chambord sponsors the coat check. MAC Cosmetics sponsors what appears to be a spot where sleep-derived journalists do stuff in Photoshop and mutter to themselves. There's an open bar that serves only drinks with dumb names. Such are the classier efforts.
The accessories exhibit, following in this vein, showcases jewelry, shoes, sunglasses, and purses. There were items to appeal to consumers of many levels of income and taste; some things actually were quite cheap, others just looked it. Two-hundred-dollar bags that looked like $400 bags. Peep-toe pumps designed for Payless. Seven-hundred dollar Timexes. Also, for some reason, vodka.
It wouldn't have been a proper sales pitch without a celebrity attraction. This took the form of Rachel Zoe, the celebrity stylist implicated in how Lindsay Lohan dresses and, now, handbag designer, and Alek Wek, the Sudanese model and, now, handbag designer. When the two posed for pictures, Zoe faintly curled her upper lip in a way that suggested she'd also taught La Lohan how to sneer. When asked about the rash of starlets and socialites who launch their own lines of bags because it's the chic thing to do, Wek, a trained painter and an earnest woman, wouldn't take the bait: "I hope they're happy with what they're doing." The waiter never did make it into the shot with those two. He was passing German wine, or at least so said his T-shirt.
---