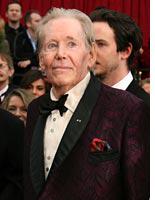 Dear Dana, dear Kim:
Provincial, check. Sedate, you got it. I'd be tempted to go so far as snoozy, but there were enough moments to get the blood flowing: Beyoncé was fierce, as was Seinfeld. Who couldn't love the plum-flavored relish Mirren brought to the "glorious" in … Make Benefit Glorious Nation of Kazakhstan? And the crowd I watched the Oscars with much enjoyed the Pilobolus act—especially the pet pug in attendance, which would reliably snort over to the TV and paw at the set.
Other innovations were less successful. Why show off the nominees for costume design in those corny tableaux vivants? Does the fault lie with the casting director or the cinematographer for making the people modeling the Dreamgirls togs look like drag queens? Why did we have to wait so long for the first acting prize? And why did Alan Arkin, accepting it, perform at a level scarcely satisfactory at a middle-school graduation ceremony? (One also recoiled a bit at the shot of Arkin's Oscar, which, like a Dreamgirls sound mixer before him, he set to rest on the floor. It provided a frisson of sacrilege while enduring his delivery.) The first half of the broadcast was unforgivably slow. Melissa Etheridge spoke for many of us when performing her Oscar-winning song in the very calm wake of James Taylor's number: "I need to wake up now."
I hope that no one holds it against DeGeneres, who, after her tentative first few lines, emerged as an ideal host. Aiming her barbs at the business of show rather than at any of the particular knights, maidens, and ogres in the woods of Holly, she was sly and relaxed and quietly unpredictable, with some underminer style and a resounding zing of Misanthropy Lite. Admire the polish on her line about sitting at home with "half a box of Chardonnay." Check out the cozy loathing in her introduction of Little Miss Breslin and Young Master Smith: "People say that children are our future, but this year we've seen that they're also our competition." Wonder all week long at the rich subtext of her joke that, with this year's many nominees from overseas, it was mostly the seat-fillers who represented the U.S.A. in the audience: "No one can fill a seat like an American, huh?" The academy ought to give her a five-year deal.
The pity-the-clown routine was very fine, agreed. Reilly, crooning about being involved with "Boogie and Talladega Nights," is an early contender for the Zeugma of the Year Award. The look on Peter O'Toole's face as Jack Black talked smack about him—a grin of genial obliviousness—was priceless. Indeed, the director did fine work capturing O'Toole last night—his avuncular smile for Jennifer Hudson, his low simmer when Reese Witherspoon did not read his name. He had wanted it bad, and you could see him summoning his composure.
We could have used more Clooney. Instead, we got Al Gore, who gave perhaps his loosest performance in a decade. A question about etiquette and craft: After the joke about the orchestra playing him off as he was about to announce his candidacy, could the orchestra have, in fact, played him off if his acceptance speech went on too long?
So, perhaps I jumped the gun in suggesting that the Academy Awards have gotten perilously desperate—but the Oscars are definitely shifting shape, no? The modern dance, the postmodern comedy, the way DeGeneres turned ceremony itself into something of a running joke—it felt contemporary, which is saying something. And there was philosophical Whitaker and bouncing Scorsese to put a lump in the throat and keep hope alive.
I'd say more, but as you know from Nancy Meyers' writers-on-film montage—which went heavy on Woody Allen tsuris, Stephen King misery, and N. Kidman-as-V. Woolf getting set to head down to the river—writing is awful.
Until next year,
Troy
---