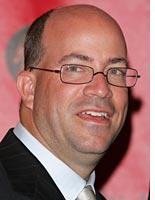 Jeff Zucker may not be the most loved executive in the television business, but over his spectacular 15-year career, he has earned a place among the least-objectionable. On Feb. 6, Zucker became the president and chief executive officer of NBC-Universal. The event, commemorated with a rousing afternoon conference call with reporters, otherwise passed without incident. When Jeffrey Immelt, the chairman of NBC's parent company, General Electric, announced Zucker's promotion, he said his protégé was "passionate," inspired "loyalty," and had "1,000 percent" of the company's support. That Zucker is commanding 10 times the percent of support even humanly possible is unsurprising. He is a world-class manager and an adept sycophant. His skills include golf, self-possession, television programming, and the ability to look ecstatic at cocktail parties. He has been in line for this job since the earliest stages of infancy.
Still, we should all be shocked that he actually got it.
It's not that Zucker isn't uniquely unqualified for the task of thrusting a dying traditional media company into the digital future. In fact, he may be the most qualified among his cohort of unqualified old-school executives to take on the challenges of a medium almost no one—certainly no one over 40 and reared in the strictures of conventional TV programming—quite understands. Zucker is 41. To his credit, he is clever, open-minded, and willing to risk failure—"unillusioned rather than disillusioned," in the words of one associate. Bob Wright, the kindly man pushed out of his job to make way for Zucker, is 63. He expressed mild disappointment at his early retirement but still called Feb. 6 a "wonderful day."
Zucker's first act as pooh-bah was to condemn YouTube. Boldly staking out a position against large-scale intellectual-property theft, he asked Google to do a little bit better in the monitoring department … OR ELSE. Or else—what? Precisely!
On Feb. 2, two days before the Los Angeles Times broke the story of Zucker's ascension, Viacom—the hulking conglomerate that owns MTV, Comedy Central, and many others—announced it was abruptly pulling all its content from YouTube. It's one thing to try to curb copyright violators. It's another to actually have a plan for making money online. Zucker's critics prattle on about how NBC fell from first place to fourth in prime time under his leadership, but the real question is whether Zucker possesses the ability to generate or recognize a new business model that will work.
No one atop these TV companies, not Zucker or anyone else, has come up with any big ideas yet. Small ones, on the other hand, abound. At the NBC upfronts last May, Zucker delivered a PowerPoint presentation highlighting his company's various online initiatives. Among them: a curious partnership with the ladies' networking site iVillage, which so far has yielded a low-budget daytime talk show called iVillage Live; a host of Web exclusives including a comedy site called DotComedy, featuring the "NBC Laugh of the Day"; and a decently watchable cartoon called Pale Force, starring Conan O'Brien and Jim Gaffigan as albino superheroes. The innovations may have been scattered, but Zucker spent an hour describing them in front of a giant screen shot of NBC.com. That no one at the network will shut up about how great the Office "Webisodes" are should be taken as a sign of crisis.
(Use of the term Webisode, incidentally, points up a peripheral branding problem at NBC. When last fall Zucker announced he was firing 700 people and trimming other fat to save money, he labeled the project "NBC 2.0." Never mind the ways in which that reads a tad callous. "2.0" is so 2004.)
One thing Zucker does have going for him is an immaculate pedigree. He grew up in North Miami, Fla., and went to Harvard, where he was president of the HarvardCrimson. Denied admission to Harvard Law School, he found work in 1986, at the age of 21, as a researcher for NBC's coverage of the 1988 Olympics in Seoul.
Here follows the Legend of Zuck, unabridged: Barely legal and new to television, little Jeffy meets Katie Couric, then young "Katherine" with a girlish bob; Zucker and Couric become a dynamic duo, restyle their hair and assume control of the Today show; Zucker either does or does not start methodically taking credit for other people's ideas, particularly TV veteran Steve Friedman's vision of an outdoor soundstage with huge crowds attending big, fancy concerts in the summer; Zucker makes a mint for the network with Today; Zucker gets promoted out of the news division to run the entertainment division, where he futzes with NBC's ever-dwindling collection of hit shows, sapping each in turn of its vibrancy and worth but picking up The Apprentice along the way; Couric leaves for CBS; Zucker hires Meredith Vieira to replace her; the Today show continues at No. 1; and shazaam! Zucker becomes president and CEO of NBC-Universal.
Somewhere in there, Zucker married Saturday Night Live supervisor Caryn Nathanson and was diagnosed with colon cancer, a disease he has fought off twice, missing hardly a day of work. They have four young children.
Zucker has never been profiled as indulgently as his counterparts—perhaps because he lacks a schtick. People love CBS President Leslie Moonves for his Reagan-like panache, his hot wife, and a smile that shouldn't be viewed without protective eyewear. Roger Ailes at Fox is rotund, antagonistic, charming, and easily vilified. Jon Klein at CNN is savvy and accessible, plus he does good impressions of other industry big wigs. Even Anne Sweeney, the little-seen president of the Disney-ABC Television Group, has a kind of West Coast, Disneyland, Cinderella mystique. Zucker's most extensive biography (a Lynn Hirschberg special) appeared in the New York Times days after Sept. 11, 2001. Lest anyone who didn't read it then feel moved to read it now, here's a concise synopsis: that Jeff Zucker is good, but he's no Brandon Tartikoff (the great, visionary, one-time president of NBC's entertainment division).
Zucker's skills are more scientific than creative. He's terrific at fussing with ratings data and obsessed with demographic research. His contributions to the medium include "supersizing" episodes of Friends and Will & Grace to suck out as much ad revenue as possible and to prevent NBC's Thursday night viewers from being able to flip to another network. He has pioneered the technique of clustering national advertising within a show, a sneaky way of getting more favorable ratings. Nielsen rates only portions of programs that contain national ads, so Zucker figured out that by putting all the Ford and General Motors commercial during the time when most people are watching and saving the Bob's Discount Furniture commercials for the rest of the show, NBC could appear marginally more successful than it is.
The unquestionable genius of Jeff Zucker is his ability to tend to his own personal myth. He provokes more anxiety of influence, in the Bloomian formulation, than anyone else in TV. One executive at a rival network was known to tell his youthful underlings, "You can't compare yourself to Jeff Zucker." Comparing youthful television producers to Jeff Zucker, by the way, is a great trick for getting them to dish about their own network. In his second official public act as president and CEO of NBC-Universal, Zucker hosted a press conference at 30 Rock on February 13 to announce the hiring of former New York Giant Tiki Barber as an NBC News and Sports correspondent. It was a classic Zucker performance: He was tan, healthy, penny-loafered, scratching his nose, sitting quietly, and looking like the happiest person on the earth.
---