The federal government surveyed employees in its various departments this past summer to find out what they liked and disliked about their jobs. Federal workers were asked to agree or disagree with such statements as, "The people I work with cooperate to get the job done." The findings were reported in the Office of Personnel Management's "Human Capital" Survey, released Jan. 31. Guess which agency ranked dead last? The one that's supposed to prevent terrorists from killing you.
Out of 36 federal agencies surveyed, the Department of Homeland Security ranked dead last on job satisfaction; deadlast on being "results-oriented"; second to last on "leadership and knowledge management"; and among the bottom five on "talent management."
Enter a spinmeister. DHS Deputy Secretary Michael P. Jackson (who, along with his boss, Secretary Michael Chertoff, received low marks on "supervision, management and leadership") sent out an e-mail (see below) assuring the team that DHS will act on a list of suggestions  that was developed and presented last month by a task force of something called the Homeland Security Advisory Council. The first personnel-related recommendation in the task force report is to "empower employees by dropping the buzzword [sic] 'Human Capital' and replacing it with 'employees' or 'members' of DHS."
God help us. Thanks to Congressional Quarterly, which first put this e-mail online.
Got a Hot Document? Send it to documents@slate.com. Please indicate whether you wish to remain anonymous.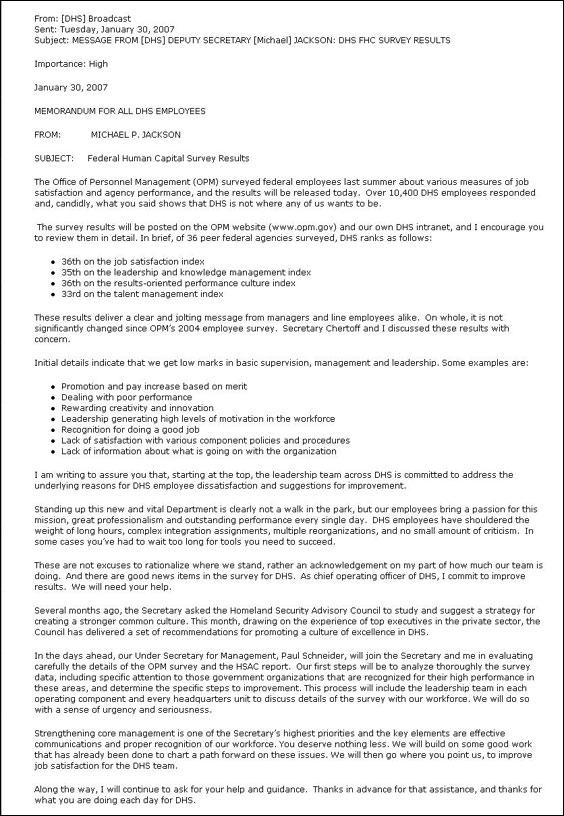 ---