On Jan. 22, the Justice department's inspector general released a report  faulting the Federal Bureau of Investigation for its lackluster response to evidence that former Rep. Mark Foley sent inappropriate e-mails to congressional pages. According to the report, the matter was taken to three different FBI divisions, and all three declined to pursue it. (Previous "Hot Document" columns about Foley's resignation in September, the e-mails, and the House ethics investigation can be found here, here, and here.)
According to the excerpt below and on the following 10 pages, the head of the FBI Public Corruption squad called Foley "a freak" but concluded the e-mails "did not involve allegations of public corruption such as bribery or gratuities" and did not fall within his squad's jurisdiction. The head of the Crimes Against Children squad, which investigates "adult obscenity and non-Internet crimes," including child prostitution, pornography, and sexual exploitation, also passed: "It was clear to me that there was no criminal violation." The Foley hot potato was finally offered to the Cyber Crimes  squad, which handles "Internet fraud, theft of intellectual property and online sexual exploitation of children."  Of the 10 FBI agents assigned to this group, only two work full-time on sexual exploitation of children online. A third agent works on these cases part-time.
The chiefs for the Cyber Crimes squad and the Crimes Against Children squad briefly discussed "assuming the former page's identity … and engaging the congressman in an [online] conversation," but then rejected the idea. The report concludes that the decision not to investigate the matter "did not constitute misconduct," but that "given the position of trust and authority that Foley held with respect to House pages" the FBI "could have easily included a brief preliminary inquiry, with an interview of the former page; … considered notifying the House authorities in charge of the page program;" or, at a minimum, notified the complainant (Citizens for Responsibility and Ethics in Washington) that the FBI had decided not to do anything. To read the report in its entirety, click here.
Got a Hot Document? Send it to documents@slate.com. Please indicate whether you wish to remain anonymous.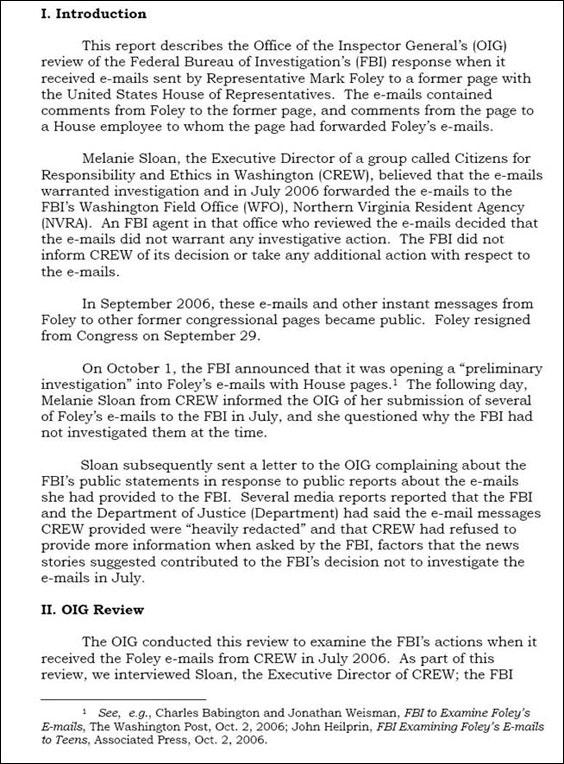 ---