On Jan. 22, a California clinic that treats AIDS patients sued the manufacturer of Viagra for "unjust and illegal conduct" in marketing the popular blue pills. In the complaint (posted below and on the following nine pages), the AIDS Healthcare Foundation demanded that Pfizer Pharmaceutical Co.  discontinue what it termed "deceptive" advertising practices and begin educating users about the danger of spreading sexually transmitted diseases, including HIV and AIDS, when using the drug.
According to the complaint, Pfizer has "manufactured a nonexistent epidemic" by encouraging consumers to mistake the occasional "failure to obtain or maintain an erection," which virtually all men experience at one time or another, for full-fledged erectile dysfunction. A diagnosis of erectile dysfunction, the AIDS Healthcare Foundation says, requires a repeated failure to obtain or maintain an erection, and that's comparatively rare. In addition, the complaint maintains that Pfizer "deliberately" markets the pills "in a way that associates the drug with sports and excitement" and "as a recreational sexual enhancement drug for younger men," despite warnings from the FDA. Viagra "is not indicated for men who simply desire harder, or longer, or more pleasurable erections." When used for this purpose, the AIDS Healthcare Foundation continues, Viagra encourages gay men to engage in risky sex. (Viagra purportedly helps "overcome the erection-inhibiting effects of … crystal methamphetamine," a drug widely used in the gay community, and similar effects from alcohol and the drug ecstasy.) The plaintiffs cite studies indicating that up to 32 percent of young gay men (median age: 32) have used Viagra, and that 36 percent of these users combine their dosage with street drugs.
Responding to the lawsuit, Pfizer told ABC News  that the company provides extensive financial support to AIDS prevention programs, and that the company's use of younger men in its ads merely demonstrates that the severity of a man's impotence needn't reflect his age.
Got a Hot Document? Send it to documents@slate.com. Please indicate whether you wish to remain anonymous.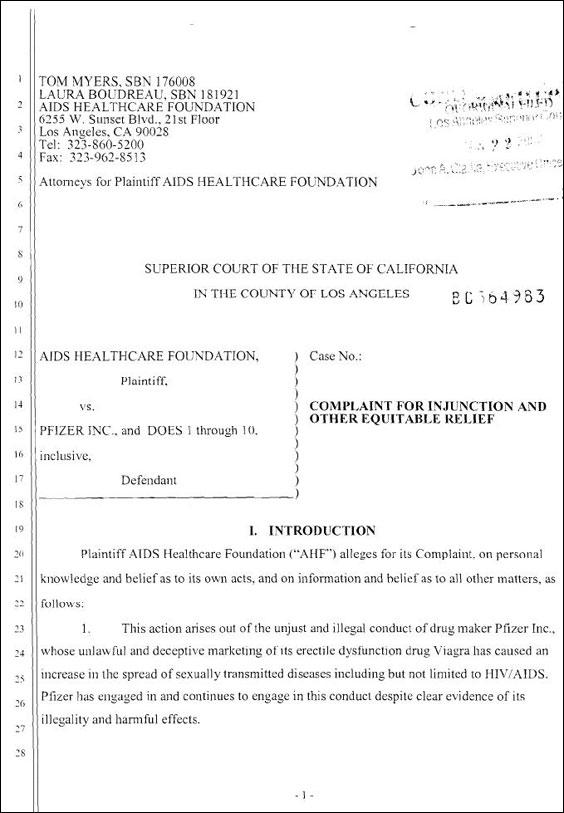 ---