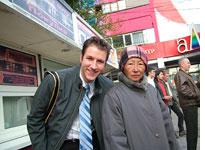 ALMATY, Kazakhstan—"That donkey is brilliant, but it would be better to have a farmer with a big mustache around for the photo," said Dominik Lemanski, a British tabloid reporter, as we bounced around in a wheezing Toyota 4Runner somewhere north of Almaty. The donkey glanced our way, snorted, and continued on briskly in front of us.
Lemanski's quest for a bushy mustache was not his alone. Over the last few weeks, journalists have descended on Kazakhstan. Their news hook: the mega-hyped Nov. 3 opening of Sacha Baron Cohen's Borat movie, which stars the comedian as a bumbling Kazakh journalist. Their assignment: Find Borat-like people in Kazakhstan or, failing that, find Borat-like things in Kazakh culture.
Baron Cohen is English, and the U.K. media, in particular, have enthusiastically pursued the Borat-in-Kazakhstan angle. British journalists based in London, Moscow, and even Tel Aviv have jumped on expensive long-haul flights to Almaty, Kazakhstan's leafy commercial center, to evaluate the country's Boratitude.
Kazakhstan is oil-rich but foreign-correspondent-poor. The country is the size of Western Europe, but the total number of full-time foreign reporters here is maybe seven. To those of us who work here year-round, the invasion has been a bit discomfiting.
The other day, stumbling into my favorite Almaty coffee shop, I noticed that several of the seats where Almaty's chattering classes usually perch with their laptops and their lattes were instead occupied by pale Englishmen. One was an English documentary maker who had rushed back from a project on the Aral Sea to film a Borat assignment for Britain's Channel 4. He told me he'd just run into a correspondent for London's Independent. I then took a seat next to a British freelance TV journalist named Inigo Gilmore, who told me he was visiting Almaty to shoot a Borat report for CNN. "My translator said there are 140 ethnicities in Kazakhstan and not one looks like Borat, but I found someone really lovely," Gilmore said defiantly. During a holiday celebration in Almaty's main square, Gilmore reported, he had spotted a man with a mustache, on a horse no less. The man quipped on camera that he treated his horse better than his wife. But then, unfortunately, the man qualified his comment: His wife had been dead for 10 years.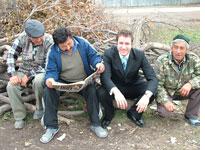 This hunt for a phantom movie character is amusing, but it also strikes a nerve. When I first arrived in Kazakhstan in 2002 to work as a freelance journalist, Almaty really was a dingy backwater. There were so few cars that drivers habitually ignored traffic lights. The Soviet Union had disappeared, but a sour Soviet mentality still held, and the sexual politics were grim: I'll never forget one night in an expensive restaurant, when patrons passively watched as a man erupted in rage and pushed his female companion down a flight of stairs. Today, Almaty is almost unrecognizable. The oil-fueled economy is booming. Traffic is choked with high-end German imports. Everywhere, you see signs of the newly emerging, sophisticated middle class. But Borat resonates in Kazakhstan as a character from the nation's very recent past, which is perhaps why the government finds him so radioactive, last year threatening to sue Baron Cohen for defaming the national character. It may also explain why the busy Kazakhs of Almaty, with their stylish handbags and well-tailored suits, don't have much time for the visiting British journos.
Dominik Lemanski, the tabloid reporter, had gotten my name from a mutual friend, and when he contacted me, I offered to show him around. Just a couple of days before we encountered that donkey on our countryside Borat hunt, Lemanski had been working his London beat, breaking the news that David Hasselhoff had been seen on a boozy weekend bender. Lemanski writes for the Daily Star Sunday, Britain's third-largest tabloid. It specializes in celebrity gossip, human-interest stories, sports coverage, and naked bottoms. Kazakhstan is usually not part of its editorial calendar. But 20th Century Fox, the distributor of the Borat film, offered to pitch in and help send a reporter to Kazakhstan, Lemanski said. Lemanski lost his luggage during his Moscow stopover and got a bit roughed up during a massage at the local baths, but he remained determined to find real Borats.
Lemanski was sure he could locate Borat in some Kazakh place or in some Kazakh person. At a local restaurant, I recommended we order the marinated skewered meat called "shashlyk." "Lovely," Lemanski pronounced his meal when served. "Is this dog, then?" The waiter, taken by surprise, vigorously shook his head. "Could this come in dog?" Lemanski asked hopefully. The waiter looked apoplectic.
When I picked up Lemanski from his hotel soon after his arrival, he had appeared concerned. "These people don't look much like Borat," he said from the back seat of the car, pointing at the Asian faces on the street. But he persevered. Lemanski's two-day search took him to a popular disco where half-naked women dance in cages above riotous clubgoers. While locals drank and danced, Lemanski took furtive snapshots of the caged women, an image Lemanski hoped could back up Borat's jokes about the misogyny of Kazakhstan. At the bustling green market—a must for any visiting journalist looking for an exotic visual—a shy elderly woman with tawny skin selling reptilian-appearing animal carcasses agreed to have her photo taken next to the hanging skeletons. "The camera loves you," Lemanski said.
At a hunter-themed restaurant, Lemanski loosened his tie and ordered a pint of local beer. "Let's have the workers around this table for a photo with me," he directed the waitresses and bar staff, who happily crowded into a booth. Everyone lifted a symbolic glass as I clicked. No, we have never heard of Borat, they told him. No, we don't accuse the Uzbeks of having a bone through their skulls, they laughed.
Lemanski ordered a second beer, sat down again, and shook his head.
"I'd like to capture the weirdest part of Kazakhstan. There has to be some Kazakhs who say absurd things or spend a little too much time mounted on top of their horses. What I'd like to do is go out into the countryside—somewhere where the people are not posh or middle class at all—and play a little gotcha by feeding them some insane questions."
Later, as we moved at a tractor's pace behind the donkey, as wary villagers peered at us from behind walled yards, and as a tall, willowy girl with swaying jet-black hair and a smart school uniform crossed the road ahead of us, Lemanski caught my eye in the rear view mirror. He twisted his shiny blue tie in his hands and grinned. "I must come off to these people as a bit like Borat myself. How fantastic is that!"
---