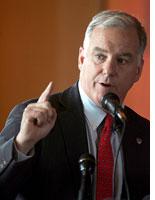 If you can handle only one internal Democratic Party squabble at a time, you might have missed the dustup between Howard Dean and James Carville. It happened while the larger battle for House majority leader was taking place between Stenny Hoyer and John Murtha, Speaker Nancy Pelosi's failed pick. What you missed was Carville, a former Clinton adviser, charging Dean with "leadership that was Rumsfeldian in its incompetence" and arguing that if it hadn't been for Dean, the party would have gained even more seats in the midterms. At a gathering of the Association of State Democratic Chairs in Wyoming, Dean responded: "This is the new Democratic Party. The old Democratic Party is back there in Washington; sometimes they still complain a little bit."
This is the place in the narrative where the writer usually starts with the jokes about the Democratic Party's historic infighting. My gosh, the Democrats won, and they're already fighting. But this argument isn't about the party's direction, ideology, or platform. It's a practical argument about whether it can get more bang for its buck. The big complaint about Dean is that his strategy to build up the party in all 50 states wastes resources on noncompetitive parts of the country. This conflict erupted in August at a meeting on Capitol Hill, when House Democratic Campaign Chairman Rahm Emanuel, and his Senate counterpart, Chuck Schumer, asked Dean to match the Republican National Committee's expected outlay in the fall campaign. Dean refused to budge from his long-term strategy. This led Emanuel, who can exfoliate with expletives, to spit out a few before storming from the room.
So, now that we've had an election, who was right? When I dialed around looking for strategists to take sides, I got plenty of bile about both Carville—"hasn't run a real race in a while"—and dislike of Dean—"he's naive and Napoleonic"—but people went floppy when I tried to get them to choose sides. They said things you'd expect to hear in therapy sessions: "Where you stand depends on where you sit."
There are at least two debates taking place. The first is about resources devoted to specific races in 2006. Could more money from the DNC have tipped those 14 or so House races where Democrats lost by a razor-thin margin? It's impossible to say, since the correlation between dollars spent and success is murky. Josh Kraushaar at Hotline makes a good case that only four of those races could have been saved by a late dose of cash. To knock off Dean, Carville would have to make the case that he bungled egregiously, and that's an impossible case to make. Unlike with Rumsfeld, the result on the battlefield looks good. Carville's case mirrors the argument made by Republicans who say Karl Rove shouldn't be blamed for the GOP's poor showing because the party could have lost more seats without him.
The larger philosophical battle is over whether Dean's plan for a 50-state campaign makes sense as he's designed it. The lines of attack aren't much clearer there, either. Even Dean's detractors say they want to compete everywhere in America. They say the debate is about how you go about doing that. Sure, spend money in Ohio, but don't waste it in Nebraska. Dean was right in arguing that even if you have a good candidate in an area that's not traditionally a Democratic stronghold, you need resources on the ground. If there had been a better Democratic Party machine in Tennessee, Harold Ford might have won. Campaign chairmen like Emanuel and Schumer always want more money for television ads and get-out-the-vote efforts, and it's Dean's job to know when to save some for the larger goal of building infrastructure for the presidential year and the future. He, like all party chairmen, has to know when spending more money is wasting it.
But those who attack Dean also use Harold Ford's senatorial race in Tennessee to make their case. Spend time and money finding ideologically diverse candidates like Harold Ford, and the ground organization will form around them. You build a party by winning races, not by hiring party staffers and opening offices.
While this argument continues, Dean isn't following Rumsfeld out of town. He would have to be voted out by the members of the National Committee, and they all like him. The bureaucratic shrewdness of his national strategy is that it lavishes cash and attention on the state party officials who elect the chairman of the DNC. Dean is also beloved among the party's bloggers and liberal activists. Carville's attack only strengthened Dean in their eyes as a man of the grassroots fighting against Washington insiders. Dean could be ousted by the 2008 Democratic nominee, but doing so would alienate a core constituency of the party that the nominee will need. This is why rumors that Carville was secretly working on Hillary Clinton's behalf are strained—Hillary is trying to build support among liberal activists, which means hugging, not attacking, Dean.
The better case against Dean is that he's a blowhard who says the wrong thing repeatedly in front of cameras. We know that's true, but Dean has gotten better at behaving himself—his mild response to Carville being a case in point. Even his detractors point out that while Republicans tried hard to make Dean an issue, they couldn't. This time, it was John Kerry who provided the late-in-the-election radioactive gaffe. Dean has been so disciplined that most people don't even know he's there. In a recent Pew poll that asked people to name the leader of the Democratic Party, only 3 percent named Dean. More people named Hillary Clinton, Bill Clinton, and Nancy Pelosi as Democratic leader. Sixty percent of respondents don't think the party has one.
---