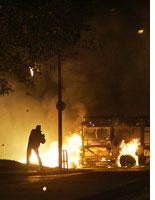 CLICHY-SOUS-BOIS, France—A new hulk of metal has appeared amid the high-rise projects of this Paris suburb during the last week: the charred carcass of a four-door sedan. "The car was abandoned for a while," says Gounedy Traore, my guide in this rough neighborhood. "So, it was dragged here and burned."
I'd last seen Gounedy almost exactly a year ago, after France erupted in the worst violence in a generation, three weeks of mayhem in which rioters torched more than 10,000 vehicles and scores of schools and factories. As rumors began to spread this week that the first anniversary of the riot's beginning—on Oct. 27—could be just as violent, I went back to Clichy to see what had happened since Gounedy and I walked through the projects late one night during the unrest.
From the start, the charismatic, articulate 29-year-old had struck me as the kind of man France could sorely use to help soothe the rage in these majority-immigrant suburbs, or banlieues. He and his 14 siblings were raised here on the earnings of their father, who'd emigrated from Mali to work as a street cleaner. Clichy's sprawl of graffitied buildings is home to about 28,000 residents, largely West and North African, who live with no direct train service to Paris' business and entertainment centers. Yet Gounedy's passion for his community is infectious. As a youth worker for the local council, he helped form a group of peace mediators during last year's violence, walking the streets every night telling youth that he was proof that they could make something of their lives and appealing to them to stop taunting the police. "If they get a police record, they're finished," he told me then.
This week, Gounedy is preaching the same message. This time, it is a lot tougher. During the worst violence last year, the sense of possibility seemed almost tangible among the youth, who believed that finally something was sure to change. The riots had shocked France's complacent government so much that it seemed inevitable that the politicians would address the seething frustrations in the banlieues. One year later, that hope has all but vanished, leaving hardened cynicism. On Wednesday night, a group of youths besieged a public bus in the west of Paris, ordered off the passengers, and set it alight. It was one of five attacks on public buses since Sunday. Near the freshly charred vehicle in Clichy, Gounedy throws up his hands and says, "The youth are more violent now because promises that were made have not been kept." Looking on, a small boy standing in the doorway of a building calls out to me: "Voulez-vous un scoop?" "Sure," I say. "There will be riots on Friday," he tells me.
The spark for last year's unrest in this suburb was ludicrous happenstance: Two teenagers—one Malian-French, one Tunisian-French—were electrocuted while they hid from the police in an electric-power substation. The boys' graves were still fresh when France erupted. It's hard to overstate the impact on the country. Unlike the Los Angeles riots in 1992, say, this was not an isolated urban uprising. With little more than cigarette lighters and rocks, no national coordination, and no coherent demands, the riots somehow leapfrogged across hundreds of miles, until the unrest spread to almost every city in France. More than the sight of burning buildings, what truly scared France's elite was the fact that such deep disaffection had spread so widely and ignited seemingly without warning. After a few grueling weeks, the government finally calmed the by-then exhausted rioters by promising massive job-creation programs and investment in the banlieues.
This year, the shock is how little has happened. One major government attempt to open up France's job market to poor immigrants was dropped last April, after giant street demonstrations by privileged students and union members. In Clichy-sous-Bois'$2 17th-century town hall, Mayor Claude Dilain shakes his head in disbelief. "The French have simply abandoned the banlieues," he says in his office, a few blocks from Gounedy's home. Dilain is a white politician not raised in these parts, but he is determined to try to do something for Clichy. His efforts have brought him bitter disappointment.
To mark the riots' first anniversary, he organized an exhibition of images of life in the projects, shot by well-known photographers including William Klein and Sarah Moon. Called "Clichy Sans Cliché," it opened earlier this month in a gallery near his office. "Not a single politician came," he says. Last week, Dilain wrote to France's National Assembly requesting an appointment to deliver a book of "complaints" written by thousands of residents of immigrant neighborhoods across France. The grievances focused on the huge unemployment rate of 20-plus percent and the miserable living conditions in blocks built decades ago as temporary housing for new immigrants. The assembly's president told Dilain to leave the book at the building's front desk, he says. "He said he did not have time to see us," Dilain says with disbelief. In the end, a group of French senators met banlieue residents on Wednesday when they delivered the book.
Back in the early 1990s, when I covered stories in the South Bronx and Harlem as a reporter for Newsday, I saw housing conditions far worse than these. In Clichy, firearms and hard drugs are still relatively rare, and France's social-welfare and excellent public health-care systems sustain most people. But compared with those in America's urban ghettos, people here face a more entrenched problem: political exclusion. When I ask Gounedy—a moderate in Clichy—if any banlieue resident will run for office in next year's parliamentary elections, he laughs as if I am pitifully naive. "They are happy to have us become doctors and attorneys, so long as we aren't elected to anything," he says. "There is too much racism in France." Despite last year's violence, national politicians have stayed away from Clichy, says Agnès Faulcon, director of the social center where Gounedy works. "We've seen only local officials," she says.
What's the French government doing? The front-runners in France's presidential campaign, which is just beginning, are socialist Ségolène Royal and the conservative Interior Minister Nicolas Sarkozy, neither of whom have offered concrete programs to lower the endemic unemployment in the banlieues.
Last week, I went to see Labor Minister Jean-Louis Borloo present his progress report on urban renewal. From his office in an old mansion in Paris' tony seventh arrondissement, he showed an audience of reporters and ministry officials, almost all white, a video of old apartment blocks being demolished and new housing complexes being built. After the video ended, Borloo, who has a head of curls and a gentle, winning smile, gestured toward his assistants, who stood ready to serve champagne and snacks to the guests. "Au banquet!" Borloo said.
So, while the French government entertains in style, the patience of those in the banlieues is wearing thin indeed.
---