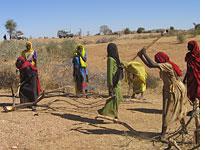 ZALENGEI, Sudan—The firewood patrol bumped along in the oppressive heat of a western Darfur morning: about 100 women, walking quickly and in silence, accompanied by four vehicles manned by peacekeepers from Rwanda and Nigeria. The women were leaving the Khamsa Dagaig camp for internally displaced people on a twice-weekly hunt for sticks and twigs, protected by soldiers from the African Union from the armed marauders and Janjaweed militias who roam the perimeter of Darfur camps.
I had received clearance from African Union headquarters to be posted with the peacekeeping troops in Darfur. (As a former country director for Sudan for Save the Children and as a board member of Mercy Corps, I had a long history in Sudan and Africa.) A few miles outside the camp, we began to pass the first of many groups of nomads, all armed, herding camels and cattle. A group rode by, too close."Janjaweed," said one of the A.U. officers. His soldiers fanned out, alert and watchful. The nomads eyed the soldiers and moved on. The women kept walking without looking up.
Thanks to the African Union, the tense moment passed without incident. But without such protection, limited to fewer than half the Darfur camps, the women are vulnerable to attack.
On this day, the women walked 10 miles west to a stand of dried bushes and dead trees. In the 110-degree heat, they chopped up neat piles of sticks, tied them together, and loaded the bundles onto their heads. A lucky few had donkeys. The round trip took seven hours.
The countryside around Khamsa Dagaig—and much of Darfur—is a desolate expanse of hard-packed clay and sand, dotted with thorny scrub brush and gnarled trees. We passed two burned-out villages, destroyed by the Janjaweed militias armed and funded by the Sudanese government. The round bases of several mud huts were still standing; everything else was blackened ash. Brush and debris covered the mouth of a well; the attackers had stuffed it with corpses to poison the water source.
The A.U. patrol—two open jeeps each carrying 12 armed soldiers and two Land Cruisers carrying officers and civilian police—hadn't taken a civilian visitor along before. Col. Kamili Karegye, the Rwandan A.U. sector commander, told me there had never been an attack in his sector during a firewood patrol. But although his troops conduct patrols for five camps, seven local camps are left unprotected for lack of A.U. personnel. At Kalma camp, which houses 120,000 IDPs, at least 1,000 women go out on each firewood patrol, walking farther and farther as the desolate landscape is picked bare.
The African Union plays an important protective role for these camps. But as we were on this patrol, serious fighting broke out only 20 miles away at Jebel Marra, forcing the evacuation of international relief agencies and leaving 100,000 IDPs without aid. In that case, the African Union was nowhere to be seen.
As Col. Kamili explained, the A.U. troops don't have the means to intervene in conflict. He had headed for Jebel Marra the previous week but had been turned back at a rebel roadblock. The A.U. mandate didn't permit his convoy to force its way through. And the lightly armed A.U. troops are no match for the rebels or government troops and militias.
Increasingly, A.U. officers feel that they are becoming targets who cannot protect themselves, let alone protect innocent civilians. Speaking of the African Union's limited equipment and mandate, one officer said, "We are bulls without horns."
Col. Kamili's patrol is organized; well-equipped; and coordinates activities with internally displaced people, relief agencies, and Sudanese police, but not all operations are as effective. Another A.U. base in Darfur, next to a camp for 14,000 IDPs, was starkly underequipped and rendered nearly ineffectual as a result.
Many of the displaced try to leave this camp by day to farm their lands or find firewood.Three days before I arrived, two girls looking for firewood had been attacked by men on camelback. Both were raped and beaten. They ran back, barefoot, to the camp in such terror that one girl arrived with the skin completely torn off her feet.
As locals have congregated in densely populated camps, armed nomadic groups have descended from northern Darfur. They now control the countryside and are increasingly emboldened, rendering the displaced virtual prisoners. The A.U. force is increasingly powerless in the face of the violence, most of it targeted at ethnic populations and much of it sponsored by the Sudanese government.
The A.U. base in southern Darfur, a large encampment set in the desert and surrounded by rolls of barbed wire, features neat rows of white tents for the soldiers and air-conditioned offices. But this base of 136 troops has only one computer, one printer, and one Thuraya satellite phone, with a "prepaid credit" of 50 minutes per month. The phones are useless after a week or so.
The base has five vehicles, but only three are operational, so commanders can send out just one patrol of 24 troops each day. The vehicles are equipped with short-wave radio systems, but there is no base station for either system. If the commanding officer wants to communicate with a patrol, he goes out to the parking lot to use the radio in one of the broken vehicles.
There is one interpreter, an Arab man from Khartoum. He does not speak the local language, and the local population views him with suspicion. It is no wonder that the commanding officer says he has received no complaints from camp residents.
Despite the problems, much was impressive and encouraging. Most officers spoke with pride of the African Union taking on its first major peacekeeping mission. They were moved by the suffering they saw all around them, and there was little cynicism about their work. But many were daunted by the scale and ferocity of the conflict and their limited ability to stop the violence. The peacekeepers' impact varies widely, depending on the caliber of the local commanding officer. The African Union force is grossly underresourced for this crisis, with insufficient manpower, weapons, communications, and logistical support. There are fewer than 5,000 military protection troops, along with 2,100 unarmed civilian police and military advisers, in a war that spans a land the size of Texas.
Every A.U. officer I spoke with in Darfur expressed support for a "re-hatting" of the mission, switching from the green helmets of the African Union to the blue helmets of the United Nations. The A.U. troops would remain the core of the peacekeeping effort, under the direction of—and with support, training, and additional resources from—the United Nations.
The A.U. force has deployed aggressively, placing small units at remote locations and standing firm under attack, even while taking casualties. It's important that a combined U.N. force retain these elements and encourage A.U. units to remain in place, rather than withdrawing to larger bases in towns and leaving remote populations more vulnerable.
Col. Raji, the A.U. commanding officer in Nyala, the capital of southern Darfur, addressed the re-hatting issue with a Nigerian fable: "A villager walking down the road saw a dangerous snake but could not kill it. Another man from a nearby village walking by was able to seize the snake and kill it. It doesn't matter who kills the snake. What matters is that it is dead."
---