The broadcast networks wrapped up the upfronts on Thursday, and now the question is: By what ratio did the dogs outnumber the ponies at these big shows? As usual, the networks packed cavernous halls with thousands of advertisers and presented their fall schedules. The goal, of course, is to get advertisers to buy commercial time. And the first step is to soften them up—have them swooning before live performances by the likes of Mariah Carey (CBS), Mary J. Blige (ABC), and the Black-Eyed Peas (The CW); stuffing themselves with foie gras, sushi, and shrimp the size of hockey pucks; getting drunk on the opportunity to get their picture taken with television stars; and, of course, guzzling booze.
It will take some time for advertisers to figure out how many billions they want to spend on these schedules, but one thing is clear: Network executives not only have to develop programs that a fickle public wants to watch, they have to be performers themselves. Here's how they did:
NBC (Monday, Radio City Music Hall): Trying to emerge from last place among the broadcast networks, entertainment President Kevin Reilly gamely talked up the new season. But the clips played flat, most notably the one for Studio 60 on the Sunset Strip, the new show from Aaron Sorkin that offers a behind-the-scenes look at a Saturday Night Live-type show. (In fairness, many advertisers know that such shows are hard to present in clips.) NBC's plan to launch it on Thursday nights at 9 probably died less than 24 hours later, when ABC announced that it's moving Grey's Anatomy to that time slot. The new show might have withstood competition from CSI on CBS, but CSI plus Grey's Anatomy would put almost any competitor on the slab.
The network became the clear favorite for the uncoveted worst presentation award from the advertisers (though Fox made a bold last-minute bid to win that prize on Friday). Jeff Zucker, chief executive of the NBC-Universal Television Group, droned on for perhaps an hour about NBC's ventures in cyberspace. Not only were the advertisers bored, but they felt that Zucker was someone who has previously promised a lot and delivered not much. As one advertiser put it, "Why's he still here?"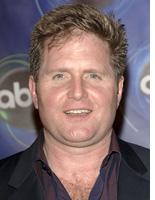 ABC (Tuesday, Lincoln Center): ABC easily won the best presentation award when entertainment President Steve McPherson performed with Anna Trebunskaya of Dancing With the Stars (Steve in black; Anna in scanty glitter-wear). McPherson practiced for eight weeks to get ready. He spun her, flipped her, performed with total commitment, and got a standing ovation at Lincoln Center! The man can retire.
Whether McPherson can program the network remains to be seen. ABC had a lot of failures this past year (Commander in Chief; Emily's Reasons Why Not) and Monday Night Football is gone, so there are a lot of holes to fill. ABC presented way too many new shows—12—and they will undoubtedly blur together in the advertisers' heads. But … they'll remember that dance.
CBS (Wednesday, Carnegie Hall): McPherson's performance wasn't lost on Les Moonves, an acknowledged hot-dog. At a press breakfast Wednesday morning, Moonves declared that he wasn't going to dance and tipped his figurative hat to McPherson's showmanship (which had to hurt). Moonves also acknowledged that he shouldn't even be presiding at the upfronts, since Nina Tassler is running the network.
But Moonves couldn't stay off the stage. And, unlike Zucker, he's a welcome presence for the advertisers. He's strong, he's confident, and his network is delivering good ratings. CBS flexed its muscle at its presentation with only four new shows. Moonves seemed especially smitten with Shark, a drama starring James Woods as a nasty defense lawyer who turns into a nasty prosecutor. Like ABC's McPherson, Moonves made a point of dinging Zucker for his lengthy online remarks. "Wireless is useless if you're hitless," Moonves declared.
The CW (Thursday morning, Madison Square Garden): The new network (which emerges from the combination of the UPN and the WB) was crisp and clean. Most of the shows were familiar: Veronica Mars, America's Next Top Model, Everybody Hates Chris. But it looks like the merger makes sense.
Fox (Thursday afternoon, the Armory): Fox started late and lingered far too long at a venue that was overcrowded, hot, and rank-smelling. The network aired clips from a new sitcom, 'Til Death, that advertisers seemed to like. But it wasn't pretty when star Brad Garrett—the brother on Everybody Loves Raymond—stepped out to do a little stand-up. "It's good to see Paula Abdul here today," he offered. "It's nice to know that Bellevue has a shuttle bus." From there it got worse. By the time the network actually brought out Abdul with Randy Jackson and Simon Cowell, sitting behind their judges' desk, no one cared. It fell to Cowell to speak the truth: "This is the most bored audience I've ever seen in my life."
---