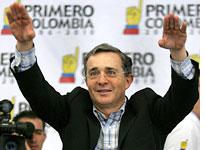 Jaime Gomez lives in Puerto Asis, a deprived border town in Southern Colombia. For decades, the surrounding jungle and coca-growing areas have been a base for guerrillas from FARC, the rebel group that has been trying to topple successive governments and set up a Marxist state for more than 40 years.
In May 2002, during the last presidential election campaign, guerrillas imposed a curfew in and around Puerto Asis. They also set up roadblocks, forcing locals to hoard food supplies. "It was a difficult time," remembered Gomez, a restaurant cook. There was little transportation, which made movement a challenge. On Election Day, guerrillas prevented some residents from leaving their homes to vote. Gomez heard rumors that FARC threatened to forcibly recruit children from families that went to the polling stations. Once children join FARC's ranks, few return alive.
Both sides of the conflict—the guerrillas and the right-wing paramilitaries—try to influence national and presidential elections, albeit in different ways. In general, FARC is more committed to sabotaging elections than the paramilitary groups are. Guerrillas tend to use more widespread violence and terror tactics, particularly in rural areas, including murdering politicians. They have been known to place communities under siege to prevent residents from voting. The paramilitaries are more likely to manipulate elections by threatening and bribing voters to vote for candidates they approve of.
With less than two weeks to go until the May 28 presidential election, Jaime Gomez plans to support the incumbent, President Álvaro Uribe, who appears set to win re-election in the first round of voting. Gomez hopes that there won't be any trouble this time around. FARC's recent announcement that it does not intend to disrupt Election Day may indeed bring a brief respite in the violence. Raúl Reyes, FARC's second-in-command, told the press agency Anncol, "It's necessary for people to employ different ways of fighting," and in this spirit, he urged voters to go the polls and vote against Uribe.
But it's difficult to believe such last-ditch promises, given FARC's actions over the last few months.
Traditionally, the guerrilla group intensifies its disruption around election time. This year has been no exception. Election week coincides with the group's 42nd anniversary, and many Colombians still believe a violent celebration is a real possibility. According to the Foundation for Security and Democracy, a Bogotá-based think tank, 37 local councilors and political candidates have been murdered and seven kidnapped during the last 10 months. During campaign season, the political elite are prime targets for FARC. Last month, Liliana Gaviria, the sister of former president and current Liberal Party leader Cesar Gaviria, was murdered by suspected FARC guerrillas. In response, the party's presidential candidate, Horacio Serpa, decided to send his children abroad. Over the years, Uribe himself has dodged numerous assassination attempts, and Ingrid Betancourt, a presidential candidate kidnapped during the 2002 election race, remains in FARC custody.
Elections provide a perfect propaganda opportunity for FARC to display its might and remind the government that its guerrillas are still capable of disrupting democracy. It's also a chance to undermine and discredit Uribe, who has spent the last four years trying to improve security and defeat FARC using military force.
During Uribe's administration, fighting between the armed forces and FARC has increased significantly. As part of the government's "Democratic Security" policy, Uribe launched an all-out offensive against the guerrillas. He has strengthened the armed forces and used U.S. ordnance and helicopters to push guerrilla groups away from the cities and deeper into remote jungle areas. The government has managed to increase the presence and authority of the army in areas once controlled by the guerrillas. As a result, some Colombians living in cities feel safer and believe that Uribe has indeed improved security. The government has also increased the number of road blocks and soldiers patrolling the country's main highways, making travel between major cities safer.
Usually, it's the poor who suffer most. On Aug. 7, 2002, Uribe's inauguration day, a bungled FARC mortar attack aimed at the presidential palace exploded in a poor neighborhood, killing 19. More recently, during the March 2006 congressional elections, FARC imposed a paro—a shutdown of businesses and transportation in rural areas in the provinces of Huila and Caquetá. Burnt cars lined the highway, and the guerrillas attacked electricity pylons, causing power cuts across the region. At least 20 civilians were killed in two separate massacres.
In a country where 55 percent of the population lives below the poverty line, influencing election results is relatively easy. A vote can easily be bought for a few pesos or a meal, a bargain the guerrillas and the paramilitaries both exploit. In the March election campaign, I saw a woman in Bogotá receive a box of groceries in exchange for a pledge to vote for a particular candidate. Bags of cement are also popular bribes. The fact that Colombians don't always enjoy a secret ballot makes it easier for rebel groups to intimidate voters and keep a close eye on them at the polls. Across the country, closely packed voting booths—made of flimsy cardboard and without curtains to separate voters—offer little privacy.
Despite FARC's recent promises, Bogotá remains on maximum alert. From their perches in the Andes Mountains that surround the capital city, heavily armed foot soldiers look down onto the sprawling metropolis. Six hundred soldiers from elite anti-terrorist squads and 17,000 extra police have been deployed from military bases in neighboring provinces to patrol the capital and the poor southern suburbs. ID checks and road blocks are common, especially at bus terminals and on roads that enter or exit the city. Political party headquarters across the city are heavily guarded. One local paper described the atmosphere in Bogotá as "tense calm."
The day before the election, alcohol cannot be sold in Colombia. Supposedly, the law was implemented to prevent candidates from plying potential voters with drinks. To compensate for the temporary ban, the days before an election tend to be boozy ones. This time around, they may also be less violent, that is, if FARC keeps its promise.
---