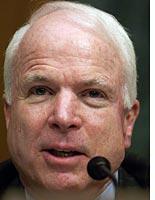 They don't serve Nurnberger bratwurst at the bar of the Wayfarer Inn, but last weekend at the Munich Conference on Security Policy, I felt like I was back in New Hampshire. I spent two nights in a windowless beer cellar talking politics with John McCain's allies and staffers. When I covered McCain in 2000, we ended the day the same way: animated and at the bar. This time, though, we weren't talking about the voters in Nashua but NSA wiretaps and containing Iran. Instead of running into Tom Rath, we sat with Mikheil Saakashvili, the president of Georgia. Plates of small sausages served on sauerkraut seemed to arrive by the half hour. When the Ukranian defense minister arrived, we scooched over to make room for him. You do that for defense ministers.
The Munich conference is like Davos for security geeks. Foreign ministers, generals, members of parliament, journalists, and experts from more than 40 countries gathered for the 42nd annual two-day gabfest. I was traveling with the McCain-Lieberman delegation, which included not only members of Congress but foreign policy heavyweights like former U.N. Ambassador Richard Holbrooke, former National Security Advisers Brent Scowcroft and Sandy Berger, former CIA Director Jim Woolsey, and former Secretary of the Navy John Lehman. Those high-wattage wonks didn't descend to the beer hall for the after-dinner debates. Present instead were the, er, next generation of national security luminaries—former NSC and Senate foreign relations committee staffers, and a smattering of think-tank experts.
What do you say to the Georgian president when you're stuck in the banquette next to him? My brother lives in Atlanta? Fortunately, I'd been to Tiblisi with President Bush last year so I at least knew how to pronounce his name. In 2003, Saakashvili led the Rose Revolution, peacefully replacing the corrupt government. When Bush visited in 2005, Freedom Square was packed with tens of thousands of Georgians celebrating their freedom the way we do the Super Bowl. Just as Saakashvili started to speak, the public address system went dead. Bush made the trip in the hopes of using the example of flowering democracy in former Soviet-bloc countries to legitimize his own policies for planting democracy in the Middle East. Saakashvili was still beaming from the attention. "After five minutes I forgot I was talking to the president of the United States," he said of his 24 hours with Bush. "He understood the situation in my country completely. He was very well briefed."
During the day, conference attendees sat in a grand hall at long desks or in chairs with flip-up tabletops that made everyone look like they were taking the LSAT. The conference was not open to the public or the press, but since I was a delegate I was allowed inside. I wanted to see more than the back of Richard Perle's head, so I watched from the balcony. It looked like a very dull stag party. The American delegation included several women—Sen. Kay Bailey Hutchison, Reps. Ellen Tauscher and Jane Harman, and our ambassador to NATO, Victoria Nuland—but still, all of the women attending the 300-person conference could have fit in a courtesy van. There was a baritone murmur in the anterooms from all the men in dark suits and ties with fist-sized knots. The smoking was Olympic-class. Some of the diplomats seemed to be able to burn an entire cigarette in a single drag.
Unlike Davos, where Angelina Jolie stole the show, the only real glamour at the Munich conference was provided by the sturdy German Chancellor Angela Merkel. Only 10 weeks in the job, Merkel sounded tougher, and somewhat less cosmic, than Secretary Donald Rumsfeld, who also spoke *. Merkel's predecessor last year wondered aloud whether NATO should continue as a military alliance. She reversed that line, affirming NATO's traditional role and offering a hard line on Iran. In previous years, discussion had revolved around the gulf between Europe and the United States. There was little of that this time, except, of course, from the French.
After each speaker, the high-powered audience asked questions. When the deputy Iranian foreign minister stood to challenge Merkel, the room leaned forward. Perhaps they expected he would rail at her for criticizing his boss, Iranian President Mahmoud Ahmadinejad. Instead, he was whiny. "Countries threaten our facilities and it is ignored," he said. "They threaten us with regime change and it is ignored." He then made the extraordinary claim that Iran was "playing a role in stabilizing Iraq." Merkel brushed him off and reiterated her disdain for Ahmadinejad's denial of the Holocaust and call for the extermination of Israel. To his warning that Iranian law required the country to suspend all cooperation with the international community, she replied, "Then you might need to consider changing your laws."
McCain was all things to all people in Europe the way he is in the United States. The softies in the audience applauded him for his stance against torture and hard-liners applauded his blunt talk about Russia. He suggested that countries boycott the G-8 meeting in St. Petersburg this spring as a protest against Russia's increasing autocracy. He also refused to take military action off the table as an option in Iran.
Merkel and McCain helped puncture the long boring stretches. There was a lot of talking about countries and organizations talking to each other. Despite the challenges of Iraq, Iran, Hamas in the Palestinian territories, and the violent reaction to Danish cartoons, a lot of officials were unnaturally obsessed with improving the EU-NATO dialogue. There was a blizzard of jargon about "context" and "framework" and bland declarations like, "transnational problems need transnational solutions" and a call for "flexibility in the procedures in order to allow the optimal use of capabilities in all circumstances." Fortunately the coffee was hot and plentiful.
The important conversations were taking place in the hallways and in the bilateral meetings between foreign leaders. That's where participants were blunter about how hard it will be to stop Iran from developing a nuclear weapon and how worried they were about Russia's move away from democracy. While Deputy Secretary of State Robert Zoellick praised U.S.-Russian cooperation in his public remarks, diplomats were more glum behind the scenes. "Washington is still realizing that Russia is going to be a regular and lasting problem," said a senior American diplomat.
The Russian minister of defense, Sergey Ivanov, didn't make me any more comfortable about the situation. He is very smooth, but his is the kind of élan I associate with James Bond villains who have a button under the table that will drop you into a tank of piranhas. Questioners asked him about the wisdom of punishing Ukranians by shutting down their supply of gas, and about what McCain charged were well-documented efforts to destabilize Georgia and stifle democracy in Belarus. Ivanov denied all charges smoothly, in flawless English, and with just a little menace in his smile.
Correction, Feb. 9, 2006: The article originally and incorrectly said German Chancellor Angela Merkel had been in office three weeks. She had been in office 10 weeks. Return to the corrected sentence.
---