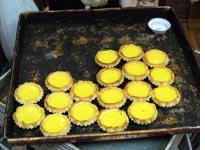 Last summer, life in my central Hong Kong neighborhood was turned upside down by a pastry—a Hong Kong-style egg tart known here as a daan taat. The taat in question was the product of the Tai Cheong bakery, a hole in the wall that's been a fixture on Lyndhurst Terrace for more than 20 years. Chris Patten used to eat them when he was the governor, and he proclaimed them Hong Kong's best. Personally, I think their custardy filling is overly sweet—but I'd occasionally pass by Tai Cheong's open storefront just when the baker was taking a hot pan of them out of the oven and be forced to buy one or two.                                                 
In May, Tai Cheong's landlord announced that he was going to more than double the rent, and so the owner decided to close his shop. This was not surprising; rents are skyrocketing all along Lyndhurst Terrace, which is located at the north end of the neighborhood where I live, recently renamed Soho. Since the revival of Hong Kong's economy, post-SARS, Soho has become one of the hottest areas of Hong Kong (it is the setting for the last part of the Wong Kar Wai film Chungking Express).
The area hasn't always had such cachet—in the 1890s, it was ravaged by bubonic plague, and the neighborhood has always been considered by local Chinese to have really bad feng shui. Ghosts are said to roam the streets. There is a big hospital and a very old temple at one end of the neighborhood, and Staunton Street has traditionally been home to a community of gray-robed Buddhist nuns, who, for a small fee, will worship your dead ancestors for you.
But nowadays, Soho's allure trumps the bad feng shui. It is one of the last places near Hong Kong's downtown with a low-rise, human scale and a living culture. The beautiful old 19th-century Central Police Station, one of the last historical buildings left in Hong Kong, is here. The surrounding streets are mostly five- and six-story walkup apartments, dating from the 1950s and '60s. Real-estate agents here call them Chinese buildings, or tong lau. In the mornings, the open tong lau roofs are busy with Chinese housewives steaming buns in woks, watering trees in pots, feeding birds, or hanging laundry to dry—carving out their little piece of home in Hong Kong's tight and expensive urban landscape, as the Chinese here have done since the city's beginnings.        
I settled in knowing that the neighborhood was on the verge of major changes. It was already getting trendy when I moved in, with many boutiques and Western-style restaurants and bars occupying the ground floors of the tong laus on Staunton and Elgin Streets. Still, the swiftness of Soho's development has been disconcerting, even by my New Yorker standards. A month or two after I arrived last January, I took the laundry down to my usual corner shop, and there was a notice in the window: "Closing Business in Two Weeks." I asked the shop lady what was up, and she told me that someone had made the boss a huge offer, so he was shuttering the business and selling the building. A couple of weeks later, the 80-year-old Chinese dim sum place on Elgin Street, Gwai Yu, shuttered.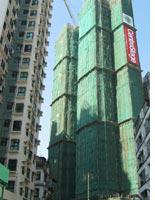 Over the next couple of months, the old stationery and general stores along Staunton vanished literally overnight, their facades appearing in the mornings covered with a skin of "For Rent" signs in English and Chinese. Shortly after this, I noticed a monstrous behemoth wrapped in bamboo scaffolding and green plastic rising up at the end of Bridges Street. It cast dark shadows over the tong laus for it was taller than anything in the neighborhood. A red banner on its side proclaimed, "Centre Stage. Luxury lifestyle apartments."
Property development is the engine that runs the city of Hong Kong. Land is famously scarce here, and the government owns most of it. It's sold off, parcel by parcel, and must go for the highest price possible. Hong Kong has one of the lowest tax rates in the world, and selling land is how the government keeps Hong Kong's show on the road—the expensive, world-class infrastructure, the large sector of well-paid civil servants. Only a handful of super-rich tycoon developers and their companies can afford the government prices. Because the prices are so steep, the developers need to squeeze every last drop of income from their projects—they wheel and deal to build as high, as dense, and as close to the property line as they can. And the deals happen quickly and quietly, sometimes out of public view. "Until you have higher taxes or a value-added tax, this is how Hong Kong will continue to be developed," says John Batten, an art gallery owner who mounted an exhibition about the neighborhood's destruction and has organized a community group dedicated to its preservation.
When I talk to my Hong Kong-born friends about the way Soho and its local culture is being bulldozed, most of them shrug resignedly. They've lived with this all their lives, and they are stoic and thick-skinned about it. My friends in their 40s and 50s have seen the houses, the streets, and sometimes the very space they grew up in disappear—you can't fight development in Hong Kong. Here, it's not a good idea to get too attached to places, to streets, to urban landscapes, even to your view of the harbor or to sunshine. Better to save your heart for the things that can't be blocked or scaffolded, that you can count on: the companionship of old friends, the familiar flavors of Cantonese food.
But lately there are signs that Hong Kong people, who've marched en masse in the streets for a principle, are making the connection between the fight for democracy and their daily lives. "With democracy, there will be more transparency, and it will be more difficult for the government [and property developers] to collude," observes human rights lawyer Chong Yiu Kwong. Over time, this will lead to neighborhood planning that considers the needs of people, not just the desires of the developers. Or, as John Batten puts it simply, "Standing up for the quality of life in Hong Kong is standing up for democracy."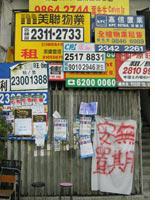 The announcement that Tai Cheong bakery would close in a month's time provoked a passionate outburst nobody expected. Newspapers editorialized, radio talk show hosts lamented, and soon throngs from as far away as the New Territories began arriving at the shop early in the morning before it opened. By lunchtime, the lines stretched a hundred-strong down Lyndhurst Terrace. This lasted for days, weeks. Hong Kong had gone tart-crazy. As the countdown to Tai Cheong's last days drew near, Legco members Tommy Cheung and Selena Chow (Chow is also director of the tourist board) were paying visits to the bakery and trying to help the owner find another location.
In the end, Hong Kong 's people power saved the pastry. Because of all the publicity and demand, last month Tai Cheong was able to move into a new, larger, shop just down the street from the old one; it has even opened up a second branch in Mongkok.
Though Hong Kongers can take on a rapacious landlord and save a tart, it may be some time—perhaps not until they get the vote—before they're able to fight the collusion of the government and the property tycoons. But the important thing, says Batten, is that anti-government sentiment is swelling, and people are asking questions for the first time about what kind of development Hong Kong ought to have. "People have never had that debate here before." The high-rise Centre Stage apartments are nearing completion on Bridges Street, but a few weeks ago, Batten and his group were able to collect enough letters and support at a town planning meeting to stall the razing of a neighborhood landmark, the old police quarters on Staunton Street. If they are able to build on their momentum to slow the destruction of one of Hong Kong's last great neighborhoods, it will be an even sweeter victory.
---