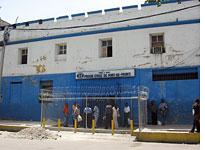 The day I visited Haiti's National Penitentiary in early August, the director said that 1,392 men were locked inside. Haiti doesn't have the money for prison uniforms, so all the detainees are decked out in their street clothes, making it difficult to distinguish the prisoners from the visitors. This has had the unfortunate effect of making it easier for prisoners to escape—a February jailbreak from the National Penitentiary allowed 480 detainees to slip away into the busy streets of Port-au-Prince. Many of those fugitives are considered partly responsible for the current violence.
But the big problem in Haiti is not so much keeping people in prison—it's getting them out legally. On the day I visited, only 24 of the men inside the National Penitentiary were convicted of anything. One thousand three hundred and sixty-eight were in "pretrial detention," and while I was there, I watched the prison doors clang shut on another 12. Haitian law stipulates that anyone arrested by the police must be seen by a magistrate within 48 hours, but detainees almost always languish in prison for months and even years before they get a hearing.
Haiti's already tattered judicial system has been further ravaged by the last 18 months of violence. Unless the government that emerges from the upcoming elections can train new police and judges, reform the prisons, release political prisoners, and rebuild the physical infrastructure of that system, it will be severely hampered in any efforts to restore peace and stability to the nation. According to a Small Arms Survey, 125 of Haiti's 189 prisons, police stations, and jails were destroyed during the violence that coincided with Aristide's ouster, along with eight courthouses. A November 2004 report written by the National Center for State Courts on behalf of USAID concluded, "The justice system of Haiti is best described as barely functional."
This is not a new problem for Haiti. Even during the 1990s, 80 percent to 85 percent of Haitian prisoners were in pretrial detention. But there's a new sense of urgency about these cases since the nation's most significant party, Fanmi Lavalas, made the release of all political prisoners the main condition for its participation in November's elections.
Many of the men in this prison come from the poorer sections of Port-au-Prince, generally considered to be Lavalas territory. The graffiti that adorns the walls around their wasted neighborhoods says things like "Aristide the King" and "We Fight Until Aristide Returns." The detentions have further inflamed the anger of Aristide partisans, who view the arrests as politically motivated.
It's not that these men are all upstanding citizens; some have undoubtedly taken part in drug trafficking and in the killings and kidnappings that have left 900 dead since September. Some of them, however, are innocent, and keeping them in prison is an abuse of human rights that eats at the credibility of Haiti's interim government and further destabilizes the country.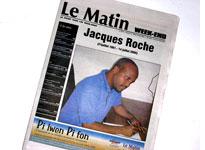 When I visited the National Penitentiary, Father Gérard Jean-Juste was locked inside. As I mentioned yesterday, Jean-Juste is a priest, an advocate for the poor, and—possibly—Fanmi Lavalas' next presidential candidate. On July 21, he was arrested and accused of aiding the kidnapping and murder of noted Haitian journalist and poet Jacques Roche. Jean-Juste insists he was not involved in Roche's death, and the Haitian government has yet to offer any real proof that he was. Still, he sits in prison.
Some Haitians suspect that Jean-Juste has had a hand in the violence perpetrated by Aristide supporters. He has long been committed to nonviolent protest on behalf of immigrants and the poor in both Haiti and the United States, where he has occasionally lived. But the day Jean-Juste was arrested, he went before a judge and uttered a line that infuriated the anti-Aristide crowd: The rash of kidnappings that plagues Haiti, he said, began on Feb. 29, 2004, with "the kidnapping of Jean-Bertrand Aristide, organized by the [international community]." The statement was widely taken as a gesture of support for kidnapping as a retaliatory technique, an interpretation that Jean-Juste denies. In spite of a week of trying, I was never given permission to visit Jean-Juste in prison. (He's since been allowed to see at least one journalist for a few minutes.)
But Jean-Juste is only the most recent Fanmi Lavalas detainee. Aristide's former prime minister, Yvon Neptune, has spent the last 14 months in jail, accused of involvement in a bloody massacre of Aristide opponents. It's a charge Neptune denies, and he has occasionally pursued hunger strikes to protest his detention. Over the last year, almost every major human rights group, along with the U.N. Security Council and dozens of members of the U.S. Congress, have demanded his release.
In an Aug. 3 interview at his heavily guarded residence in Port-au-Prince, U.S. Ambassador to Haiti James Foley slammed Neptune's continuing detention. "The fact that he's been languishing in jail for more than a year, and he's been on a hunger strike for part of it, is deeply unfortunate and has tarnished the image of this interim, unelected government," he said. In a more recent interview with the media, Foley said the interim government has never come up with "the least evidence, the least clue, the least testimony" that would prove Neptune's guilt.
The interim government has backed itself into a corner, and interim Prime Minister Gérard Latortue is either ignoring the problem, or he just doesn't know what to do. At this point, releasing Neptune and Jean-Juste will make him look weak, and Lavalas will exploit that weakness. But if the Lavalas threat to boycott elections is real, not releasing them could be even more disastrous. 
Meanwhile, back at the National Penitentiary, teams of election, prison, and human rights workers from MINUSTAH have been registering detainees, just in case they are released in time to vote in November. I watched several men line up in the sweltering heat, glad to be out of their overcrowded, dirty cells and clearly excited to register. The abysmal conditions in Haiti's prisons make it clear that the system should have been reformed long ago. Perhaps, now that its dysfunction has become a flash point in Haiti's current crisis, those reforms will come to pass in time to help these men. Especially if one of their fellow inmates becomes president.
Tomorrow: The poor get poorer.
---