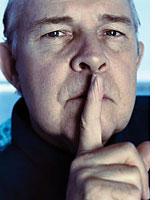 WASHINGTON, D.C.—Investigators probing the leak of an official's name to the press have begun looking into a phone call, according to an official close to the investigation. The official, who asked not to be identified because of the sensitive nature of the investigation, said investigators were focusing on whether the phone call took place, who was speaking, and what they said to each other.
"The investigation is at a critical point," said one official, not the same one, who spoke on the condition that his name not be used because he was not authorized to speak to the press. But another official, speaking on background because he did not want to be seen as contradicting his superiors, said the investigation was only at "a point, but not a critical one."
The key question facing investigators at this juncture is whether a highly placed official, whom they declined to name, spoke with a second official, whose identity is being kept secret. "That's the key question facing investigators at this juncture," said one official familiar with the investigation's progress who briefed reporters on a not-for-attribution basis because he doesn't really know what he's talking about. Although the first official's identity could not be learned, a law-enforcement source who requested anonymity because he told his wife he was "out of town for a few days on something big" confirmed that the official "was most likely someone in the government."
In their efforts to trace the phone call, investigators may review phone records, said an official who is not directly involved with the investigation but carpools with at least one person who is. The General Accounting Office keeps records of all long-distance phone calls made by government officials to check against the phone bills. An official there, who refused to give her name to a reporter because she thought he was "getting fresh" with her, could not confirm yesterday whether investigators have requested those records.
For administration officials who have been keeping a close eye on developments in the investigation, yesterday's events were just another twist in a long-running saga that shows no signs of ending soon—unless, as one official suggested, investigators are close to wrapping up their probe. The official requested that his name not be published because it contains characters that aren't part of the English alphabet.
---