If you liked last fall's installment of Conversations with Carrie Fisher in which the hostess of the Oxygen talk show took on her own famous and dysfunctional father, Eddie Fisher, in a no-holds-barred psychodrama meltdown, you won't want to miss the new HBO documentary with the cumbersome title A Father … A Son … Once Upon a Time in Hollywood,which premieres Sunday at 8 p.m. ET. For an hour and a half, Kirk Douglas and his son Michael natter and kibitz like the old Jews they are. They lock horns, kiss and make up, sing songs, sip coffee, and eat Bundt cake in Kirk's living room. It's an odd sort of show-business documentary, far less concerned with the two men's careers than it is with the embattled intimacy of their Oedipal relationship.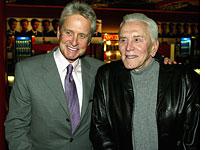 Kirk Douglas' speech is slurred from a 1996 stroke and sometimes difficult to understand, but his mental functioning is still perfectly sharp, and at 86, he remains an unusually articulate, charming, and handsome man. In clips from his old films, he looks almost impossibly lithe and virile; as Michael recalls, "He could do anything. He was a fast gun drawer, he could jump on horses, he could juggle, he could walk the oars of a ship." Indeed, Kirk was so manly that he could only sire sons; Michael's younger brothers, Joel and Peter, describe their memories of feeling like also-rans in a two-movie-star family. The film is dedicated to Eric Douglas, Kirk's youngest son and Michael's half-brother, who died last year at 46 after a lifetime of drug addiction and a failed career as a standup comic.
What's most striking about Once Upon a Time in Hollywood is the extent to which the entire Douglas family, including the macho, octogenarian movie star, has internalized the language of therapy-speak. They're all fluent self-analyzers, expert discerners of their own and others' motivations. "Every son wants the approval of his father," Kirk Douglas muses. He claims to be still waiting for approbation from his own, a Russian Jewish immigrant who worked as a ragpicker and never understood or forgave his son's success. Michael, in turn, avers that, growing up in the shadow of a father like Kirk, "Forget acting—you just didn't know how to even be a man."
David Thomson's great reference work, A Biographical Dictionary of Film, contains this formulation about the ambivalence of Michael Douglas' screen persona: "There is in his eyes, his jaw, his hairline and his voice the memory of his father. But there is also something like his horror at being so like Kirk." This paradox—I am my father, I am anything but my father— emerges in the Douglases' personal lives as well. Michael tells the story of Kirk spotting his first wife, Diana, on a Life magazine cover and declaring, "I'm going to marry that girl." A few dates later, he did exactly that. "That's how relationships and divorces happen," clucks Michael disapprovingly. "You decide before you hardly know somebody that you're going to go marry them." But later in the doc, Catherine Zeta-Jones tells a remarkably similar story about her husband: After seeing her in Zorro, Michael took her to dinner once and promptly asked if he could father her children. 
A Douglas family feud still lingers about One Flew Over the Cuckoo's Nest, which Michael Douglas co-produced at the age of 29 (winning his first Academy Award in the process). Kirk, who had originated the lead role of McMurphy on Broadway, was furious that Jack Nicholson was cast in the film version, and 30 years later, he still hasn't completely forgiven his son for not fighting harder to get him the part. But though some wounds remain raw, Kirk and Michael appear to have arrived at a fragile detente and to genuinely enjoy one another's company. Describing the physical effort involved in getting his mouth to translate the signals coming from his brain, Kirk concludes that the process of learning to speak after the stroke has been "frustrating and exhausting." His son responds impishly, "But great for oral sex," and the two men collapse in gales of laughter. The documentary closes (as did Carrie Fisher's interview with her father) with a shared a cappella performance of a song from one of dad's old movies—in this case, "A Whale of a Tale" from 20,000 Leagues Under the Sea. "I've got a whale of a tale to tell you, lads/ A whale of a tale or two," they croon in unison. The story of the Douglas lads is indeed a whale of a tale, and in Once Upon a Time in Hollywood (which was directed by actress and Douglas family friend Lee Grant) they tell it very well.
---