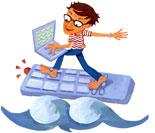 Listen to the podcast audio version of this story here, or sign up to get Slate's free daily podcasts.
CNN's new afternoon news show The Situation Room (not to be confused with MSNBC's The Situation With Tucker Carlson, which has just been banished to the attic of an 11 p.m. time slot) is the latest example of what CNN President Jonathan Klein describes as his network's "newfound dedication to being the newsy alternative." In a landscape of nearly indistinguishable cable yammerfests, The Situation Room's main claim to innovation is twofold: It's live, and it's three hours long. This unusual combination means that the show manages to be at once an impressive technical achievement and a colossal bore.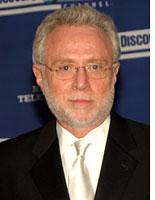 Besides being very, very live and very, very long, the most notable thing about The Situation Room (weekdays 3 to 6 p.m. ET) is its anxiety to define itself as a different kind of news show. In the words of Jon Stewart on last night's Daily Show, The Situation Room is "Wolf Blitzer's show, but with giant screens. Same old s**t." The show's quintessential visual: Blitzer standing in front of a bank of long, narrow screens, each showing a live newsfeed from a just-reported or upcoming story. There's a lot of Terminator-style graphics pulsating around the edges of the screens, as digital clocks tick off the exact time in different parts of the world. In Vienna, Austria, it's 11:03:01 a.m.! In Crawford, Texas, it's 2:03:25 p.m.! Stuff is happening in different time zones, and we here in The Situation Room plan to glancingly refer to at least some of it!
With the influx of information from all over the world, The Situation Room intends to show us not only the product, but also the process of newsgathering. But isn't the job of a news show to cull through the day's information and decide what's worthy of our attention? Do we really have to sift through all this crap ourselves? Blitzer likes to talk about the flow of information "streaming in" and the "data coming in in real time … happening now." (Unlike those other news programs, which prefer to choose events that happened on some random day in the past.) As the afternoon sun slips by outside the viewer's window, Blitzer takes every opportunity to remind us that we're not just vegging out to basic-cable chitchat, interspersed with Target and Ditech commercials: "You're in the Situation Room." According to Wonkette, Blitzer uttered the show's title 58 times during Monday's premiere; by Wednesday, the total was down to a humble 53.
In between interviews and "strategy sessions" in which guests stand awkwardly around a conference table, The Situation Room offers a few regular features. "Inside the Blogs," a segment imported from CNN Inside Politics, features Jackie Shechner and Abbi Tatton, two faintly hip young women who stand around reading aloud from highlighted blog posts on huge freestanding computer screens—an improvement, at least, over the old format, in which the women hunched over tiny laptops while shaky hand-held cameras filmed the murky, nearly unreadable screens. Another hourly feature is "The Cafferty File," in which a reporter named Jack Cafferty puts out a "Question of the Hour" to viewers, whose e-mail responses are then read on-air. The cranky, balding Cafferty won my heart by complaining, twice, about the perky theme that accompanies his segment: "Wolf, my No. 1 question this hour is what is that annoying music they're playing under me?"
Today's big get on The Situation Room was an "exclusive" 15-minute interview with Bill Clinton, which was then chewed over by pundits at intervals over the next three hours. The former president sat in what appeared to be his living room in Chappaqua, looking sleek but frail (don't you sort of miss his old chipmunk cheeks?). He talked briefly about the war in Iraq and his wife's potential candidacy for the presidency before shifting focus to his work on HIV and AIDS prevention in Africa. It was a standard puff-piece interview, somewhere between public-service announcement and campaign stop, which made it all the odder that Blitzer chose to end the encounter by flashing up an old picture of Clinton White House situation room. Describing the picture to the president, Blitzer asked, "You're now in another situation room, at least via satellite. How does it feel?" Clinton seemed confused for a fraction of a second before responding with a laugh, "I liked being in the other situation room, but I like this one better. There's less pressure and more freedom. And I know I can walk out on you—I couldn't walk out on the other situation room." As the show prepared to cut to a commercial, the giant screens showed a suddenly tired-looking Clinton, waiting for an aide to remove his body mic. He seemed eager to get away from the delusional Blitzer and back to his real life. From where I sit right now at 5:15:04 p.m. ET, heading into my third straight hour of real-time data collection, I'm inclined to agree.
---