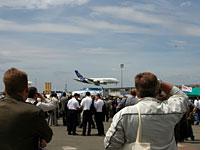 When I get my first view of the Airbus A380 in flight, I feel like I'm watching a whale documentary. Whales may seem like the inevitable comparison, since the A380 is the largest passenger jet ever built, but it's not just that it's big. It seems nearly silent, especially compared to the fighter jets that were showing off a few minutes earlier. It flies low and, by some optical trick, appears to be moving slowly. As it swoops and circles, an announcer intones commentary, and sober music plays over the tinny loudspeakers. The vast tarmac has filled with people, and all eyes are skyward.
But it also makes me think of another prodigious, slow-moving creature, one that became too big, and then extinct. Airbus has bet on a megaplane, one that in its "evaluation model" seats 555 passengers.
In fact, though, airlines may stuff in many more. The realistic maximum, says Airbus Senior Marketing Analyst Corrin Higgs, is 800. That implies certain assumptions about how we're going to fly in the future. It implies that an ever-expanding market of passengers will want to jump between mega-cities like New York and Hong Kong, many of them using feeder routes to get to those hubs. (This is called a hub-and-spoke model.) It also implies that passengers will adapt to the idea of being airborne with 500 or 800 other souls.
The A380 is an engineering wonder, and its commercial prospects look sunny this week, with 13 passenger airlines having already put in orders. But I've also been struck by how sunny the prospects look for much smaller flying machines.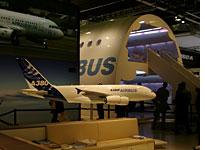 Jim French, chairman of the U.K.-based low-cost carrier Flybe, wrapped up a press conference this week with the quip "Size matters." But he was talking about how pleased he was with the Bombardier Q400, which seats up to 78. Flybe has 45 Q400 jets on order, and the company also just ordered 14 of the Embraer 195, which seats 108. In a passenger market that has major airlines struggling, his privately held company is growing briskly—it flew 42 percent more passengers in May 2005 than in May 2004. It is expanding by flying routes such as Southampton, England, to Toulouse, France, and Exeter, England, to Belfast, Northern Ireland—point-to-point trajectories that bypass major hubs.
Everyone in the industry agrees that in the future more people will fly and people will fly more. (Although those assumptions could be thrown into doubt by a severe rise in oil prices or a SARS-type epidemic.) But we don't really know where they will choose to go or how they will get there. Much of China may be hopping on planes in the near future. But will they all fly from Shanghai to Los Angeles? Or will most just want to fly routes like Chengdu to Dalian, or Guangzhou to Ningbo, skipping Shanghai altogether?
We will still need very large planes to get from Shanghai to Los Angeles. But within continents, commercial planes could keep getting smaller. Barry MacKinnon, a vice president of Bombardier's regional aircraft division, gave me an example of this kind of downsizing: Air Canada used to fly an Airbus A319, which seats 122 passengers, once a day between Calgary, Alberta, and Houston, Texas. As of this month, it flies a smaller jet, the 75-seat Bombadier CRJ 705, twice a day instead. The switch shows that increasing air travel doesn't necessarily mean we need ever-bigger jets. The Calgary-Houston route could grow—but it still might make sense to fly more small jets, giving passengers more choice.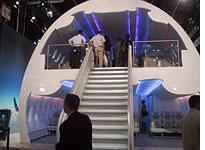 The Internet has converted air travel into a retail business. That is, we can compare price and product and pick what we want, much in the same way we would shop for a suit. That means buyers have more power to shape the market than in earlier phases of the air industry's development. If I had to wager on what buyers want, I would bet on point-to-point flight patterns wherever the limits of engineering allow them, rather than hub-and-spoke routes. Because air travel is hellish enough without an extra transfer.
Still, size is spectacular. Seeing the A380 overhead motivates me to go look at the full-scale model of the plane's interior on the floor of one of the immense pavilions where manufacturers display their wares. The model, which visitors can enter, is roped off, and the guard controlling access is acting like a bouncer at an exclusive club. People thrust business cards at him, but time after time he tells them no. One woman begs him for the A380 pin on his lapel. A uniformed Senegalese officer crowds next to a pair of French engineers who crowd next to an Indian family. We're all pressing against the rope. The show does not open to the public until the next day—until now it has been for trade visitors only—but it's starting to feel chaotic.
The A380 is undoubtedly hot. But whether it has enough staying power is another question.
---