Robert Painting does business at the Paris Air Show standing under the wing of a 747. To his right, a trio of fighter jets are on display, and on his left, jutting skyward, is a full-scale model of the Ariane 5 rocket ship. In front of him, he can see the world's newest civilian and military aircraft, and beyond them, the air show's "chalets." Clubhouses paid for by industry heavyweights like Finmeccanica, Bombardier, and Boeing, the chalets are accessible by invitation only and are used by the companies to hold meetings and receptions. Many of the deals announced throughout the week—Boeing has secured about $12.5 billion worth of business so far, and Airbus about $19 billion—are finalized and fêted in the chalets.
Painting's entire air show presence consists of a stand and a couple of lawn chairs, and you can do a deal with him for as little as about $762. His U.K.-based company, Wingaway, makes devices that scare birds, and that's the price of his cheapest model. Before he discovered this market niche, he says, "I couldn't have given a monkey's about airplanes."
Painting wears his spectacles on a string around his neck, and he  sports a white rose in the lapel of his black suit. His gray hair is blowing in the wind, and a rock holds down his flyers. He attracts quizzical and sometimes unhappy looks from passers-by whenever one of his demonstration models emits a loud, sustained, squawking noise, which it does at irregular intervals. Few people stop.
Painting's target buyers are airports. Birds pose a hazard to planes. Small birds, like starlings, get sucked into the engines, and larger ones, like gulls, crash into the bodies. According to Bird Strike Committee USA, worldwide more than 195 people have been killed as a result of wildlife-airplane collisions since 1988, and annually such run-ins cost $600 million in damage. The organization calls starlings "feathered bullets" because of their small but unusually dense bodies.
Commercial jets are designed to withstand the impact of a 4-pound bird, but some birds are larger and most come in flocks. One major manufacturer, Painting says, tests its airplanes by firing frozen chickens at them.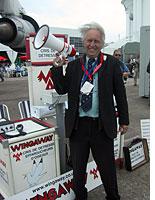 Painting, who is also an agricultural engineer, got into the bird-scaring business in the 1970s, when he began importing farm machinery. "I imported one of the leading bird-scarers at the time, but it just went 'bang.' " Clearly, there was room for improvement. Birds are scared away by the sound of one of their own species in distress, so he developed a line of products using bird recordings.
It would appear to be a growth market. Bird Strike Committee USA says collisions are on the rise, and, Painting notes, environmentalists encourage bird-scarers now, "from the point of view of the birds."
Painting says he has customers in 39 countries, not all of them airports. Some are farmers, some are city governments, and some are just people with bird problems. He said the British Embassy in Iran just bought a hand-held model.
He hasn't made a sale this week, but, he says, he expects to clinch something with an American avocado farmer who showed great interest. "I have no idea what she was doing here," he says.
But, as any CEO knows, it's the long-term relationship that counts. "A lot of times people talk to me, but then I don't hear anything until they have a bird drop. Sometimes three or four years after I meet someone, I get a call." And when that call comes, the customer is often in such dire straits that Painting drives a unit to his home airport, in Chippenham, for immediate shipment.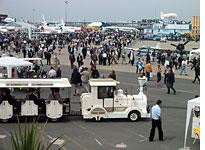 This is his first visit to the Paris Air Show, but he has attended smaller shows and the Farnborough International Airshow, the biennial industrywide event that alternates with the Paris show. After years of trying to get into Farnborough, he and his little stand were admitted. But the organizers of the subsequent show told him every exhibitor had to rent at least 15 square meters (161.5 square feet). "Now, what would I do with 15 square meters?" he asks. "It might have been that I didn't quite fit the image."
As in any corporation, research and development are key. Over the years, Wingaway has switched from taped to digital recordings. Otherwise his machines don't look very high-tech. They each have a sound box and one or more speakers; one is designed to be installed in a vehicle. The one doing the squawking in Paris appears to be powered by a small car battery. With more than a dozen bird sounds available, Painting can clear out jackdaws, rooks, herons, blackbirds, and a variety of gulls, among others.
But not pigeons. He has been looking for a way to shift pigeons for 20 years, recently experimenting with ultraviolet light rays. "Pigeons are a failure," he says. "They are the holy grail."
---