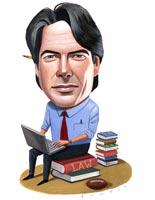 "How can we do a show without murder?" This was the question confronting Tim Green, the new host of A Current Affair, as he stood in the show's Secaucus, N.J., studio last week, contemplating a day without bloodshed. After nine seasons in hiatus, A Current Affair has rediscovered its passion for revenge killings and cult suicides—what its producers call, cheerily, "extraordinary things happening to ordinary people!" When society fails to yield a corpse or two, A Current Affair goes limp, and the Secaucus studio becomes, well, a morgue. Green was watching the day's final segment: obese Thai women competing in a beauty contest. "Someone has got to be getting killed somewhere," he said. "Especially during sweeps," a cameraman replied.
Forgive Green if he's still learning the art of muckraking. He comes to A Current Affair with literary ambitions—something that never afflicted the show's former host, Maury Povich. Where Povich was a preening sleazeball, built to thrive in Affair's seedy milieu, Green has a C.V. that would make him an ideal candidate to host Booknotes. In 1986, he graduated co-valedictorian from Syracuse University, where he studied creative writing under Tobias Wolff. He later published 10 novels, graduated from law school, and become a member of the New York bar. In spare moments, he found time to play eight seasons in the National Football League and write a memoir about his search for his long-lost birth mother. In terms of aesthetics, the union of Green and A Current Affair seems a little like a battle for the soul of tabloid television.
A Current Affair was a trailblazer when it first appeared in 1986. It married the investigative ethos of the newsmagazines with the ethics of the National Enquirer, creating a new TV genre: slimetime. The show's producers had a supple editorial policy. When Joey Buttafuoco asked for $500,000 for an interview, A Current Affair allegedly paid him $500,000. When critics assailed the show's sleaziness, producers sent Povich to cover the fall of the Berlin Wall. The show's production values were Cro-Magnon—slow-motion photography indicating guilt or deadly disease—but there was nothing so sadistically joyous on television. Then, in 1996, A Current Affair was cancelled, having been depleted by a succession of knock-offs and lackluster anchors. As creator Peter Brennan plotted a comeback this year, he decided to ax the show's celebrity pieces in favor of more stories about the guy next door. His first move was to hire Green, whom he calls, not coincidentally, "the guy next door."
Last Wednesday's Affair was a typically giddy one. After introducing a report on women who love accused serial killers, Green offered up an "exclusive": new footage of Bigfoot, shot by a boat operator in Manitoba. "It was 6 a.m. when history occurred," Green said, as viewers watched an indistinct brown smudge moving noiselessly through the forest. (The Manitoban boat operator seemed to be struggling with his zoom lens.) Then to the experts. A shaggy-looking "anomalist," who looked like he had just arrived from an expedition to Victoria Falls, declared, "This may be the footage of the century!" Then Green reappeared, promising that A Current Affair would relentlessly pursue the great beast; a search party just deployed would file daily reports from the hunt.
What does Green bring to such material? Most importantly, not a trace of ironic distance or pretension. Green is so effortlessly dorky (he claims he was booed at his high-school graduation) that he treats news of the Bigfoot hunt like an eager Boy Scout—he glows with childlike reverence. His thick black hair seems to have barely moved from its teenage part. Green has a smile he can fix in place for 20 seconds and a clever student's habit of bringing everything back to classical literature. When I asked him what he thought about A Current Affair's mix of the violent and the ridiculous, he replied, "Forgive me for being an English major, but it sounds like Shakespeare!"
Green has spent his life trying to breathe culture into unlettered professions. First, it was pro football: When he played for the Atlanta Falcons in the NFL, a coach upbraided him for reading War and Peace in the locker room. (Green protested that he was trying to relax.) As his pro career wound down, Green published Ruffians, a roman à clef about the literary daydreams of a defensive end: "One day, when he was finished with his football career, Clay dreamed that he might become a teacher; maybe he could even learn to write. He'd be free from materialism and greed." As he graduated to a career as a thriller-writer, he has taken that hoary genre and injected it with classical bona fides. His latest book, Exact Revenge, which hits stores this month, re-imagines The Count of Monte Cristo as a political thriller. A forthcoming novel will recast Macbeth as a saga of suburban shopping-mall developers.
Last Monday, with A Current Affair in the can, Green was drinking a beer in the lobby of a Manhattan hotel. I asked whether he saw any link between his novel writing and A Current Affair. "Whether it's professional football or thrillers or tantalizing stories on A Current Affair, we always seek the hot spots," he said. "It's like the tectonic plates—where they meet. That's where all the action is. Where things are dangerous and exciting and, you know, great good can occur. But also great destruction and evil can occur."
If that's too geothermal, consider what a successful run on A CurrentAffair could do for Green's career as a Renaissance man. Green does not wish to operate in obscurity—he once wrote, "I wanted … the whole world to admire, love, and adore me." He cites Charles Dickens as a chief influence, not only because of his literary quality but because he was "famous." "It could lead to a talk show," Green said of Affair. "It could lead to movies. It could lead to syndicated radio. Orrrrr"—he stopped to consider the possibilities—"I could end up in politics. Orrrrr I could end up in some other kind of business. Orrrrr I could end up—well, there's so many things. You know what I mean?"
---