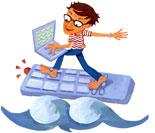 If there was an Emmy for Best Smuggling of Bleakly Ironic Commentary Into a Reality Show, it would have go to whatever producer had the idea to score a scene in last night's premiere of Britney and Kevin: Chaotic to the song "Is That All There Is?", the Peggy Lee torch number that's the ultimate ode to nihilism.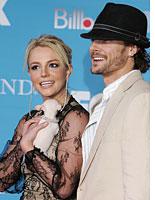 The moment occurred shortly after Britney had Kevin, whom she'd just met five days earlier at an L.A. club, flown out to join her on tour in England. The two lovers sat in the back of a car, being driven to a sound check for Britney's show that night. They were young, vital, filthy rich, and fresh out of bed (where, according to the stupefyingly candid Ms. Spears, they had had sex three times in one day). And yet there Peggy Lee was, asking her jaded and melancholy question: "Is that all there is?/ If that's all there is, my friends, then let's keep dancing/ Let's break out the booze and have a ball/ If that's all there is." (Click here to download the song.)
The segment lasted less than 30 seconds in all, but it crystallized what makes Chaotic feel different from the more artificially staged invasion-of-privacy reality shows, like Newlyweds or Chasing Farrah. Because it's culled from home video filmed by the participants themselves, and because the participants in question are both certifiable exhibitionists and phenomenally dull people, Chaotic feels, at times, almost like one of Andy Warhol's early experimental films: an exercise in repetition and boredom that, however unintentionally, captures the sheer existential tedium of being a celebrity.
My complaint about most reality shows is always: Why do they have to have so much freaking filler time? In order to construct a narrative out of the untidy slog of everyday life, every actual occurrence (the Bachelor proposes, Tyra Banks has a shit fit, Jay McCarroll wins the design contest) must be preceded and followed by endless close-ups of people staring at candles, voice-overing about how nervous they are or how much they've learned about themselves. But the action in Chaotic takes place precisely in those interstitial moments when nothing seems to be happening. The show's emphasis on Britney as a performer is minimal; there are some brief clips from her videos and stage shows, but she rarely discusses her career at all. Instead, the show tracks her quicksilver moods as she darts around, peppering her staff with inappropriately intimate questions ("What's your favorite sex position?") and whooping girlishly as they stammer in reply.
There is, of course, a storyline behind the apparent chaos of Chaotic, but as with Greek tragedy, the audience already knows the characters' fate: watching the exuberant, childlike Britney go googly-eyed for the shiftless, two-timing Kevin, we can already picture her a year down the line, married, knocked up, and accepting the gift of a pimped-out baby carriage from Ellen DeGeneres. If that's all there is, my friends, then let's keep watching.
---