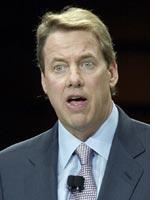 Last week, Ford Motor Co. showed all the signs of a once-great company in distress: a sharply reduced earnings forecast, a credit-rating cut, and a sliding stock. Ford has been here before, most recently in early 2003. The latest run of bad news may represent either the next stage in a long decline or the point at which a miraculous comeback begins. Regardless, it has ended the hopes that CEO William Clay Ford Jr., the youthful great-grandson of Henry Ford, would quickly restore the nation's second-largest automaker to its former glory.
Bill Ford, the first recognizable personality at the top of an American car company since former Chrysler head Lee Iacocca, is a hybrid executive, a postmodern synthesis.Although he came to the CEO's post in the fall of 2001 with no great accomplishments, his lineage and his élan gave him instant credibility. A humanist among gearheads—Ford is a self-confessed guitar-strumming tree-hugger, though he also professes a deep affection for muscle cars—he promised to build an intellectual and managerial bridge between Ford Motor Co.'s glorious 20th century and its uncertain 21st. "There is an air of nonchalant enthusiasm about Bill Jr., a man clearly comfortable in his own skin," Douglas Brinkley wrote in the definitive Wheels for the World. But while the miserable run of numbers is obscuring some of the genuine good Ford has done, it seems like the bridge is buckling.
Henry Ford pronounced history bunk. Bill Ford wallowed in it. Born in 1957, he grew up in exclusive Grosse Pointe, prepped at Hotchkiss, and enrolled at Princeton. From an early age, Bill had "an intense infatuation with American history, particularly Abraham Lincoln, Thomas Edison, the Plains Indians, and his own ancestor, Henry Ford," as Douglas Brinkley put it. Bill worked one summer at Greenfield Village,his great-grandfather's nostalgic reproduction of a pre-automobile America. At Princeton, he wrote a thesis on Henry Ford's labor policies.
When Bill went to work at Ford after graduating in 1979, the company was both a supercharged global corporation and a fourth-generation family business. Henry Ford's descendants controlled the company through a class of special voting stock, and the presumption was that the males among them would find their way to the top. Bill rotated through different departments and joined the board of directors in 1988. But when it came to executive ability, he was more like the young Franklin Delano than like Theodore Roosevelt. According to Brinkley, his boss, Don Peterson, thought him "the most likely fourth-generation Ford to rise to the top" but not because he had "any remarkable skill." "What he had was a fine manner," Peterson explained. "He never became fully knowledgeable of any particular aspect of the company. But he was naturally bright and that can compensate for a lot."
In January 1999, Bill Ford was named chairman of the board at the age of 41. And while Jacques Nasser ran the company as CEO, Ford engaged in big-think. Other American car manufacturers planted new facilities in low-cost foreign countries; Bill Ford advocated investing in domestic manufacturing. His signature project involved investing $2 billion to turn his company's vast River Rouge complex outside Detroit into a technological and environmental showcase. As his competitors feverishly opposed any efforts to boost fuel efficiency, Ford proclaimed in 2000 that he could increase the fuel efficiency of his company's SUVs by 25 percent in five years.The next year he unveiled the design for the Escape Hybrid SUV, billed as the car that would occupy a happy middle ground between the new Japanese hybrid putt-putt and the masculine Hummer.
At the same time, however, Ford Motor Co. continued to stamp out hundreds of thousands of gas-loving Expeditions, Explorers, and Lincoln Navigators. Sales of these land yachts boosted Ford's top line, but the bottom line suffered. Distracted by investments in technology and services, and intent on maintaining too many brands, the company was caught short by the 2000-2001 downturn; it lost $5.5 billion in 2001, and Nasser resigned that October.
Assuming the role of CEO, Bill Ford made a series of tough decisions. In 2002, he pushed through a major restructuring, eliminating 35,000 jobs, five plants, and the Lincoln Continental. Spurred by ultra-low interest rates and 0 percent financing, Ford Motor Co. recovered quickly. Results improved markedly in both 2003 and 2004. Future strategy rested on relentlessly seeking efficiencies and pumping up the volume of key products, pickup trucks and SUVs. Pretax profits would rise to $7 billion by 2006, Bill Ford promised. These profits would enable the company to make the investments needed to transform it.
But then Ford the company's drive for profits ran right over Ford the humanist's eco-friendly vision. Bill Ford's promise to boost fuel standards for SUVs was abandoned in 2003 as too costly and impractical. Meanwhile, the Escape Hybrid remained trapped on the drawing board until last fall, even as the Toyota Prius became a status symbol. Environmentalists turned on Ford, somewhat unfairly. The River Rouge plant, which was opened to the public in May 2004, is an environmental showcase. And this is a guy whose "distaste for nonbiodegradable materials" is so powerful that the curtain and carpeting in his office "are all made of hemp," as Brinkley noted. Still, Ford's image continued to take a beating, especially after it was revealed he had been allocated 400,000 shares of Goldman Sachs in a 1999 IPO. Ford was a major Goldman Sachs client, and Goldman president John Thornton sat on Ford's board. Ford's own board absolved him of wrongdoing, but he sold the shares and gave the profits to charity nonetheless.
Ford Motor Co. turned around enough to have a good year in 2004. But its profits came mostly from its financing arm. And there were signs of trouble. In the 2004 fourth quarter,vehicle sales fell far, and Ford's U.S. auto operations lost $470 million. And in recent months Ford and General Motors have been getting the tar kicked out of them by Toyota, Honda, and other companies that specialize in smaller, more fuel-efficient cars. Aside from the F-150 truck, Ford lacks big hits. As this March report shows, in the first quarter of 2005, sales of the Excursion, Explorer, Expedition, and Navigator—the big vehicles that sport far higher profit margins than the Taurus—have all declined sharply.
The environmentally friendly products that Bill Ford said would be integral to the company's future also now seem peripheral at best. But it's one thing to overpromise and underdeliver to the Sierra Club and quite another to do the same to Wall Street. In April, just one month after reaffirming its profit projections, Ford reduced its estimate for 2005 by nearly 30 percent and rescinded the promise of $7 billion in pre-tax profits for 2006. The market responded by driving Ford's stock down to $10. (Here's a chart of Ford's stock against both GM and the S&P 500 since Bill Ford took over.) And last Friday, Standard & Poor's lowered Ford's credit ratings—it has $173 billion in debt outstanding—perilously close to the dreaded junk level.
To be sure, this is a very difficult time, perhaps an impossible one, to be the chief executive of an American auto business. The factors that are making it difficult to turn a profit—expensive steel and oil, a weak dollar, rising health-care costs, aggressive foreign companies—are likely to be with us for awhile. And the government certainly isn't in any mood to help. But Bill Ford no longer appears to be what the Ford family and the company's 324,000 employees needs. His job isn't in jeopardy, since his family still controls the company. Ford Motor Co. might be best served, however, by a sharp break from the past. It needs someone to bust things up, to make difficult choices about its many brands, about its relationship with labor, about the basic nature of its business. In short, it needs an executive who more closely resembles relentless Henry than sensitive Bill.
---