Today's slide show: Images from Sayyida Zeinab, Damascus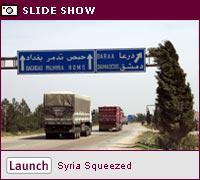 On the fringes of Sayyida Zeinab, an outlying suburb of Damascus, there are signs of transience. Buses are lined up pointing eastward, facing desert for hundreds of miles. There are families loading large square packages and plastic-wrapped children's bicycles into the cargo holds. There are cheap hotels and signs on boxy concrete buildings that advertise furnished rooms for rent.
Dominated by the spectacular golden dome of the Sayyida Zeinab mosque, this neighborhood draws Shiite pilgrims from Iran, Saudi Arabia, and farther afield. For more than a decade now it has also been a magnet for Iraqi Shiite migrants who have come and stayed, in numbers that probably peaked in the hundreds of thousands. They came during the eight-year war between Iraq and Iran that ended in 1988, then during the Persian Gulf War of 1990 and 1991, and then they came as refugees from Saddam Hussein's regime. Most recently, in the aftermath of the U.S. invasion in 2003, they came again.
"I came to feel like I'm a human being," said Ali Raouf Abdul Amir, a patron of the Restaurant of the Youth of Iraq. He arrived on May 25, 2000, before the most recent war. "I had to serve twice in the Iraqi army, and so I couldn't grow at all financially," he said. "Imagine a person my age not married yet." Amir, 30, is an artisan who inlays precious stones into metal in his shop one alley over from the restaurant. His sister and two brothers followed him here and sat out the postwar chaos, but they left six months ago. Amir is now thinking of going home too.
Newspapers, citing the United Nations and Syrian officials, have suggested that between 500,000 and 700,000 Iraqis—Muslim and Christian and of various ethnicities—have arrived in Syria since the war ended, joining some 100,000 Iraqis who were already here. An official at the International Organization for Migration in Damascus suggested to me that the number of new Iraqi arrivals was 400,000. If somewhat disparate, these figures are better than the statistics on how many Iraqis are leaving Syria, which don't exist.
There are anecdotes, though. Two-thirds of Iraqis in Sayyida Zeinab have returned to their homeland since last autumn, according to an estimate by Bassim Suleikhi, an Iraqi trucker and trader who travels the road between Damascus and Najaf. He splits his time between the two cities when he is not on the road, and he, too, takes tea at the Restaurant of the Youth of Iraq.
Two-thirds sounds like a lot, especially since Sayyida Zeinab still feels Iraqi in many ways, as well as overwhelmingly Shiite. (Shiite Muslims make up only a small minority in Syria.) The streets and alleys around the mosque, where you can buy assorted nuts, a whole goat carcass, or a polyester dress, were thronged with shoppers on the two occasions I visited. Nearly every woman wore an all-erasing black cloak of the kind typical in Iran and southern Iraq but unusual in downtown Damascus, where European dress is common. Campaign posters from Iraq's Jan. 30 election were still pasted to the walls, all of them for the United Iraqi Alliance, or 169 list, the Shiite party endorsed by the influential Grand Ayatollah Ali Sistani. (Ibrahim Jaafari, a 169 candidate, is Iraq's new prime minister.) There is an Imam Sadr Hospital on Sayyida Zeinab's busiest thoroughfare, named for the late Iraqi cleric Mohammed Sadiq Sadr. As well as founding a network of Shiite charities, he fathered the young firebrand Muqtada Sadr.
Even President Bashar Assad appears to have pragmatically franchised himself in Sayyida Zeinab. Throughout most of Syria his face appears alone, hanging on government ministries, buses, and barbershops. Often his image appears near a picture of his late father, Hafez, the former president, or his deceased brother Basil, the would-be president who was killed in a car crash. Occasionally, Bashar appears in a pastoral setting with his wife and kids. In Sayyida Zeinab, though, the photo on the walls is one of him sitting as an equal beside Hassan Nasrallah, the leader of Hezbollah, the Lebanon-based Shiite militia group. Perhaps, in fact, it is the residents of Sayyida Zeinab who have done the co-opting. Bowing to the unspoken national demand to display the president, they have chosen this particular depiction.
Still, as the election posters fade in the bright sun, the 10- to 14-hour road trip to Najaf is beginning to look more attractive for Iraqis who, after all, can never obtain Syrian citizenship.
"I'm homesick, and I expect the Iraqi government to stabilize things soon," Amir said. He told me that government jobs in Najaf now pay $200 a month, compared to $3 a month under Saddam Hussein. "If the government employees are getting good salaries, they go out and buy televisions and other things," he reasoned. Suleikhi, the trucker, told me government jobs back home now paid $300-$400 a month. In any case, the reports are good. "The standard of living is 100 percent better," Suleikhi said. I have met few men more openly pleased than these two with both Syria and the United States.
"We will never forget about Syria, which hosted us all these years," Amir said, adding that he has had the freedom to do as he pleases here. Syria has allowed Iraqi migrants to send their children to public schools, get medical treatment at public clinics, and obtain drivers' licenses. Suleikhi, for his part, said that he prefers traveling to Syria than to Jordan, because of the psychological bond between Iraqis and Syrians. As for the United States, "the invasion was a good thing," said Suleikhi. Thirty-eight and single, he has been traveling between Syria and Iraq since 1997. He buys parts for cars and trucks in Syria and sells them in Iraq, and he has noticed a major upturn in business since the end of the war.
Amir says he is grateful to the United States for overthrowing Saddam Hussein, but he is more circumspect than Suleikhi. He noted that Najaf, while much improved over recent months, suffers from the lingering blight of occasional terrorist attacks, which he blames on Sunni fundamentalists. He is not entirely sure about the U.S. government's intentions and said that it may have lied about being a liberator rather than an occupier. I asked him what he would do if that was the case. With enviable peace of mind, he said, "We will await Sistani's word and do what he says."
---