"I have the silliest job in the world and I can't believe they pay me for it," Pamela Anderson has said in an interview. But what exactly is Anderson's job? It seems to be best defined negatively: "I'm not an actress. I don't think I am an actress," she told Larry King in 2002. "I think I've created a brand and a business." In recent years, that brand has diversified in ways that make Martha Stewart look lazy: The world-renowned pinup has developed three of her own television projects, written two syndicated women's magazine columns (not to mention a recently launched Friendster blog), authored two novels based on her own scandal-filled life, launched a clothing line, and appeared on her own slot machines. Whatever Pam's job is, she's damn good at it, remaining a full-on, ratings-boosting, adolescent-fantasy-inspiring sex symbol at an age when most actresses are already beginning to moan about the lack of roles for "older" women. (Pam's 37, as she recently reminded a gossip columnist for the New York Times—perhaps the only starlet ever to upward-revise a journalist's estimate of her age.)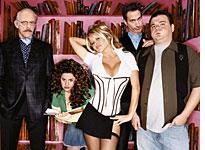 Stacked, the new Pam-centric sitcom that premiered last night on Fox (Wednesdays, 8:30 p.m. ET), is almost aggressively retro in form: an ensemble comedy with a multicamera setup, a canned laugh track, and a single-workplace setting. The premise: A stuffy, recently divorced bookstore owner (Elon Gold) hires a high-spirited party girl (Dame Judi Dench. No, just kidding: Pamela Anderson) after she wanders into the shop distraught, seeking a self-help book and the courage to dump her cheating rocker boyfriend.
For a Fox sitcom starring Pamela Anderson, Stacked is surprisingly mild-mannered; it's no Frasier, granted, but it has something of that show's gentle, character-based humor and bookish wit. (Last night's repartee included shout-outs to Jane Austen and Carl Jung.) Given its decent dialogue and solid ensemble acting (the cast includes Christopher Lloyd as a wacked-out physics professor, Paget Brewster as an icy ex-wife, and Marissa Jaret Winokur as a sarcastic coffee clerk), Stacked stands a chance of settling cozily into its pre-American Idol timeslot. But let's face it: It's mainly an excuse to look at Pamela Anderson, which, nearly 16 years after her first Playboy cover in 1989, remains a strangely compelling thing to do.
According to one of the producers of the '90s sitcom Home Improvement, where Pam had a tiny but wildly popular role as the overall-clad "Tool Time" girl: "She had this very simple, great spirit and people were really drawn to her. She just seemed like someone you would want to know." From the cheesy Baywatch to the campy V.I.P. to the clever animated series Stripperella, Pam's real skill has always been her unique ability to be in the T & A biz without seeming to be of it. Behind the false eyelashes and eight-inch Lucite heels, through two stolen sex videos, three sets of breast implants, and four weddings to the same man, Pam still manages to come off as, well, nice—a goofy, self-deprecating girl amused by the power of her own sexuality.
Although every inch of Pam appears thoroughly produced (in one profile, the interviewer marvels at the "hand-tooled lustre" of her tiny, pedicured foot), she has nonetheless become the spokeswoman for a kind of erotic "realness." In a Details interview in the wake of the Tommy Lee sex-video scandal, she mused: "I think what makes people sexy is their sense of humor, their realness, their kind of stumbling human qualities." If you've ever seen the celebrated Pammy-and-Tommy honeymoon video, with its long stretches of unsexy tedium and endlessly repeated endearments ("I love you so much, baby." "Yeah, me too, baby"), you know what she means—never have two naked celebrities come off as so shallow, so ridiculous, and so completely in love.
Anderson's exaggerated megafemininity and messy public life make the project of being a woman seem wonderful, comic, and difficult, like a madcap caper that's never quite perfectly pulled off. Her process of continual self-reinvention, from centerfold to businesswoman to author to actress, is nothing like, for example, that of Madonna, our other great entrepreneur of blondness. Madonna has always seemed like a behind-the-scenes dictator, some combination of Evita Perón and the Wizard of Oz, orchestrating an orderly march of ever-renewed selves from behind the velvet curtain. Pam's appeal (which Stacked, at least so far, seems to understand) is that her persona makes visible the contrivance, the ridiculous effort, of remaining the official "sexiest woman alive" for over a decade and a half. Whatever the real woman may be like, the appeal of Brand Pam is, above all else, how natural she seems—she may be a fake, but she's a real one.
---