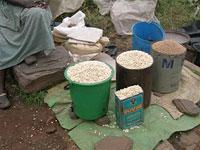 In Harare's Mbari neighborhood, there's a small outpost of Zimbabwe's most vital black market. It's next to the one-room apartments that used to house migrant laborers, where women and children now squat on the sidewalk building fires, and just beyond the open-air workshops where scores of the men now stand in the mud building coffins by hand.
This is where a dozen women sell Zimbabwe's most coveted contraband: food. For every 44-pound bucket of dried maize they sell, they'll earn a profit of $3,000 Zimbabwe. Or about 25 cents U.S.
"I just sell maize to help my children. That's all what I do," said Lillian Tzombani. "I arrive at 7 and leave at 6 every day, just to make money."
Maize is the staple food in Zimbabwe. When it's ground, it's known as "miellie meal" and used to make "sadza." This thick porridge is eaten at every meal—along with a stew to give it flavor.
Makena Walker, a spokeswoman for the U.N. World Food Program, told me that it's hard to overstate the importance of maize in the local diet. "To Zimbabweans, 'food' equals maize meal," she said. "When it's not available, they're starving."
But selling maize like this is completely illegal. The government controls all sales of maize and will confiscate any being sold on the open market. In fact, the government even sets up roadblocks to enforce its law prohibiting the transport of more than 50 kilograms (110 pounds) of the grain.
It's hard to overstate the extreme poverty and tremendous state power in today's Zimbabwe. The Economist has declared Zimbabwe the worst place to live in the world, and Secretary of State Condoleezza Rice recently included the nation in the world's six "outposts of tyranny."
In the weeks leading up to yesterday's parliamentary elections, the government's control and manipulation of food became a major campaign issue. The main slogan of the opposition party, the Movement for Democratic Change, was, "Let your stomach cast your vote." Some people told me that even rallies of the ruling ZANU-PF party were interrupted by the crowd crying "nzara," the Shona word for hunger.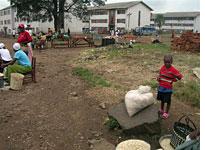 The reasons behind the food shortage are complex—and political. Zimbabwe depends on its agricultural sector to produce enough maize to feed its residents and has historically received food aid after droughts. But last year, President Robert Mugabe said the country would produce a bumper crop—and that food aid was no longer welcome.
Food experts and aid groups said this was a bluff—indications were that crops would not yield enough to feed the populace. Many suggested that it was all a ruse to protect the reputation of the "fast-track" land-reform program Mugabe started in 2000, a program ostensibly intended to mitigate the enormous economic disparity between white landowners and the black majority. But most land ended up going to ZANU-PF hard-liners and veterans of the liberation war, and most of the land has since gone fallow.
The government has admitted in recent weeks that it is now importing maize from neighboring countries, but officials I talked to still toe the party line.
"There is no food shortage in this country," said Muriel Thamu Zemura, a spokeswoman at the head office of the Grain Marketing Board, the state-run monopoly grain distributor. "We are ready to feed the nation for one and a half years to come."
Every time I told an average Zimbabwean what Zemura told me, it was met with rounds of laughter. Many told me they're now down to eating only one meal a day, something they say ZANU-PF ignores.
"Food is there in the shops but at exorbitant prices," said George, a clothing merchant who would only give me his first name because he fears retribution. "People cannot buy it, you see," he said.
In fact, the black-market maize dealers told me that the price of maize has doubled in the last 18 months. The World Food Program has reported that many households have coped by selling livestock, panning for gold, and entering into prostitution.
Yet even with these food shortages, voting one's conscience in Zimbabwe isn't as easy as it sounds—particularly in the rural areas that most often elect ZANU-PF politicians.Because rural Zimbabweans are largely subsistence farmers, what little money they can earn often goes to other food staples—vegetables, milk, and margarine. They're the most dependent on food aid after poor harvests.
"You find that in rural areas, where ZANU-PF is very strong, food is distributed to everybody. But where they feel the MDC has got maybe some portion of votes, food can be used politically as a tool—starving off people," said 33-year-old Nathan Msekiwa yesterday after voting at a polling station in Hatfield, south of Harare.
Msekiwa, an accountant and father of two, told me that many voters are scared to elect opposition candidates. Even though individual votes are kept secret, communities where the majority votes for the MDC—or its leader Morgan Tsvangirai—lose out when they need it most.
"What they do is say, 'We give you food, on condition.' So that come election time, you know where to put your X," he said. "Because you voted for Tsvangirai, you don't get food, you don't get fertilizers, you don't get seeds. They don't build schools, clinics. They just shut you out."
As results began to come in today, one Western diplomat told me that ZANU-PF "makes the point that if they don't get what they want, then there will be consequences" and that regardless of election irregularities, voters may be too fearful that their families will continue to go hungry.
"Their use of food as a political weapon has angered Zimbabweans," he said. "But it's one thing to be angry and another thing to be starving two weeks from now because of a lack of food."
---