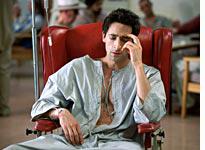 When a movie starts out punishingly horrible and then segues into sentimentality, it can be an enormous relief, even if there's a huge falling off in power and originality. That's what happens in The Jacket (Warner Independent Pictures), which begins too cruelly and ends too sappily but holds you somewhere between the two extremes until the semisweet finale.
Directed by the virtuoso English video artist (and occasional feature filmmaker) John Maybury, from a script by Massy Tadjedin, the movie is a resourceful mixture of graphically realistic carnage and torture (in a hospital for the criminally insane) and spiritually renewing supernatural mumbo-jumbo.
The Jacket opens with Jack Starks (Adrien Brody) getting shot in the head during the first Persian Gulf War. Starks emerges from his Iraq ordeal (during which he was pronounced dead) with little memory of his past but the ability to … well, best not to give away too much. Framed for the killing of a cop on a remote Vermont road, he is found not guilty by reason of insanity and shipped off to Alpine Grove, a state institution presided over by a wasted-looking, hard-drinking psychiatrist, Becker (Kris Kristofferson), who seems torn between treating the mentally ill and punishing them for their crimes.
Becker and thuggish orderlies select patients to slide into a sensory deprivation tank—or rather, a brick-red morgue cabinet—in which the screaming Starks endures ferocious, pounding visions of his past. (The hallucinatory montages, with their near-subliminal imagery, resemble avant-garde films of the '60s.) Little does Becker know, though, that his torture enables Starks to go on a different—and more life affirming—sort of journey.
I won't spill too many more beans about The Jacket (as in "the straitjacket"). But it's fair to say that the plot—in which Jack hooks up with a druggy and depressive young waitress (Keira Knightley)—takes you from The Dead Zone to The Dear Zone. What holds you through the cornball stretches are Maybury and cinematographer Peter Deming's evocative visuals—the white skies and sharp wintry landscapes and hard, elongated shadows—and the intense performances.
The skin-and-bones Brody has distilled himself into a figure of pure torment, and he's matched, hurt for hurt, by the improbably cast but effective Knightley. Daniel Craig overacts like mad as a fellow inmate, but his transformation is so astounding (in the last few years, he has played the spineless son of Paul Newman in Road to Perdition, the dark rogue Ted Hughes in Sylvia, and the haunted writer in Enduring Love) that I didn't even recognize him; he seems to be able to alter his features along with his voice and posture.
It's Brody's show, but the happiest surprise is Jennifer Jason Leigh as a sympathetic therapist. A likeably gutsy actress in the '80s, she spent the next decade compulsively overacting. (In a bit part in Road to Perdition, she couldn't even walk across a room convincingly.) I don't know what she's been doing lately (meditation?), but she has settled down and started living in the moment—underacting coolly and watchfully. She's letting us come to her, and what we see is very good, indeed.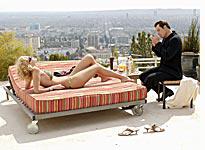 Not Cool: In Be Cool(MGM), the second and lesser installent in the Chili Palmer saga that began with Get Shorty, John Travolta wears immaculately tailored dark boxy suits and black shirts buttoned all the way up to his throat. It's a peculiar look for sunny L.A., but that wardrobe is the soul of the movie. Travolta's face is leaner than of late, and he's remarkably still and centered: All you register are those self-intoxicated baby blues and that dimpled chin. His coolness is his stillness. Travolta keeps you grooving even when the movie's motor runs down—although it has never revved too high to begin with.
I have friends who adore Elmore Leonard, but I've always found his comic novels a little woolly for my taste. The joke in the Chili Palmer books is that producers (and managers and agents) behave like gangsters. Last time, Travolta and company were trying to get a movie made; this time, they're laboring to obtain the contract of a caramel-colored cutie with a huge voice called Linda Moon (Christina Milian) from shady Harvey Keitel and jive-talking homicidal lunatic Vince Vaughn. It's a little disappointing when all they can do is stick their million dollar baby in a tacky, flesh-baring Vegasy music video—but that's probably the filmmakers' idea of making the big time.
The business machinations aren't that fascinating and the characters are one-joke (or, in the case of Uma Thurman, no jokes and two long thighs), but Be Cool is bearable. The cameos and in-jokes are fun; my favorite is one I won't spoil about how many f-words you can use in a PG-13 movie. Director F. Gary Gray (The Italian Job) amuses himself with goofy angles, and the editor, Sheldon Kahn, shows a lot of skill in giving an edge to some predictable scenes. The bits with Cedric the Entertainer and his gun-toting posse struck me as a flaming racist outrage, and casting The Rock as a flamboyantly gay actor/singer must have looked funnier on paper. But Vaughn's wannabe black dude is a hoot. "Don't be hatin', be participatin' " he tells someone before beating a man to death with a baseball bat. You take your pleasures where you can find them.
---