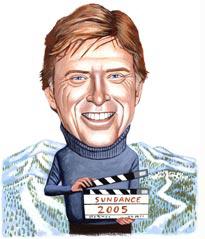 This week, Hollywood and media eminences will converge on the wintry streets of Park City, Utah, to observe one of moviegoing's most sacred and unifying rituals: trashing the Sundance Film Festival. Sundance is a glitzy travesty, they'll complain, the Oscars gone to Utah. Detractors lay blame for the uneasy melding of Hollywood pomp and "indie" authenticity on the festival's founder, Robert Redford. This is only partly true—in recent years, Redford rarely seems to have programmed the festival. But their point is well taken. Sundance has triumphed because it changes its public face at a moment's notice—from pointy-headed and grave when indie film needs rejuvenation, to glamorous and cheerleading when indie film needs marketing brio.
To wail about Sundance renouncing its founding mission is to assume the festival had a profound mission to begin with. Redford erected the Sundance Institute in 1981 as a mountain temple to worthy causes. Chief among them was soothing Redford's own sense of white liberal guilt. The Hollywood studios that had turned Redford into the beatific matinee idol of the 1970s had systematically excluded any filmmaker that was minority, homosexual, or possessed a tart, unmediated voice. Long before Sundance became a bona fide festival, Redford would invite his Hollywood friends to Utah to mingle with small-time regional filmmakers during summer workshops, to talk about craft, working with actors, and shooting a scene. According to Peter Biskind, author of the excellent Sundance history Down and Dirty Pictures, Redford preached a kind of artistic synergy that said "independents had something to say but didn't have the skills to say it, and that Hollywood had nothing to say but said it with great skill."
The Sundance films Redford championed—and began showing at the now-famous festival, which the institute acquired in 1984—came to embody his own peculiar aesthetics. Redford, who dropped out of the University of Colorado, loved slow, turgid regional movies that had almost nothing in the way of narrative. Stacking, directed by Martin Rosen and nominated for the Grand Jury Prize in 1987, was an archetypal Sundance film. The title refers to what the movie's farm-bound protagonists did with bales of hay—over and over, for more than an hour and a half. Critics, inundated over the years with girls-come-of-age-on-farms movies, dismissed Sundance products as "deadbeat regionalism."
But the truth is that even if Redford had bad taste, he had the right idea: The Hollywood movies that dominated the mid-1980s consisted of titles like Porky's Revenge. The 1970s had seen a flurry of greatness, when directors like Martin Scorsese and Robert Altman had briefly usurped power from the studios, but in the following decade American film became something of a wasteland. The studios had regained control and began to churn out an endless stream of sex comedies. As Slate film critic David Edelstein puts it, "Even with a movie like Stacking, it could be argued that it in some ways we were hungering for that, we were hungering for the smell of manure. Even if was virtuous, even if it was granola, it wasn't another teen sex comedy."
The film that roused Sundance from its slumber was Steven Soderbergh's sex, lies, and videotape, which played at the 1989 festival. Sex, lies, merged Redford's languid regionalism—it was filmed in Baton Rouge, La.—with Soderbergh's sharp-edged writing. More important, the film sold for a huge sum of $2 million to Harvey Weinstein, the head of Miramax. In the early days, Redford had only reluctantly agreed to help burgeoning filmmakers with marketing—he wanted to emphasize craft and move away from the money-hungry culture of Hollywood. With few exceptions—Weinstein's disastrous $10 million purchase of Happy, Texas in 1999—almost no one would argue that the festival and its filmmakers are worse off for the infusion of cash.
Sometimes forgotten is the fact that the Sundance program gradually improved as the films became riskier, more adventurous. Quentin Tarantino's Reservoir Dogs played three years after sex, lies, and videotape, and The Usual Suspects played threeyears after that.As indie film expanded as a category, Sundance showed a remarkable ability to fit different genres under the same tent. In 1995, the festival showed Ed Burns' smooth, bankable The Brothers McMullen alongside Larry Clark's Kids. In 1996, Welcome to the Dollhouse played alongside Shine. Each year's program proved that Redford's narrow vision of independent film was inadequate, both to support a thriving industry and a good festival.
Ten years ago, one could have argued that what indie film needed was a great film festival in the purest sense—morning-to-midnight screenings, enthusiastic and compassionate audiences, and post-mortem Q&As with the filmmakers. But these days, the number of small American festivals has exploded, so much so that Sundance hardly needs to function as a festival at all. What Sundance provides now is buzz—the kind of buzz major studios generate with TV commercials and carefully-placed magazine articles, but which indie distributors can rarely afford. Instead of thinking of Sundance as a film festival per se—where bright, young artists come to be plucked from obscurity—it's more useful to think of it as one of the TV network's spring press junkets, where new series are unveiled before an eager media pack.
Mark Urman, head of the theatrical division for the indie house THINKFilm, puts it slightly differently: "It used to be a place where films and talent were discovered. It is now a place where films and talent are launched. … Like a couture show, a film festival represents a new season, a new line." Even with Harvey Weinstein in rapid decline, mini-Harveys still roam Park City, handing out deals unimaginable a few years ago. The reflected wattage of the attending stars has made indie film a hip part of the entertainment mainstream. Twenty years ago, when the indies needed instruction and money and talent, Robert Redford gave them Sundance. What Redford gives them now, in the Age of Weinstein, is an ad campaign.
---