Katy, bar the door: The O.C. has finally embarked on its long-promised  lesbian subplot. Last night's episode ended with the troubled Marissa Cooper (Mischa Barton), "the most beautiful girl in the history of high school," giving an anxious sidewise glance at bad-girl barkeep Alex (Olivia Wilde) as the two of them watched TV together, sharing a blanket. It was a nice, small moment that captured the nervous uncertainty of teenage desire, while also letting fans know that, if they were tuning in for some hot girl-on-girl action, they'd have to give it time. As wunderkind creator Josh Schwartz said in an interview earlier this month, "I  think you'll see the way it's handled is very character-driven." That, or very ratings-driven, given that last year's breakout soap has lost over a million viewers so far in its second season.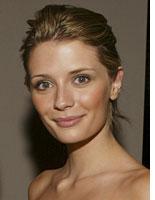 It's to be hoped that The O.C.'s usually excellent writers won't chicken out and use the character's sexual orientation as a cheap stunt, as Law & Order did last week. In the episode's final scene, as Serena Southerlyn (Elisabeth Rohm) was being fired by the district attorney Arthur Branch (Fred Thompson), she looked him in the eye and asked, "Is this because I'm a lesbian?" He answers, "No," and she's all, "Good, good." And bang, the credits roll, forever ushering out Rohm's character and leaving millions of viewers to mumble "Lesbian? Wha?" Given L & O's disinclination to share details of characters' personal lives, this may be the show's first known instance of retroactive character development. Now, when we watch episodes featuring Rohm in their cable afterlife, we can enrich each scene with the background knowledge that, hey, she's gay! At least it'll give her some personality.
But the biggest lesbo moment of this television season is still to come: (SPOILER ALERT!!!although the following open secret appeared in print over six months ago, Fox is still officially withholding it:) the outing of Patty Bouvier, Marge's chainsmoking, MacGyver-watching sister on The Simpsons. An upcoming episode has Homer registering online as a minister to perform the series' first gay marriage when Patty meets a lady golf pro who steals her heart. And talk about your slow-burn character development; as far back as 1994, the then-closeted Patty could be heard to observe, upon accidentally seeing Homer naked: "There goes the last lingering shred of my heterosexuality."  … 3:58 p.m.
Thursday, Jan. 20, 2005

There was so much dead air to fill during today's coverage of the Bush inauguration that MSNBC's cameras took the time to include loving close-ups of the etched crystal  hurricane shades  given as gifts to the Bushes and Cheneys at the inaugural luncheon  (they looked like something you'd get from an aunt at your wedding, then keep in a closet and use to store pennies.) But once the parade got started, you had to change channels at a pretty rapid clip to catch even the scantest coverage of the crowds of protesters.
As the presidential motorcade passed Lafayette Park, where the majority of the protesters were gathered, you could clearly hear one man repeatedly yelling "F**k Bush!," an inelegant but unmistakable sentiment that the CNN anchor team (Paula Zahn, Jeff Greenfield, and Wolf Blitzer) politely ignored. But CNN did feature one camera angle deliberately designed to simulate Bush's POV from his limo, which sped up as it passed the block filled with people turning their backs on the motorcade or waving pre-printed signs with the Simpsons-influenced slogan, "Worst President Ever." As the Lafayette Park protesters tried to out-shout the pro-Bush crowds on the other side of the street, the limo picked up speed and the Secret Service men walking alongside it began to jog briskly.
What passed for suspense in the anchors' narration of the parade route was the question: would George and Laura get out and walk a part of the route, as every president has done since Jimmy Carter started the tradition in 1977, stopping his car to stroll with Rosalynn all the way from Capitol Hill to the White House? Some commentators wondered aloud whether the Bushes would forgo even the short walk they took in 2001, when protesters pelted the motorcade with bottles and eggs. But a few minutes ago, just one block from the White House, in a section where the reviewing stands were filled with Bush's biggest donors, the First Couple finally emerged from their limo and, surrounded by a thicket of Secret Servicemen, made their way down the final block to their place at the reviewing stand. In a strangely cynical underestimation of the viewing public's intelligence, Jeff Greenfield could be heard to say, "On tonight's newscasts and tomorrow morning's papers, it won't matter whether the President and Mrs. Bush walked one block or fifteen. These are the pictures you're going to see."
So for those of you who couldn't figure it out from the, oh, six or seven major television networks that broadcast every minute of the event live, you heard it here first: the man who invoked "freedom" 27 times in his high-flown, low-fiber inauguration speech  preferred the snug confines of his limousine until the last few hundred yards, when he emerged to blow kisses to the folks in the $125 seats. The name of this final stretch of the parade route: Freedom Square. … 1:40 p.m.
Wednesday, Jan. 19, 2005

Slate's Fred Kaplan has aptly summarized the tone of the questioning at the Rice hearings (you can also watch some clips here): There's Boxer the bulldog, Kerry the sad-eyed elder statesman, and Biden, the asker of all the tough questions that get none of the real answers, or no answers at all. But as a watcher, I'm spellbound by the interstitial stuff, the pre-interrogation niceties that are not always so nice, like the following exchange between John Kerry and Condi Rice as the committee debated how long to go on before adjourning last night:
Kerry: I wonder, Mr. Chairman, I know I heard Dr. Rice say she's willing to stay and stay and stay, but I wonder if there's sort of a limit of decency in how long we wanna …Rice: I'm perfectly happy to stay, Senator. I look forward to further exchange.Kerry: You want that job, don't you? …Rice: (Laughs) I look forward to further exchange.Kerry: Fair enough.
Somehow, that brief, ever-so-slightly terse interaction crystallized everything that was at stake in these largely symbolic hearings. There was the irony of John Kerry, the ultimate unsuccessful job-seeker, needling Rice about "wanting a job"; the subtle stonewalling of Rice's rigidly repeated reply, and the invocation of a "limit of decency" that went ignored, as it has in a couple of elections and wars I could name.
At one point in the questioning, the ranking Democrat on the committee, Joe Biden, observed that "All foreign policy is, is a logical extension of human relationships." This statement seems doubly true of domestic partisan wrangling, and C-SPAN is the perfect place to prove it. Just watch the power-jockeying as the senators mill around during breaks. (Look, Biden's chatting up Obama! And did Dick Lugar just turn his back on Paul Sarbanes? Snap!)
The Rice hearings will be replayed on C-SPAN tonight, beginning at 8 PM ET. I know that conflicts with ABC's Lost, but if you're in the mood for a different kind of paranoid, intricately plotted melodrama, tune in and check it out.
Monday, Jan. 17, 2005

Last night's splendiferously ho-hum Golden Globes ceremony provided a three-hour-and-three-minute-long opportunity to ponder a perennial awards-season question: What constitutes a good acceptance speech? A celebrity accepting a prize for excellence in entertainment should, of course, be entertaining, but he or she should also have the good grace to remember that the speech itself is not in the running for any prizes (Julia Roberts' gushing "I love the world" speech when accepting her Oscar for Erin Brockovich in 2000 stands out as a particularly icky archetype of dewy self-regard). People? You're professionals receiving a positive job evaluation from your peers, not Alcoholics Anonymous members getting a 10-year sobriety medal. Wear a nice dress, crack a couple of jokes, and go away.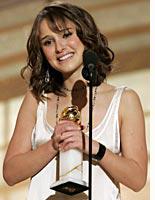 At the extreme unprofessional end of the spectrum last night was Natalie Portman, whose slip-of-a-girl adorableness has reached such thermonuclear levels that she all but ascended the stage in a cloud of pixie dust when she took the Best Supporting Actress award for Closer. Portman seemed overjoyed by her surprise win (and why shouldn't she be, going up against Meryl Streep, Laura Linney, Cate Blanchett, and Virginia Madsen?), but her complete inability to string together two sentences was off-putting. Sure, she's only 23, but the woman has been in show business for over a decade—couldn't she have prepared some remarks, however unlikely it was that she'd beat out the likes of Streep (whose character in The Manchurian Candidate could have crunched Portman like a piece of ice)?
At the other extreme, so drearily correct as to lack all spontaneity, was Jason Bateman, who, when he won for Best Actor in a comedy series for Arrested Development, literally read from an index card, listing the names of his fellow cast members, agents, and managers in a brisk monotone that exposed the pragmatic underside of show business; he might as well have gone onstage holding his Rolodex. The presence of the index card indicates some forethought on Bateman's part; why not go all the way and memorize a couple of lines? What else has an actor got to do with his time?
Jamie Foxx's tearful tribute to his late grandmother had me all verklempt, and it was very decent of him to remember (unlike Julia Roberts in 2000) to thank the person who actually lived the life he re-created onscreen, Ray Charles. But the single best acceptance speech for my money, toeing the line between professional composure and sincere delight, was that of Hilary Swank, who took the Best Actress award for Million Dollar Baby (I would have preferred Imelda Staunton for Vera Drake, but apparently stout, dowdy Englishwomen playing working-class abortionists weren't quite as hot in 2004 as they've been in years past). Swank was articulate, funny, proud, and polite; as her choice of roles since Boys Don't Cry has shown, she's less concerned with being America's sweetheart than with doing good work. With the even more sanctimonious Oscars ceremony in the offing, I can think of a few performers who should be getting out their index cards and taking notes. … 9:30 a.m.
---