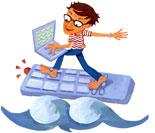 Flash forward to this Sunday night. It's the end of a long Thanksgiving weekend with the extended family, and you're on edge after four days of juggling Junior's hyperactivity, Grandma's alcoholism, and your sister-in-law's barely veiled hostility. You just want to find a show the whole ill-matched clan can watch together. What's a dysfunctional family to do?
This Sunday at 9 p.m. ET, NBC is showing a new musical adaptation of Charles Dickens' A Christmas Carol, starring Kelsey Grammer as Ebenezer Scrooge, that's so relentlessly wholesome, so saccharinely life-affirming, that even those four viewers outraged by Nicollette Sheridan's towel drop on Monday Night Football have nothing to fear. Depending on your tolerance for schmaltz, this adaptation may work like the Dickens classic in reverse: You could come out at the end with less Christmas spirit than you had going in. But for those who take their holiday sentimentality straight up, with no chaser, this old-fashioned Christmas Carol should have you sniffling by the time Tiny Tim (played by the reedy, treble-voiced Jacob Moriarty) warbles his final benediction. The production design is lush and detailed, if not long on imagination. The score, by Alan Menken with lyrics by Lynn Ahrens (who also wrote the teleplay) barrels along pleasantly without containing any one memorable song (and there's a lot of singing going on, so much that the production at times resembles a Gilbert and Sullivan operetta, minus the catchiness).
Kelsey Grammer is a sensational performer, but he's at his best when working with material that has some satiric edge, like his wicked voice characterization of the murderous Sideshow Bob on The Simpsons. His Scrooge seems strangely muffled, without the gleeful villainy of Bill Murray in Scrooged or the existential gloom of Alastair Sim in the spooky 1951 version. But there's one unexpectedly strong performance that makes this new Christmas Carol worth watching: Jason Alexander as the ghost of Jacob Marley, bursting through the wall of Scrooge's house to perform a gruesome song-and-dance number with a chorus of Tim Burton-esque spooks. Viewers unfamiliar with Alexander's theatrical background—he got his start in musical theater on Broadway, and just came off an eight-month run in the Los Angeles production of The Producers—will be amazed to confirm that George Costanza sings! And dances! And how! It's a shame that the multitalented Alexander's post-Seinfeld TV career has been cursed with a string of mediocre sitcoms (though maybe he brought on his own karmic doom by doing those KFC commercials. Why, George, why?).
Jennifer Love Hewitt, who is unfortunately also doing her own singing, appears as Emily, the sweetheart of Scrooge's youth. She's spectacularly bad but looks so right in the period costume that I wonder if she might not be her generation's Jane Seymour, in for a lifetime of playing busty 19th-century ladies in corsets. The film's most affecting moments—and the main reason, besides Marley's ghost, to tune in—are the scenes in which Scrooge watches as his younger self interacts with Emily, unable to intervene as he loses her to his belief that "the only thing between us and the grave is money." The look on Grammer's face as he takes the measure of everything he's lost is enough to make you thankful for everything you've got—even that obnoxious cousin snoring beside you on the couch.
---