KABUL—It may be only a slight exaggeration to say that one of the most important figures in Afghanistan's presidential election is already in the grave.
Ahmad Shah Massoud, the charismatic guerrilla commander who led resistance against the Soviets and the Taliban from his stronghold in the Panjshir Valley, was killed by an al-Qaida hit squad on Sept. 9, 2001. His assassins were posing as journalists filming a human-rights documentary; many speculate that Massoud's murder was a prelude to the Sept. 11 attacks in the United States.
After they arrived in northern Afghanistan on their deadly errand, the two assassins by chance met Matthew Leeming, an eccentric English traveler.
Over Sprites at the Kabul Lodge, Leeming, back in Afghanistan to write a travel guide, recalled the strange encounter: "When they said they were from Morocco, I said, 'Oh, that's wonderful! I love going there, I've been to Marrakech many times!' And when you meet someone like that, they're supposed to say, 'Ah, but you must go and visit my cousin's tagine shop!' "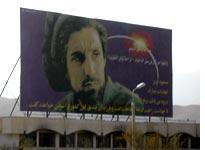 No such reply. The assassins curtly informed Leeming that they now lived in Brussels. "And I was about to say, 'Do you know my friend Boris Johnson, who was a correspondent there?' " Leeming recalled. "But there was just something about them that was definitely unfriendly."
Leeming, who launched a writing career on the story of his dinner with Massoud's killers, sensed something was up. "You know, when you meet someone, another foreigner in a place like that, you say, 'Oh, how did you get here, what's it like, how did you cross the front line, and stuff like that,' " Leeming said. "And they were terribly, terribly unforthcoming. You could see immediately that there was something very, very fishy—I thought they were very rude actually."
But the next day, when they saw Leeming on his satellite phone, they became a bit more friendly. "Do you have Gen. Massoud's telephone number?" they asked. (Leeming didn't give it to them.)
A few days later, Massoud was dead, felled by the suicide bomb carried by one of the faux journalists.
Since the fall of the Taliban, the martyred commander was been elevated to the status of national hero. His image—next to posters of Interim President Hamid Karzai—greets visitors who arrive at Kabul's dilapidated international airport. A traffic roundabout in the capital features an imposing new monument to Massoud.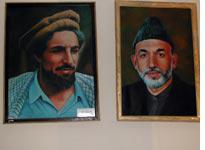 The commander's portrait looms in official buildings, and a rather garish oil painting of Massoud, paired with a portrait of Karzai, hangs in the press center of the Ministry of Information. Drivers often paste a photo of the dashing mujahideen commander—wearing his trademark felt beret—inside their windshields. In Afghanistan's northern provinces, his portrait occupies a place of honor in every village teahouse.
A local political observer said the image of Massoud—sometimes described as a cross between Bob Marley and Che Guevara—is central to the creation of a new national mythology for Afghanistan, a potent symbol of resistance to occupation. But as an ethnic Tajik, he's not beloved by all—particularly those who have bitter memories of the factional fighting that followed the Soviet withdrawal. "Massoud does not have national legitimacy," he said. "He's largely a figure for Panjshiris."
Be that as it may, he's been a symbolic factor in the election race.
This summer, in an unexpected move, Karzai dropped Defense Minister Mohammed Fahim, one of the country's most powerful warlords, from his election ticket. He replaced Fahim with Ahmad Zia Massoud, the brother of the slain hero.
It was a clever move to appeal to Afghanistan's ethnic Tajiks, Panjshiris in particular. However, after Karzai dropped Fahim, many Tajiks threw their support behind Yunus Qanooni, a Tajik who was formerly Karzai's education minister.
"The appointment of his brother as the vice presidential candidate was a clear strategy partly to divide and rule, to show that it's not only Qanooni who has the support of the Panjshiris or who inherits the mantle of Massoud," said Andrew Wilder, head of the Afghanistan Research and Evaluation Unit, a think tank. "That there's not one monolithic Panjshiri vote."
But Qanooni has also played up his links to Massoud. Some of his campaign posters feature the ghostly image of the commander hovering in the background. News reports cast Qanooni as one of Karzai's stronger challengers.
All of that can change quickly. Many observers worry that, regardless of the voter turnout, the real outcome will be decided in backroom meetings among powerful Afghans. Already, there have been rumors that key candidates could drop out in exchange for posts in a new government. And there is concern that local leaders will tell undereducated voters how they must vote.
And that, according to Wilder, is precisely what Afghans don't want.
"Afghans desperately don't want the status quo legitimized, they want a new political future here," he said. "One thing about Afghanistan is that every rumor is believable. And we are in a deal-making environment, which I think is one of the major problems and has been the problem for the past three years. That's why Afghanistan—which I firmly believe could have been a success story—is not a success story."
Still, the rituals of participatory democracy must count for something. Afghanistan's first direct presidential election is scheduled to begin tomorrow. Millions of Afghans who have never cast a ballot before will choose from a slate of 18 candidates, and poll workers will mark their thumbs with indelible ink—a small badge of honor.
---