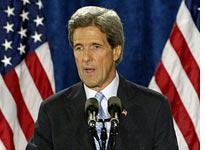 CINCINNATI—John Kerry is so concerned about the plight of American manufacturers that he's taken to doing short advertisements during his campaign events. "Go to a Web site," Kerry exhorted his audience Tuesday in Greensboro, N.C. "It could be johnkerry.com, or go some other place. Go to truth.com, if there is one. And find out what's really happening." So I went to truth.com, and I found out what was happening: "Truth Hardware designs and manufactures a complete line of hinges, locks, operators, and even remote controlled power window systems used on wood, vinyl, metal and fiberglass windows, skylights, and patio doors."
I'm hesitant to criticize Kerry for his extemporizing, because his Kerrymeandering (a word invented by my colleague Will Saletan) makes the repetition of campaigning more endurable. More important, overdisciplined Robopols who never say anything interesting are one of the many reasons to hate politics. And this Kerrymeander was merely amusing, not harmful, though a good rule of 21st-century campaigning should be, don't refer to Web sites that you haven't visited. Kerry even had the good fortune to refer to the Web site of a company that manufactures its products in Owatonna, Minn.—a swing state!
But Monday's impromptu comments were more damaging. In addition to making a joke in West Virginia about taking a shotgun with him to the presidential debates, Kerry decided it would be a good idea in Pennsylvania to talk about how he has difficulty deciding what to eat at restaurants. "You know when they give you the menu, I'm always struggling, what do you want?" he said. A cook at a local restaurant, though, solves Kerry's dilemma by serving "whatever he's cooked up that day. I think that's the way it ought to work for confused people like me who can't make up our minds what we're going to eat." Kerry has yet to mourn the fact that fewer and fewer gynecologists are able to "practice their love" with American women, but his handlers have so much confidence in him that on Tuesday they banned the national press pool from observing his satellite interviews with local TV stations.
Still, even Kerry wasn't as off-message as one of the local politicians who introduced him at the Greensboro town hall. Sure, Republicans say Kerry is a flip-flopper, the politician said, but so-called "flip-flopping" is a sign of skepticism, of being open to learning new things. "We call it thinking," he said to huge applause from the crowd. The guy must not have gotten the memo: Kerry no longer wants to be the thoughtful candidate of nuance. Like President Bush, he's discovered the virtues of moral clarity.
Bush describes the world in terms of black and white, good vs. evil. Kerry now describes the world in terms of right vs. wrong. "As the president likes to say, there's nothing complicated about this," Kerry says every time he begins his new "W. stands for wrong" speech. Kerry no longer brags about being complicated, as he did in his acceptance speech at the Democratic convention. He's now as simple as Bush. As Kerry said in Greensboro, "John Edwards and I believe, deep to the core of our being, that there's an easy distinction between what's right and what's wrong."
You won't be shocked to learn which side of the line Kerry thinks Bush falls on. Bush on the war: wrong. Bush on government spending: wrong. Bush on Medicare: wrong. Bush on Social Security: wrong. Bush on outsourcing: wrong. Bush on the environment: wrong. (Kerry also referred to mankind's "spiritual, God-given responsibilities" to be stewards of the Earth.) And in Greensboro, Kerry added a new element to his "That's W., wrong choice, wrong direction," refrain. Each time, he concluded with, "And we want to make it right." Kerry did get a little overzealous about his new theme when he referred to the treasury secretary as "John W. Snow—John Snow, excuse me." After some laughter from the audience, Kerry added, "Well, he's wrong, too."
Kerry has also begun to criticize Bush for breaking promises, for not being as unwavering as he pretends to be. In West Virginia on Monday, Kerry said Bush promised in 2000 to spend more money on clean coal technology, but the money never came. In North Carolina on Tuesday, Kerry mentioned the administration's overconfident estimates of war on the cheap: "He promised that this war would cost $1 billion, and that oil from Iraq would pay for it."
The audience liked the new black-and-white, with-us-or-against-us Kerry. He was doing so well that during the question-and-answer session he felt liberated to engage in some more improvisation. A woman stood up and announced, "I'm so excited to see you. I think you're hot." Referring to his 27-year-old daughter, Vanessa, who was in the audience, Kerry said, "My daughter just buried her head. That is not the way she thinks about her father. But at my age, that sounds good." While he was talking, Vanessa Kerry looked down and stuck her fingers in her ears.
---