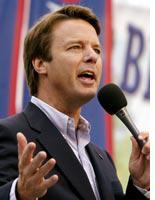 Although Democrats are complaining (still) about John Edwards' lack of bark, maybe it's too much to ask John Kerry's running mate to transform himself into Cujo for the next month and a half. It's not what he was hired to do. Dick Cheney is an attack dog, the kind whose growl frightens schoolchildren into crossing the street. Edwards is the smiling tail-wagger you take to the park so you can pick up members of the opposite sex (or the same sex, as the case may be). Kerry didn't select Edwards with the expectation that he would scare voters away from President Bush. He picked him to attract them to him.
And not just any voters: Edwards is supposed to appeal to the rural voters that Al Gore lost overwhelmingly four years ago. Kerry's selection of Edwards as his vice presidential nominee will not be judged by whether the ticket carries Edwards' home state of North Carolina. Instead, the verdict will be determined by whether Edwards can bring at least some of the voters from the place that Rep. Ike Skelton, D-Mo., calls " 'Merica."
Kerry and Edwards don't need the support of the majority of the people in this Second America. They just need to close the gap, to not lose in Gore-like fashion. Before settling on Edwards, Kerry already had enough of the Democratic base, the city dwellers who will likely turn out in even greater numbers this year than they did in 2000. Picking Edwards was, in part, an attempt to offset the huge get-out-the-vote effort that Karl Rove and the Republicans plan in rural America. If Bush really is doing so well in the countryside that he has a shot at winning states like Minnesota and Wisconsin, then right now the Kerry-Edwards strategy isn't working.
Far more frequently than Kerry, Edwards travels to rural regions and to parts of the country that Bush carried four years ago. On Thursday, Edwards was in Portsmouth, Ohio, in a county that Bush carried by 7 points. On Wednesday, he was in Parkersburg, W.Va., in a county that Bush carried by 22 points. The Saturday after the Republican Convention ended, he was in Waukesha, Wis., in a county that Bush carried by 33 points. Again, Kerry doesn't expect Edwards to win these counties. But he wants him to reduce those margins.
Kerry, on the other hand, is far more likely to hold events in urban Democratic strongholds. On Tuesday and Wednesday, he held four events: one in Toledo, Ohio, in a county that Gore carried by 19 points; one in Madison, Wis., in a county that Gore carried by 28 points; one in Milwaukee, a city that went for Gore by 40 points; and one in Detroit, a city that Gore carried by 89 points.
The normal order has been reversed. The Democratic nominee is the candidate expected to satisfy the base, while the running mate appeals to swing voters and independents. From Monday through Friday of this past week, Kerry went only once to a county that Bush won four years ago. During the same period, Edwards went to three counties won by Gore and four won by Bush.
It's a strategy that makes sense, particularly in light of the appeal to moderates and independents that Edwards displayed during the primaries. That doesn't mean it will work. But on Nov. 3, Edwards will be judged not by how many places he turned blue but how many he made a paler red.
---