By a stroke of luck, I'm staying at the same Tuscaloosa hotel where Crimson Tide players stay the night before a game. On Friday afternoon, I walk into an elevator, a copy of Rammer Jammer in hand, and find myself packed in with a bunch of really big guys in red-and-white tracksuits. One of them is Brodie Croyle, the Tide's starting QB. He looks at my book.
"Hey, didn't I read something from that book in Sports Illustrated?" he asks.
"Maybe—it was in there," I say. Then: "I wrote it."
With that, the players in the elevator start congratulating me, almost as though I've scored a touchdown. I have a sudden urge to spike my hardcover Rammer Jammer and to do the funky chicken end-zone dance. Instead, I heed Bear Bryant's advice—to act like I've been there before, never mind that I haven't. I also have an urge to give the players my copy, but I resist, figuring that passing a kid a book might result in the NCAA giving Alabama football the death penalty.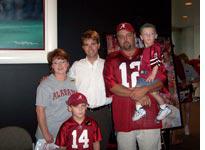 On Saturday morning, I head to the Paul W. Bryant Museum for my book signing. The place is truly a shrine. It's dark inside, and crowded, like an ancient Egyptian tomb during tourist season. The audio guide through this holiest of holy sites is the narrator of so many football glories past: Keith Jackson. What, besides Keith Jackson's voice, do you put in a coach's museum? The coach's desk for one thing; some leather helmets from days gone by; a screening room for a short documentary on the old man; and of course the crimson blazer of Tony Brandino, the Bama fan who attended 500 games in a row.
My game-day signing at the Bryant Museum coincides with one of my favorite annual events in Tuscaloosa—the Bear Bryant namesake reunion. Though there are countless people out there named Bryant or Bear or Paul for reasons even they do not know, the total number of declared Bear Bryant namesakes is around 700. Naming your children after a favorite football coach is like subjecting them to a baptism or a bris; it's a way of putting the cultural marks on them before they have the wherewithal to choose for themselves. Just as there aren't a lot of Christians named Mohammad, there aren't a lot of Auburn fans named Bryant. I'm happy to see one of the namesakes I wrote about in the book, a sweet, 7-year-old kid named Connor Bryant Hajek, stop by the signing table. He has a gift: a crayon drawing of an Alabama football player celebrating the sack of an LSU QB, who is rendered as a pile of purple and gold spaghetti.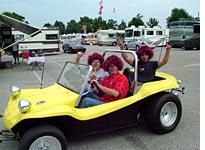 After two hours at the Bryant Museum, I hoof it down Bryant Drive to another signing on the arbored lawn across from Bryant-Denny Stadium. (Tuscaloosa parents aren't the only ones with a Bryant naming fetish.) I find myself right next to the Million Dollar Band, which is blasting Green Day, then "Yea, Alabama!" a suitable soundtrack for a Rammer Jammer event. The scene on the Quad, with tents and lawn chairs and picnic tables, aspires to emulate the refined pregame atmosphere of the Grove in Oxford, Miss., before Ole Miss football games. This is a new tradition, and not quite fully incorporated into Bama fans' game-day rituals. As an RV sympathizer, I slightly resent it; it's too pretty and lacks the rank odor of generator exhaust and the inescapable heat radiating from the pavement in the RV lot. And besides, there are no TVs to watch all those other college football games.
As gratifying as it is to sign books, my mind begins to wander. I'm thinking, of course, about football. The band has left for the stadium, and the crowd is stumbling that way too, and a part of my brain starts to panic from fear of being left behind. I'm also not a little panicked about the game; sure we're playing the Utah State Aggies, but our offensive and defensive lines are as thin as sliced prosciutto. A single injury and we'll be the lead laughingstock of the day on SportsCenter. These thoughts weigh heavily on me until I'm free to dart through the mob to my seat—regular stuff, up high and on the goal line. Soon, but not soon enough, the Tide is running onto the field.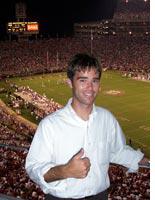 My big fear in undertaking Rammer Jammer was that it would spoil my relationship with Bama football. It's far easier to love a sports team from afar, when it's simply an ethereal entity on which to project all your hopes, rather than from up close, where all the complicated details come into focus. The book is more an examination of the fan mind than of a particular football team, so perhaps my fear was misplaced. But I think I became a more enlightened fan by writing the book. I know that I like Alabama because of an accident of geography (I was born in Birmingham) and genetics (my pop went there). I'm perfectly aware that there is no rational explanation for the chill bumps I feel when I hear the great departed coach thunder from the Jumbotron, "I ain't been cawled nuthin but a winnah, cuz I ain't ever been nuthin but a winnah." It's all random. It can't really matter.
I maintain this out-of-body state of meta-fanhood through the first and second quarters—even as Utah State pulls within a touchdown just before the half.Then at the beginning of the third quarter, Croyle drops back to the Bama 35 and heaves a perfect spiral into the moth-flecked Alabama night. Long moments later, the ball hits freshman receiver Keith Brown in stride as he sprints across the goal line—one of the most beautiful throws I've in seen in person in my lifetime. Bryant-Denny explodes, and wrapped in tangled arms, I ask myself a familiar rhetorical question: How freaking awesome is college football?
---