If this were only my first book tour, I'd have reason enough to be anxious. But this is something more than that—my book, Rammer Jammer Yellow Hammer, is about the mind of the rabid sports fan. Besides being uneasy about radio and TV interviews and speaking to groups of strangers, I'm nervous about the fans' reactions. While literary types will eventually evaluate Rammer Jammer on its merits, I know enough about fans to understand that they'll judge the book the way fans judge everything: with rank, unapologetic subjectivity.
I reported the book by following my beloved Alabama Crimson Tide football team for a year in a beat-up 1978 motor home that I bought for $5,500. The principal figures whom I met along the way—RV-owning South Carolina couple Chris and Paula Bice, ticket-broker John Ed Belvin, and radio host and newspaper columnist Paul Finebaum—have all been pretty positive about Rammer Jammer. What I'm more worried about are the Bama die-hards. People who paint their faces, follow their teams in $300,000 land yachts, and in one case, skipped their daughter's wedding for a football game, usually aren't afraid to let you know what they're thinking, especially if they're thinking about Alabama football.
Some Bama fans are upset—and in a few cases, very upset—about a specific scene in Rammer Jammer. After a huge road win against Florida, I'm high-fiving with a group of RVers who've given me the run of their postgame buffet. As I shovel potato salad into my mouth, two of my fellow fans launch into a terrifying racist diatribe about a young black wide receiver who has been implicated in a scheme to get speeding tickets "fixed" by Tide-friendly state troopers. The fact that Bama won thanks to stellar performances by a black quarterback (Andrew Zow), a black running back (Shaun Alexander), and a black lineman (Chris Samuels) doesn't seem to hold them back. In the book, I ruminate on the effect this ugliness has on my relationship to the team. To what degree are we responsible for the people on our side? Can they behave so badly as to make us want to change allegiance, or are we stuck forever with our first choice?
The scene has prompted fiery debates on fan bulletin boards and a few angry e-mails, including several from a woman who's convinced that my book has done more damage to her beloved university than Croxton's Raiders, the Union brigade that burned the campus to the ground during the Civil War. I've heard from other fans that she's trying to organize a boycott.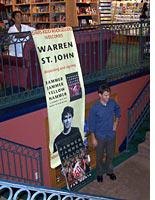 The first stop on the tour is in Nashville, Tenn., where I'm to read at an influential independent bookstore. Relations between Tennessee and Alabama fans are at an all-time low thanks to the revelation that UT coach Phil Fulmer was a secret witness in an NCAA investigation against Bama. Still, I don't expect I'll encounter hostility there, just indifference. When I stop by the bookstore I'm pleasantly surprised to find a large banner featuring a 3-foot tall picture of my head. Upon seeing it, my actual head swells to roughly the same size.
At 5:45 in the morning, I'm met by a cheerful Nashvillian named Lex who gives me the only media training I've ever had as we drive to my first TV interview. "Your book is fun," Lex says, "so when you go on TV, have fun!" Almost as an aside, Lex flips me a review of Rammer Jammer in the local weekly, the Nashville Scene. As we wend through morning traffic in Lex's minivan, I scan the first few paragraphs, which read like a rave. But when my eyes drift to the caption beneath my photo, I nearly hurl my breakfast. "Warren St. John," it says, "uses race in the worst possible way: to make himself look honorable."
What the hell?
The reviewer's point is contrarian if ultimately ridiculous: Hesuspects that I saw countless racist outbursts, and that I kept them out of the book to pander to RV-ing football fans, to sell books. In fact, I put the scene in because it happened, and because it showed how fleeting and tenuous the bonds between fans can be—how quickly the line between Us and Them can change. I call the editor of the Scene in a panic, and, though sympathetic, he says there's little he can do at this point, before trying to calm me by saying that no one reads his paper anyway. A couple of minutes later, a reporter from a local Nashville NPR station calls; he wants to talk about the racial controversy surrounding Rammer Jammer.
My first reading as a published author goes off without a hitch. It's well attended—65 or so people show up, mostly Bama fans and a few locals who wanted to meet the guy behind the giant head. If there were curious Vols fans in town, I'm guessing they just couldn't bring themselves to show up for a book featuring the Tide.The unsettling conclusion I drew from that scene in the RV parking lot in Gainesville, Fla., is that ultimately, we're stuck with our childhood allegiances. Some bad apples wearing red and white aren't going to turn me into an Auburn fan. In this I'm not alone. The majority of Alabama partisans who've written me about my run-in with the racist Tide fans did so to commiserate, to say how badly it made them feel, and to register their disapproval. Fans, I suppose, are the ultimate optimists; we figure if we just stick around, we'll bring up the average.
---