In reporting and writing Rammer Jammer Yellow Hammer, I had a feeling I might run into the ultimate sports fan. What I hadn't counted on was meeting the ultimate anti-fan. His name is Paul Finebaum, and he's an Alabama sports radio host and newspaper columnist. Finebaum has a bizarre cultural role: He makes his living stirring up controversies about Alabama football and lives in a gated community for his safety as a result. Finebaum figured out a long time ago that fans are desperate for any information about their teams—especially negative information. As one woman in the RV lot told me, "I want to not listen, but I can't."
What I didn't realize until this week is that Alabamians trust Finebaum as much as they loathe him. In a column in the Mobile Register, he called Rammer Jammer "the best book I've ever read" (though he did confess that he came to that judgment in part because he's in the book). There are well over a hundred people at each of my readings in Birmingham, and as I'm signing books I make a point of asking people why they came. About a third say they heard about it on the Finebaum Show—he said it was the best book ever.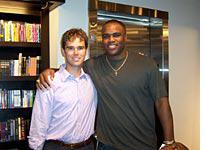 At a store called Books & Company, I have my first totally surreal book tour moment. I look up to see former Bama quarterback Andrew Zow, the QB the year I followed the team. I'm used to seeing Zow from the stands, not standing right in front of me with two young sons in tow. I'm totally unprepared for the experience of seeing him up close—without shoulder pads, he looks like a diminutive version of Andrew Zow, football player. When I start to speak to him, I stammer like a kid meeting a hero.         
By Thursday, when I head to Tuscaloosa, the rites of college football season have begun. The roadways are jammed with thousands of college football fans in RVs gaudily turned out with flags and murals, adorned with cryptic slogans like Geaux Tigers, War Eagle, Roll Tide, and, if the fan has any self-respect, equipped with PA systems that blare fight songs at an ear-splitting level.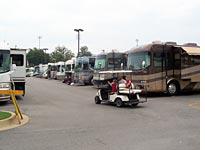 It seems a shame that I'm re-entering Tuscaloosa in a trifling little rental car. Fortunately, not far out of Birmingham I get a call from one of those land yachts. I first met Chris and Paula Bice, the central characters in Rammer Jammer, on a Bama Web site, when I was soliciting invitations for a ride on a genuine fan RV. They were the only people to respond positively, and since then we've become close friends.
The Bices are just up the road, and they pull over and let me on board their Coachmen RV. Our destination is the local Books-A-Million, which is hosting a book signing with a tailgate-party theme. Chris thinks I should have a grand entrance, so he drives his RV to the front of the bookstore and hits the airhorn, which blasts the first few bars of the Tide fight song, "Yea, Alabama!" It works: Within three minutes of stepping off the RV, I've already been invited to a whole-pig roast.
It's hard to know exactly why, but I get choked up in the middle of my talk. It could be exhaustion—I've been waking up at 5 a.m. to go on morning drive-radio shows and, with readings and post-readings fun, staying up too late. But I think it's something else. I look out in the crowd and see any number of Bama fans I followed around, people who, to be honest, I didn't think particularly liked me. And if they didn't like me when I was following them around with a notebook, I had no idea how my fellow RVers would react to a sometimes unflatteringly candid accountof their—our—lives. But I'm not the only one who has trouble keeping it together. When I see Jarrell Johnson, an RVer known as the "Show Chicken Man" because of his passion for chicken breeding, he gets a little misty too. There's something weirdly cathartic about this meeting—the tension between reporter and subject seems to have fallen away now that the book has been published.
Just like Andrew Zow's startling appearance in Birmingham, looking out to see the RVers in the audience is a bizarre role reversal. A quarterback who I lived and died with from the stands had shown up to see me; I'd spent months upon months trying to fit into the RV world, and now the RVers are here to check out how I live. I felt far more at ease in my previous role than in this new one. Maybe that's why I chose journalism as a profession; I feel more comfortable being uncomfortable.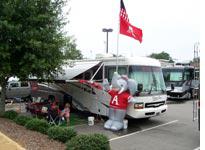 After the signing, I drive back toward campus, which on a Thursday night is overrun with RVs, their generators thrumming in the night. The word "tailgate" doesn't do the scene justice; it suggests box lunches in the back of pickup trucks. These people have more than box lunches; they have their entire houses. Even relatively cheap RVs have TVs, refrigerators, stoves and ovens, and of course bathrooms. Many have "slide outs," mechanized compartments that expand when the vehicle is parked, doubling the width of its interior, and making motor homes feel that much more like regular homes. The really expensive models, which can cost well over a million dollars and look like the buses country music stars travel in, have washer/dryers, satellite TVs, and every other conceivable amenity, including, of course, mood lighting. There's one new accoutrement this year, which I see all over the lot. In a nod to the Alabama mascot, everyone seems to have decorated their RV with an 8-foot-tall inflatable elephant.
The first game of the year is this weekend—the Tide are taking on sacrificial lamb Utah State—but first, I'm hosting cocktails at a local restaurant for the RVers and fans I interviewed for the book. Then, hours before the game, in the most bizarre role reversal of all, I'll be signing books at the Bear Bryant Museum, the sanctum sanctorum of Alabama football. It's about as close to running on the turf at Bryant-Denny Stadium as a writer can hope to get. I've got my Sharpie. My writing hand is loose. I've got my game face on.
---