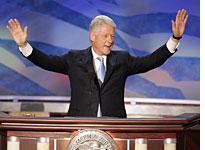 BOSTON—Throughout his presidential campaign, John Kerry has relied on a team of salesmen to make the case for why voters should elect him as the next man to occupy the Oval Office. Even before the arrival of John Edwards as his running mate, Kerry seemed to know that he needed a charismatic advocate by his side at all times. In Iowa, Christie Vilsack, the wife of Hawkeye State Gov. Tom Vilsack, charmed the crowds at Kerry events, and the surprise arrival of this-man-saved-my-life Jim Rassman cinched the caucuses for Kerry. In New Hampshire, it was Bay State neighbor Teddy Kennedy who entertained the audience, while Kerry was content to play master of ceremonies to a cavalcade of guest stars. In effect, the first three days of the Democratic convention take the conceit of the standard Kerry campaign event to its logical conclusion, by eliminating the candidate entirely.
Unfortunately, it didn't work quite as well on Monday night as I expected. Al Gore and Jimmy Carter, the night's two main speakers not named Clinton, made powerful and persuasive critiques of George W. Bush's presidency, but they failed to advance much of a positive case for a President Kerry. Gore, the first major speaker to take the stage, gave the best speech it's possible for Al Gore to deliver, hitting that third gear he usually skips, the one in between robotic Gore and mental-patient Gore. It felt like Gore's turn to have a Bob Dole moment, to reinvent himself as an elder statesman who laughs at himself.
But what the speech did for Gore is less important than what it did for Kerry: not enough. Gore's case against Bush was clear and convincing. He asked those who voted for his opponent four years ago, "Did you really get what you expected from the candidate that you voted for? Is our country more united today? Or more divided? Has the promise of compassionate conservatism been fulfilled? Or do those words now ring hollow? For that matter, are the economic policies really conservative at all? Did you expect, for example, the largest deficits in history?" Gore also reached out to Nader voters—and maybe even to capital-L Libertarians—asking, "Do you still believe that there was no difference between the candidates?" Gore even advanced what Mickey Kaus dubs the "Pedro Martinez" theory of the presidential campaign. He asked supporters of the Iraq war to consider the merits of a relief pitcher: "Wouldn't we be better off with a new President who hasn't burned his bridges to our allies, and who could rebuild respect for America in the world?"
But if you're deciding whether to turn to the bullpen, it matters whether the guy warming up is Eric Gagne or Byung-Hyun Kim, and Gore doesn't do much to assure voters who aren't certain about Kerry's merits. Here's the entirety of his case for Kerry: He is loyal. He is honest. He is patriotic. He served in Vietnam. He protects the environment. He fights narcoterrorism. He's a deficit hawk. He picked John Edwards.
It's not a bad list, but it feels insufficient. Carter's speech suffered from a similar problem. It was filled with reasons to vote against George Bush but not enough reasons to vote for John Kerry. Carter's critique of Bush was even more effective than Gore's, though, in part because it was so genially vicious. Alone of all the speakers Monday night, Carter alluded to Bush's service, or lack thereof, in the National Guard. He noted that Truman and Eisenhower, the two presidents Carter served under during his time in the Navy, "faced their active military responsibilities with honor." Kerry, likewise, "showed up when assigned to duty, and he served with honor and distinction." Carter also came the closest of any speaker to calling Bush a liar. He said that if Bush wins reelection, "the manipulation of truth will define America's role in the world," and he said that "in the world at large we cannot lead if our leaders mislead." Carter even made what to my ear sounds like a reference to the Abu Ghraib scandal, saying that "we cannot be true to ourselves if we mistreat others."
Like Gore, however, Carter's embrace of Kerry wasn't as persuasive as his denunciation of Bush. This is nice, but it just isn't enough, I think to myself. Maybe Kerry can't rely on surrogates anymore. He's going to have to finally sell himself. Then Bill Clinton strode into the FleetCenter to worshipful applause.
Clinton sold Kerry, rather than just tearing down the leading brand. And he managed to tie Kerry's Vietnam experience into a compelling thematic refrain, with Kerry declaring "send me," like a believer answering God's call, every time his nation needed him. Soon, the crowd began chanting Clinton's refrain with him. As usual, Clinton's familiarity with the language of religion added depth to his oratory. After Clinton said to remember the Scripture, "Be not afraid," I found myself singing the hymn in my head: "I will go, Lord, if you lead me. I will hold your people in my heart." More concisely: Send me.
The speech was everything Kerry could have wished for, an electric performance by the party's most charismatic salesman. Still, as the former president walked off the stage, I had to wonder how many people were thinking: Send Clinton. This man would beat President Bush—again—in a romp. Kerry, on the other hand, hasn't yet proved that he can close the deal.
So, in the end, Clinton's speech was just like Gore's and Carter's. It was nice, but it isn't enough.
---