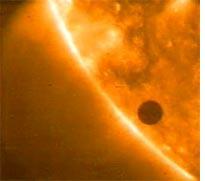 Chatterbox and his 8-year-old daughter rose at dawn this morning to observe the transit of Venus on the roof of a multilevel parking garage in Takoma Park, Md. The garage had been commandeered by the astronomy department at Montgomery College. (Many thanks to Nicole Arthur of the Washington Post for alerting us to this opportunity.) Special sunglasses were provided so we could look directly into the sun and see a tiny speck—that would be Venus—crossing it. (There were telescopes, too.) Venus' last transit occurred on Dec. 6, 1882, which means that until today, there was no person now living who'd ever seen one, nor was there a Takoma Park to see it from—B.F. Gilbert, the venture capitalist who built the town, didn't purchase the land until 1883.
The transit that occurred in 1882 afforded the opportunity to measure the Sun's distance from the Earth and therefore caused great excitement around the world. (Click here to listen to a John Philip Sousa march that commemorates it.) "No intelligent person who realizes its importance will fail to do as much toward the celebration of the rare event as to follow the planet's course with the aid of a piece of smoked glass at some time during the passage," opined the New York Times. "What will be the state of science when the next transit season arrives," the Times said one month later, "God only knows."
One hundred twenty-two years later, the state of science is such that the Venus transit is the subject of only mild curiosity. Even NASA's home page gives bigger play today to Ronald Reagan's death. As of this writing (4:25 p.m.), the Web sites for the Washington Post and Los Angeles Times have no pictures of today's transit. The New York Timesjust posted a pleasant-enough slide show, but it has only one picture of the transit itself. (The rest are of people looking at it.) That's a shame because, as you might guess, the pictures this time are much better than they were last time.
---