Click here for today's slide show.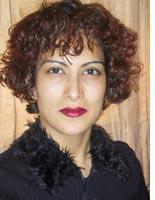 Najla Atef is ready for her close-up, but she might have to open a dress shop instead. Najla is a film actress in Yemen, a country with no movie industry to speak of and where women don't show their faces in public, let alone on the big screen. At 28, she says she has always wanted to act in movies. "But I knew that we had no movies, no theater. So, I thought, 'I'll wait.' "
Against all odds, an opportunity came along. Director Bader Ben Hirsi, a Yemeni reared in Great Britain, came to town to film A New Day in Old Sanaa, the first ever feature film to be shot entirely in Yemen by a Yemeni. With the exception of one major role, he cast locals with little or no cinematic experience. A friend of Najla's introduced her to Ben Hirsi, who cast her as Ghada, the main protagonist's sister. The movie, a traditional story of love, class, and mistaken identity, will premiere first in Yemen and then internationally at next year's Cannes Film Festival.
Najla is petite, but she makes grand entrances. She has a feline spring in her step, a ballet dancer's posture, and a slightly East Asian look that was bequeathed to her by a Singaporean grandmother. She wears her black hair short and tinted red, and a delicate stud adorns the left side of her nose. Her English sounds so casual and colloquial that at first I thought she understood more of it than I later realized she actually did. In other words, she has a knack for mimicry any actor would envy.
In the sitting room of the house she shares with her parents, brothers, sister, and nephew, Najla talked exuberantly about her screen debut. "It was so exciting, so much fun," she said. "When I was acting, I felt the part. I enjoyed being a different person in a different scene." Her enthusiasm is great, but the opportunities ahead of her are probably few. Ben Hirsi hopes to shoot more movies in Yemen. "Having seen the talent in Yemen, they just need a few doors opened, and I'm sure there'll be numerous other Yemeni films in the near future," he told me by e-mail from London, where he is raising funds for post-production. But even filming this innocuous tale—which puts the picturesque capital city on brilliant display and contains no trace of violence or sex—sparked protests from religious scholars, inter-governmental squabbling between supporters and detractors of the film, demands for payoffs, and attempts by the authorities to meddle with the script. Groups seeking to stop production fabricated rumors that the storyline was salacious and that the crew had shot a sex scene outside a mosque during prayer.
Fouad Morshed, the friend who introduced Najla to Ben Hirsi and who also acted as a sort of unofficial fixer to the production, said he was impressed with the hurdles the director overcame. "You have to deal with a lot of nonsense to make a film here," he told me. "The people in government responsible for films and art are not qualified to encourage people or let them express themselves freely." (The level of paranoia surrounding Ben Hirsi's production may have to do with the country's last run-in with the film industry, in which the makers of 2000's Rules of Engagement cast Yemen as a seething cauldron of terrorism.)
A taste for drama runs in Najla's family. Her sister, Nawal, has forged about the closest thing a woman can have to a show business career in Yemen. She is an announcer on one of the government-owned radio stations and also a singer and dancer who has traveled three times to Cairo to take part in an international theater festival. Nawal, 31, joined us in the sitting room, and showed me pictures of her troupe's most recent production. She described it as a rock ballet about a Christian who falls in love with a Muslim. The pictures showed men and women in the throes of modern dance, all clad in long white tunics and leggings. I asked her if they had ever performed their ballet here at home. She gestured to the photo and exclaimed in a stage whisper, "Like this? We are in Yemen!"
They did stage one performance here, she said, for the minister of culture and some of his staff. He had to vet the production before it could go abroad.
Creative careers are difficult in a poor and deeply conservative Islamic country. "Yemenis don't think of acting as a professional career. It's not something people want their children to do," Morshed told me over lunch the day after I visited Najla and Nawal. Now 41, Morshed recently returned from two decades in the United States, where his family sent him to study business. Instead, he earned a film degree from Evergreen State College, made several experimental films, and ran a video-editing service in Seattle before returning to Yemen to help manage his family's business conglomerate. Until he goes back to the United States, where he now holds citizenship, he said his creative pursuits are on hold. "I don't think of trying to work in film here," he said. "Art here is taboo."
When I asked the sisters which actors they admired, they rattled off Hollywood heavyweights like Tom Cruise, Michelle Pfeiffer, and Julia Roberts. ("When she cries, I cry with her," Nawal said of Roberts.) When it comes to Hollywood business practices, though, they remain in the dark. They had never heard of auditions or agents. Najla sounded intrigued about the latter. "Do you mean like a friend, or someone who gets paid?"
She would like to be discovered, for Yemeni television or, better yet, for movies. For now, her career hopes are pinned to rumors. A friend has heard of Indian and French productions that might film in Yemen soon, and Najla tried to pass on word that she is interested. "I dream that there will be another movie and another and another in Yemen," she said. But making a career in film without moving away may be impossible, and moving away is not something she considers. "If they don't make any more movies in Yemen, I'll make a small project for myself," she told me. "I might open a beauty salon or a clothing store." Lately, both sisters have taken jobs recording the bilingual (English and Arabic) outgoing phone messages for businesses, and Nawal does recordings for a popular new dial-a-joke service. "I can do a Lebanese, an Egyptian, or a Sanaa accent. Any kind of accent you want."
---