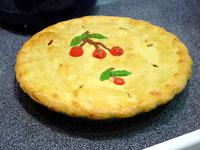 ORLANDO, Fla. Friday, April 16, 2004—It's 1 a.m. When my plane landed a few hours ago, I had nothing against Disney, Crisco, or pie. I was weaned on all three, though my mother insisted that The Wonderful World of Disney's Sunday evening timeslot was a devilish and deliberate attempt to keep families away from church. (Devout Southern Baptists—and their captive children—attend Sunday school, morning service, evening study group, and evening service.) By extension, Walt Disney was luring kids straight to hell.
Even if Disney wasn't trying to doom my immortal soul, there remains a strong afterlife/pie connection. In my family, what happens when you die is this: People come and sit in your house for the purpose of bringing—and consuming—pie. Oh, there will be fried chicken. A tray of deviled eggs. Perhaps a ham. But we all know that death is really about the pie. So we talk about the deceased, sniffle some, and eat up while we can. In heaven, there is no pie.
This weekend, in Celebration, Fla., there's plenty. For while Jan. 23 is National Pie Day, April 15-18 is the Great American Pie Festival, highlighted by the American Pie Council/Crisco National Pie Championships. Ninety-two percent of Americans enjoy eating pie, according to a survey released earlier this year. This worries me. Not the statistic: Most Americans, myself included, enjoy eating just about anything. But it seems kind of creepy to call strangers and just ask that sort of thing. "Hello. May I speak to the head of the household? Do you enjoy eating … pie? Heh. Heh." Click.
The American Pie Council's Web site claims the organization is "committed to preserving America's pie heritage and promoting America's love affair with pies." Since I can't possibly imagine what would constitute a "pie heritage," let alone an American one, I looked for ulterior motives. I imagine the APC fronting for a cabal of shady pie-pushers engaged in fierce and never-ending battle with other members of the dessert underworld. "Doughnut consumption is up 12 percent. We have got to take those bastards out!"
Not surprisingly, the APC's executive director denies this. "It was just kind of a little cult of pie lovers," insists Linda Hoskins. "Then in 1995, someone in the industry saw National Pie Day on the calendar and decided to join forces." The commercial members instituted a contest for which they frequently baked six or a dozen pies and then submitted only the best one. "There were all these leftovers," Hoskins explains. "And that's how the pie buffet began. And then we thought about what else we could add, to make it more fun."
The festival outgrew its original venue in Boulder, Colo., and moved around before landing in Celebration a few years ago. "It's been a great fit for us," says Hoskins. Disney's famed experiment in New Urbanism was founded in 1994 and touted itself as "The destination your soul has been searching for." (So Disney is interested in my soul. Maybe Mom was on to something.) The town center, Market Street, was sold in January to Lexin Capital, a private real-estate investment company, so technically Celebration is no longer a Disney town. This is disappointing since I compiled an extensive list of mouse- and Disney-related quips on the flight down, which I'll now be forced to use sparingly.
Pie games, entertainment, and the "Never Ending Pie Buffet" happen on Saturday and Sunday. But the real excitement is the pie contest, where bakers from around the country compete for the national title and a $5,000 grand prize. Contests need judges. Having eaten pie, I apparently qualify to judge, which is why I've been invited. Crisco co-sponsors the pie championships, and it is their public relations firm whom I have to thank for my plane ticket, my hermetically sealed room at the Radisson, and the assortment of junk food I'm now eating to prepare my body for a hard weekend of pie and pie-related festivities. (The minibar purchases, sadly, are on me.)
I've really been asked to judge in hopes that I'll write about the pie festival for another magazine I contribute to regularly. (Let's call it Patriotic Homemaker.) The PR person seems a bit underwhelmed by Slate. "The client," she says, "is not going to be that excited about the Internet."
I ponder this while drinking a second overpriced Heineken and munching a miniature Milky Way. Does "the client" believe that people who pick up Patriotic Homemaker are wholesome, God-fearing, and pie-loving in a way that Slate readers are not?
Prove them wrong. Go buy some Crisco. Nobody says you have to bake a pie with it.
---