Today's slide show: Land Reform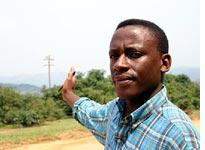 NELSPRUIT, South Africa—Terry Mdluli had a very good Christmas last year. Celebrations got a kick-start Dec. 13 with the slaughtering of seven cows for a hearty feast here on the Mataffin farm in northeast South Africa.
The colors of the "Rainbow Nation" were shining bright that day as TV cameras from Johannesburg captured images of peasants rubbing shoulders with government top brass. White farmers smiled, sharing the merriment. They had good reason to. The government had just paid the white farm owners 63 million rand (just under $10 million) for nearly 15,000 acres of their rich farm land.
Once known as Riverside, the Mataffin farm now belongs to Terry and 6,000 other blacks. Some 1,100 of those beneficiaries, like Terry, are members of the Mdluli clan, who were booted from the area by the white government in 1920. The remaining 5,000 are farm laborers and their families, known as the Mataffin community, who've been living on the land for decades and now have a piece of the communal pie. Not too shabby, if a bit overdue.
Although Riverside transformed into Mataffin relatively seamlessly, it is the exception rather than the rule, the government's shining example to journalists that land reform can work. It can. But for now, land reform in South Africa is emotionally and politically charged and is convulsing with some serious hiccups, of which cash-flow problems, obstinate white farmers, and a shaky support system for blacks after they receive their land are just a few.
Almost everyone I've talked to, from government officials and a conservative farmers' union to lefty black activists, told me that land reform is moving at "a snail's pace." The Mdlulis, who waited 10 years for their land, were one of the first groups to lodge their claim in 1994, shortly after Nelson Mandela and his African National Congress were elected to office and promised that 30 percent of white land would be owned by blacks in five years. That ambitious target has now been postponed to 2015. Only 3 percent of that land belongs to blacks so far.
On the eve of this year's national elections and the 10-year anniversary of the end of white rule, land reform is coming into sharp focus. Some extremist white critics are comparing the government's land policy to Robert Mugabe's in Zimbabwe, a largely baseless claim. The Landless People's Movement, a black activist group, is threatening to boycott the elections and invade white farms, if only to make a point. Many poor blacks feel the ANC-led government has left them with nothing more than broken promises for a better life in post-apartheid South Africa.
But on April 14, Terry is sure to turn up bright and early at the Nelspruit polling office to cast his vote for the ANC.  If the ruling party wins a majority of votes, as is expected, Thabo Mbeki will be handed a second term in office.
"Of course I'm voting for the ANC. They're the only party for the people. They paid 63 million rand for the people," he told me while my rented Mazda Midge sputtered down a pocked dirt road toward the farm. As the gluelike air oozed through the windows, mixing with clouds of red dust to form a paste covering my skin, Terry proudly pointed to his new pecan trees.
The Mdluli case is impressive. It's been one of the largest land transfers in the country and an amicable one at that. The previous white owners, H.L. Hall & Sons, still run their own farms and are training the Mdlulis how to successfully operate theirs, which pleases Terry.
"It will be a challenge to start this business on our own at this point in time," explained Terry as he gave me a tour of neat, rolling hills of avocado orchards. "But we can't and won't let such a big farm fall down, though it will take time to develop, because such an opportunity was not given to our people in the past."
The Mdlulis arrived on this land in the late 1800s, when the king of Swaziland sent Matsafeni, a great "fighting chief," to conquer the region. After they were dispossessed of their land in 1920, some stayed on working as laborers in the fields, while others moved away or found other employment.
"Restitution is necessary and is part of people's identity that was ripped away from them," said Ruth Hall, a land reform expert at the University of the Western Cape.
Some 500 members of the Matabane community to the west in Limpopo Province, where a black farm worker was recently killed and fed to lions by his white boss, would be jealous if they met the Mdlulis.
"I'm praying to God that our land will be given back to us. We want to go back and plough and eat," said Catherine Mafifi in front of her shack in the squatter camp she and her community erected in Vaalwater town after whites evicted them, threatening force if they didn't hightail it immediately.
The group now says they are the rightful ancestral owners of the land where they worked as farm hands for decades. They've filed a claim for the return of thousands of acres of valuable land nearby, much of which is surrounded by leopard-filled game lodges for tourists.
Leathered from years ploughing his fields in the harsh South African sun, Louis Nel, an Afrikaans-speaking white farmer, shares a different view.
"I won't sell to the government," said Nel, dressed in khaki shorts as rain clouds gathered above and lush "bushveld" stretched out in front of us. "I will farm my cattle till I die!"
As we sat next to the pool on his deck, sipping mango juice brought by his beaming wife, Nel said he has struggled to make a living off this rugged land and that he would like to end his days in a mini, all-white South Africa.
"There's no need to redistribute land, it would be a disaster," said Nel, who says he's not a racist. "Even white farmers can't make a living here. How can you give land to people who don't know how to farm it?"
Despite Nel's attitude, land reform is marching forward. Now the biggest challenge is providing the much-needed cash to fund training and development once property is transferred to blacks.
"Transferring land is the first step. But without development we could face a disaster," said Ruth Hall.
The Matabane will need this assistance if they ever manage to wrench the land away from Mr. Nel's steely grip. And if the local land-claims commissioner doesn't deliver the goods to the Matabane community before the elections, as promised, the ANC can forget about their votes in mid April.
"We agreed that if we don't get our land back, we won't vote," said another Matabane squatter. "We've been neglected for 10 years, and this government had been running for 10 years. What would we vote for?"
Until the government finds a perfect formula to please all parties, that view will likely be echoed by many voices across the rainbow nation.
At least the ANC can count on Terry Mdluli and several other descendents of a great Swazi fighting chief.
---