Today's slide show: AIDS Activism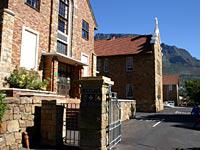 CAPE TOWN, South Africa—Jane and I left Nazareth House's cool corridors and entered the orphanage's manicured yard where a dozen children were swinging from a jungle gym.
"What's your name?" they demanded as they ran to greet me, hugging my legs.
Grace (not her real name) was the feistiest of the bunch, propelled around the playground by a frenzied force only accessible to 9-year-olds. On South Africa's annual sports day in January, Grace was the first to cross the finish line in a sprinting competition at a school in Cape Town's affluent Vredehoek neighborhood.
"We usually just accept that [our kids] won't perform well and think, OK, good try. This year, not only did Grace come in first, but others came in second and third," Jane, the orphanage's social worker, told me. "This is a clear indication that the treatment's working."
For the past year, Grace has been receiving anti-retroviral drugs (ARVs), paid for by the British charity One to One Children's Fund, at Cape Town's towering Groote Schuur Hospital. The charity brings Westerners and their hard currencies to South Africa for weeklong hikes. Before heading off on their journeys, the altruistic travelers meet with Grace and the other children taking ARVs. The money they pay for the trip is used to buy the kids' drugs, saving their lives.
Despite staggering needs—according to UNAIDS, 5.3 million of South Africa's 43 million citizens are infected, the highest caseload of any country in the world—Grace is only one of a handful of HIV-positive people taking the life-extending drugs at a state-funded hospital or clinic. Hundreds of thousands of people need ARVs (ncessary when the HIV viral load becomes dangerously high in an infected person's body) at any given time in South Africa.
Dr. Paul Roux is Grace's biggest fan. He has been giving ARVs to Grace and some 200 other children, mainly from black townships, at Groote Schuur since May 2002. One to One Chairman David Altshuler agreed to buy the ARVs if Roux could circumvent government law that prohibited the provision of the drugs in the public sector at the time. After a rigorous hunt, he stumbled on a gaping loophole and jumped through it, registering his program as a research project through the University of Cape Town.
"This was a lifeboat exercise. We didn't know where we were going," Roux told me from his cluttered office at Groote Schuur, its walls covered with children's drawings and photographs. "David and I are two people who jump over the cliff and then figure out what to do."
Years of fierce government resistance has baffled Roux and millions of his fellow South Africans. Health Minister Manto Tshabalbala-Msimang has been the primary source of puzzlement. In February, she caused a stir, telling a group of journalists that people with HIV/AIDS should follow a Mediterranean diet of lemon, garlic, olive oil, and onions, while promised ARVs were still nowhere to be found.
"How would you like to be a government, coming into power in '94, with this hot potato? It's very emotional but not very logical," Roux said, offering one possible explanation for the government's reluctance to provide AIDS drugs.
In November 2003, Manto, as the health minister is known, finally approved the outline of a plan to provide ARVs, but only after several court battles with AIDS groups such as the Treatment Action Campaign.
Although pleased with the announcement, TAC can't wait until the behemoth national program starts churning out the drugs sometime in the murky future. The group threatened to take Manto to court before the April 14 national elections if she didn't immediately direct emergency funds to the country's nine cash-strapped provinces so they could buy the drugs themselves as an interim measure. They have now withdrawn their threat as she has agreed to comply.
One reason Manto claims she is hesitant to roll out the drugs is that there aren't enough doctors and nurses on the ground to administer such a massive national program. Roux agrees that the necessary manpower is not there yet.
"But my view is, you've got to start somewhere. Even if it's only three people, you save three people," Roux explained.
In Roux's mind, TAC's relentless lobbying and legal threats have played a crucial role in forcing ARVs onto the national agenda, despite the government's inexplicable stubbornness.
So, I jumped in my car and drove out of Cape Town to TAC's national headquarters, tucked away in a ramshackle old house in the sleepy beach town of Muizenberg, to discover the secret of their success.
"Lots of young activists, almost all of us, came from the (liberation) struggle," TAC's labor coordinator Vuyani Jacobs told me. "We have the experience to fight for treatment, and that makes TAC a legitimate power in South Africa. When we talk about the government, it's as if they were an entity of their own, but they must remember we put them there 10 years ago."
Jacobs, who's been HIV-positive for 11 years and takes ARVs, told me he was "lucky enough" to live in Khayelitsha, a sprawling township where the NGO Doctors Without Borders is providing drugs to local residents.
Ahead of the curve, a few public hospitals and clinics in Roux's Western Cape Province have recently begun dispensing ARVs using provincial money and donor funds. On April 1, public hospitals in Gauteng Province, which houses South Africa's largest city, Johannesburg, joined ranks with the Western Cape. However, poorer provinces will rely on the national funds.
Back at Groote Schuur Hospital, Roux guides me into a large room full of HIV-positive mothers.
The women have just finished beading brooches that are sold in the United States and Europe, and now they sit in a circle for an ARV/AIDS counseling session with Pumla from TAC. One woman elicits oohs and aahs when she lifts her shirt to reveal a bad case of shingles on her belly. Nurses weigh and examine children in adjoining rooms. Later, I spot 3-year old Lwandile playing with a toy truck as he waits for his check-up.
Lwandile's 20-year-old mother found out that she and her infant son were both HIV-positive soon after she gave birth. He was sickly and required constant hospital visits. Since he started taking ARVs in June 2002, he's gained weight and plays and laughs just like a healthy child.
"Now I am hoping that I will see Lwandile old just like me," his mother told me.
Roux is looking forward to the day, sometime next year, when the health ministry takes over the funding for the ARVs. He plans on sharing his experience managing the One to One project with the government, so they can use it as a model—pointing out pitfalls as well as benefits—on how to successfully run an ARV program in a state-run clinic or hospital.
With a little luck, tens of thousands of people across the country will line up with Grace and Lwandile for their monthly supply of ARVs. Any day now.
---