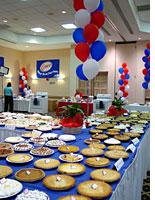 Friday, April 16—By 10 a.m., the hotel conference center has been transformed. I step through an arch of red, white, and blue balloons and into Pie Central. Against three walls, tables and electric stoves have been trucked in to make 10 little on-site pie kitchens. Each table holds an assortment of Crisco products and an array of Crisco-themed utensils. Other products by parent company J.M. Smucker are well represented, too. Cool Whip, anyone?
In the center of the room, a T-shaped table is completely covered in pies. These are display models of the commercial entries, which will be judged shortly. (The commercial pies are—supposedly—just like the ones sold in stores. The stand-ins are there so people can admire whole pies after the winners are announced.) It's an impressive selection. Each pie bears a little toothpick flag tagged with an alphanumeric code so the judges won't know if they're tasting Sara Lee or Baker's Square. There are tall pies, crumb pies, elaborately decorated pies, and pies that look perfect except for hairline cracks on the crust. I had a mediocre egg white omelette for breakfast, and frankly, they all look good.
Two television crews are here. One is from the Food Network, which did a special on the festival last year. Crisco has hired the other to shoot footage that news channels can download. I've agreed to be interviewed for the latter—a move I will come to regret.
Sarah Ann Spaugh, last year's "Best in Show" winner, is surrounded by cameras. The 69-year-old from Winston-Salem is grinning and holding up her new book, Sweet Tooth: Down Home Meals and Blue Ribbon Desserts. It's noisy, and I can only catch a few words. "Grandpa … blackberries … Christmas … God." I move in closer. "I'd love to win again," Spaugh says. "I'd be crazy to say I didn't want to win."
Phyllis Bartholomew is standing behind a table, starting to mix up a crust for peanut butter and jelly pie. She has a careful Midwestern hairstyle and is wearing a pie necklace. This is her fourth year at the contest. Phyllis is baking and entering 11 pies, one in each category. (There are 26 amateur contestants baking 83 pies.) Eleven pies? She laughs. "I figured if I was coming this far and spending this much money, I should increase my chances to win."
Most of the pies aren't baked on-site, but at condos, kitchen-equipped hotel rooms, or RVs. This raises a pretty obvious question. "Do you think people cheat?"
Phyllis looks shocked. "Oh … I hope not. They tell me it's easy to—but that takes the fun out of it."
It's as good a time as any to raise the "L" word. I look around to make sure the Food Network's not standing behind me. "My grandmother always said that lard makes the best pie crust."
Phyllis raises her eyebrows and lowers her voice. "Ah, and I agree with her. But I don't use it here. And Crisco does make a good crust."
Bill Farrell isn't worried about his crust at all. Tattooed and weathered, he is seated in a folding chair (all the other bakers are standing) calmly slicing apples. "I'm going to use a commercial crust," the first-timer boasts. "Pillsbury refrigerated. I want to encourage amateurs who may be intimidated. I think the crust may stop some people from making a pie." Bill has handouts proclaiming, "A pie is only as good as its apples" and listing some of his favorite varieties. He is the only male contestant in the room. I fear these sweet-looking women are going to eat him alive.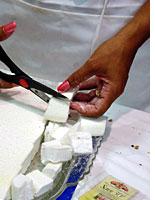 All the contestants are chatting amiably with one another, dispelling my hopes for some truly newsworthy ugliness. Dionna Hart is cutting up homemade marshmallows—who knew you could make them at home? "Oh, yeah," she says. "That store-bought stuff is nasty." She shares her recipe with Saptosa Foster, who's come in from Atlanta to enter Brown Angel Sweet Potato Pie Heaven. I ask Dionna about the congenial atmosphere. "I love this," she admits. "It's much less cutthroat than a lot of competitions."
There's obviously no dirt getting dished here, and no pie, either. The room is filling with delicious aromas. Next door, the commercial judging is underway. Perhaps they will have some pie to share.
Can it be true? It is. The judges are spitting out perfectly good pie. It seems criminal, but since they'll be tasting for three or four hours, perhaps it's the only way to preserve the palate. It's enough to make a girl lose her appetite. For a while, anyway. I head back to the amateur bakers.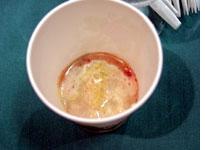 Adriel Hong, a fresh-faced blonde from Arizona, is pouring the filling for Sour Cream Lemon Pie into a crust. She's one of five regional winners of the Crisco All-American Pie Recipe Contest, all of whom have been flown in to compete. "It's pretty intense and tart. Not a pie to eat early in the morning. But I brought one in when I was interviewed in my hometown newspaper, and they ate it all." She seems amazed. Adriel, it is clear, has not spent enough time around reporters.
The Crisco camera crew is free now, so it's my turn to be interviewed. I stumble through a number of questions ("Why, yes, I love pie") while focusing on how much my hair might be sticking up and whether I have enough lipstick on. I am clearly on the wrong side of the microphone. Mercifully, they let me escape quickly.
By 3 p.m., the display pies are wilting, and I haven't had lunch. Chocolate curls sweat gently under the lights. Dramatic domes of golden brown crust begin to collapse. Towering meringues quiver dangerously. For their own good, these pies need to be eaten.
---