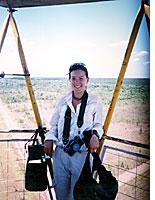 Limited military presence in Vichada leaves leftist guerrillas and illegal paramilitary groups in control. The entire region is occupied by either the paramilitary group of Meta and Vichada, or the "16th front" of FARC, led by Negro Acacio—wanted by the United States for kidnapping, narco-trafficking, and murder.
A government security report brusquely terms the effect on public order "delicate," advising all travelers to abstain from going to Gaviotas—by road or air. Kidnappings are frequent.
Before leaving for Gaviotas, I discussed the risks with military and political leaders in Bogotá. A retired colonel who currently works as the security-risk consultant for an international oil supply company told me travel to the area was suicide. I would most likely be kidnapped, possibly raped, maybe murdered, he said.
But I still wanted to go to Gaviotas: Before leaving for Colombia, I had read a book about the village. Could a functioning utopia exist in the war-torn nation? I wanted to see for myself.
After deciding to make the trip, I learned what to expect during a kidnapping, how to cope with the stress of captivity, and ways to escape. Then I wrote to a family friend in the United States. I gave him instructions about what to tell my family if I was kidnapped. The last thing I did before leaving was to write a letter to be given to my family if I was killed.
I was scared of being kidnapped, even more scared of being raped or murdered, but the idea was more intimidating than the reality. Once we were on the road, I had more immediate problems, namely, how to keep my rear end from falling asleep and trying not to wet my pants after seven hours without a pit stop.
Travelers still make the journey, but at their peril. Passengers on overcrowded buses bump for hours through the rolling plains of the llanos, a swath of savanna larger than Montana. Occasionally, the buses pass ribbons of palm-edged rivers. Cattle dot the horizon, and barbed-wire fencing skirts the road.
On her trip through the war zone, Samanda Mejia grips a duffel bag in one hand and her 1-year-old daughter in the other. Squeezing onto a 30-passenger bus—already carrying 64 passengers—she hunkers down for a ride that could last 12 hours or several days. I squeeze my way into a seat behind her, then a woman sitting next to me settles her 3-year-old son on my lap while her 9-year-old daughter squirms on her knees.
Seven hours into her trip, Mejia steps off the bus at an illegal paramilitary checkpoint. There, the dust-covered woman joins other passengers in showing her identification as the bus driver negotiates the "toll"—50,000 pesos this time, the equivalent of $20. Thanks to a quick run for the bathroom, I bypass the identification check. The travelers clamber back aboard, and I jump back on just as the bus pulls away.
Two hours later, the bus stops at another military checkpoint. We again climb down, show identification, and then pile back on.
Mejia—returning to Gaviotas to join her husband—counts her blessings. "This isn't so bad," she says. "In the rainy season, it took me two days to get to Gaviotas."
While members of the community continue inventing and imagining, the restrictive dangers of travel mean there are fewer people with fewer projects these days. But the dream of living an ecologically and sociologically peaceful life goes on.
Lugari remains optimistic that he will one day be able to return to his red-tiled dorm room in the savanna.
"In Gaviotas, the only ideology is change," he said. "The problem with other people is they don't want to change. If we don't change, we don't have the capacity to survive. Gaviotas is like rubber. It is elastic. It will not break."
His faith runs counter to history. Even as Lugari was creating his functioning utopia, 3,500 people were dying each year in the Colombian fighting. For half a century, the left-wing and right-wing forces have taken turns seizing rural towns, causing villagers to flee to the cities. As a result, whole colonies of squatters have come to suffocate some Bogotá suburbs. According to the United Nations, the fighting has displaced about 3 million Colombians in all. Things were made even worse in the 1990s, when guerillas and paramilitaries took control of Colombia's huge illegal drug trade.
"Before the violence, there were many visitors," Lugari said. He explained that while the conflict began 40 years ago, fighting has made travel difficult only during the last 10 years.
Now, he said, the road to Gaviotas has become a death trap. Artists, politicians, scientists, and students have all been scared away. So the story of Gaviotas is told less frequently. I was the first reporter to visit the village since American journalist Alan Weisman spent a month in Gaviotas in 1996 before writing the book Gaviotas, a Village To Reinvent the World. These days, the world press seems to focus only on death.
"You can go out and read the paper in Bogotá and read sad stories," said Ospina, the lanky engineer, as he strolled through 15-year-old pines on the outskirts of the village. "Twenty dead in Casanare—just 40 kilometers on the other side of the river." He stops and points ahead of him through the trees. "The newspaper says, 'Military against paramilitary. Thirty dead in Puerto Gaitan.' "
"Puerto Gaitan is there," he says pointing over his shoulder. "These are sad stories."
For seven years, Ospina has helped design the products promising to keep Gaviotas self-sufficient. He's also helped the community find a market for those products. By some miracle, this has kept the village alive.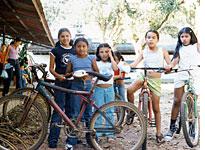 The war has consumed the nation, swarming around the community of Gaviotas, but it has never entered the village itself. Children still ride their bikes by moonlight. Families still leave their doors unlocked. No one carries pistols in town, not even members of the competing armed groups who stop in to use the phone or buy juice.
"We do not live in war," Ospina said. "When you live in war, you live with the ideology of war. Outside: the war. Here: Gaviotas."
Focusing on the lessons of community and stewardship found in Gaviotas, the author Gabriel García Marquéz called the village's founder "the inventor of the world." Squinting into the hot sun through his Ray-Ban sunglasses, Ospina pondered whether Gaviotas could be the inventor of world peace.
"The military forces come in, and we welcome them. And then they go, and other groups come. And we welcome them. We don't talk about politics. We don't think we know the truth, so we can accept that others think they know the truth."
Carlos Sanchez, who has spent 25 years in Gaviotas, agrees. "Most people in the region know Gaviotas," he said. "They never speak badly about us. They protect us. Here, there is no war. People pass through, but they don't find anyone to fight with because we respect them. There are no weapons, so there are no fights."
Sanchez's wife and two children live with him in a two-story house with a metal roof, screen siding and cement floor. In the dying light of the day, the middle-aged man sits at his dining room table sipping coffee from a china teacup. Outside, chickens strut about the yard, pecking idly.
"Here, if a truck passes through and needs a service, we give him the service," Sanchez said. "And he will speak well of us. If someone passes though and says, 'I have no money,' we will give him lunch. That person will speak well of us."
---