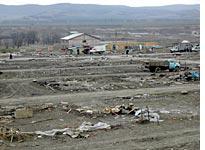 BART REFUGEE CAMP, INGUSHETIA—The refugees have struck camp, and all that remains is a forlorn trash heap: some plywood, scraps of plastic sheeting, a few pieces of tire.
A year ago, Bart—the word in Chechen means "concord" or "harmony"—was home to about 3,200 people, refugees from the war in neighboring Chechnya.
For the rest of the world, the tent camps in Ingushetia were the most visible sign that things were not right in Chechnya. International aid organizations registered over 100,000 Chechen IDPs ("internally displaced persons" in the jargon of relief workers) here and provided food, medicine, sanitation. Prying journalists showed up; even Angelina Jolie, goodwill ambassador for the U.N. High Commissioner for Refugees, paid a visit last year.
Russian President Vladimir Putin came to power on a pledge to deliver a decisive victory in Chechnya. He even had his "mission accomplished" moment: Just before the presidential election in 2000, he jetted to the Chechen capital, Grozny, in a Sukhoi fighter plane.
The problem for this war president, however, is that the shooting is not over. Casualty reports keep trickling out. Suicide bombers strike Moscow and other cities. And, equally horrific, people in and around Chechnya keep disappearing.
Presidential elections are scheduled for this Sunday, March 14, and Putin is expected to win by a healthy margin. Still, officials in Chechnya and Ingushetia—no doubt mindful of the Kremlin's insistence that the situation is normalizing—have been doing their level best to close up the camps and send the refugees home.
Not everyone wants to go back. Returning refugees send word of frightening military sweeps and nighttime abductions; reporters who have seen the temporary accommodations that await returnees in Grozny and other cities say they are pitiful and crowded.
Lora Guenther is one of the people who says that she does not want to go back.
"This whole system of so-called voluntary return is only 'voluntary,' in quotation marks," she says. With her steel-blue eyes, blond ponytail, and businesslike manner, Guenther stands out in this Caucasus republic. Like Chechens and the Ingush—who were deported en masse to Central Asia in 1944—ethnic Germans in the Soviet Union also experienced exile; Guenther describes herself as a "German girl from Alma-Ata [the Soviet name for the capital of Kazakhstan] who met a Chechen boy, fell in love, and followed him to Grozny."
The love affair, apparently, didn't last; her children lived with their father. Their house was destroyed in the storming of Grozny. Guenther's apartment in the city was leveled as well.
Originally, Guenther lived in Camp Bella. Since this past October, she has been living in Camp Satsita.
"The New Year was off to a quiet start, but starting in January, the Chechen resettlement committee appeared in camp," Guenther tells me. "And that's where the whole story starts."
In January, representatives of Akhmad Kadyrov, the head of the pro-Moscow administration in Chechnya, began appearing in camp, promising that returning refugees would receive compensation for their homes that were destroyed in the war. Kadyrov—appointed provisional leader of Chechnya by Putin in 2000—was declared president of the republic in December, in a ballot widely condemned as fraudulent.
Guenther scoffs: "The first group that was relocated was promised that compensation would be handed directly to them. 350,000 rubles [about $12,300] per person, roughly, for loss of housing. You'll never build a house on that kind of money."
The promise of compensation was not enough for some people. According to Guenther, the authorities started resorting to intimidation. First, she says, they started switching off gas and electricity. Then the Kadyrovites started dropping more ominous hints. "A representative of the Kadyrov administration from the Achkoi-Martan district was extremely blunt," Guenther says. "He said if people don't leave by March 10, Kadyrov militias will show up."
That's the magic word: Kadyrov's security units—including a militia led by his son Ramzan—are especially feared. Many refugees blame them for the more recent wave of disappearances, torture, and killing.
On March 6, the authorities made good on their promise. According to several sources, around 150 to 200 men in jeeps and armored vehicles encircled Satsita in the early morning hours. They conducted a search and briefly detained six young men.
Malika Suleimanova, a local journalist, reported that the raid was conducted by a mix of both "federal" (regular Russian army or interior ministry troops) and "Chechen Republic" (belonging to Kadyrov) units.
Before I came here, an aid worker complained to me that the forced return of Chechens from Ingushetia was a "done deal." The aid worker—from an organization that is normally very outspoken—spoke on condition that I not identify him. Many aid groups are wary of the Russian authorities; they are also concerned about security. Arjan Erkel, Médecins Sans Frontières head of mission in Dagestan, east of Chechnya, was kidnapped in August 2002.
"The most basic right of displaced refugee people to make an individual choice whether to go back home or not … was not respected at all," the aid worker said, adding the obvious: "This is a basic right according to the Geneva conventions."
---