Click here  to view a slide show of images from San Simon Women's Prison.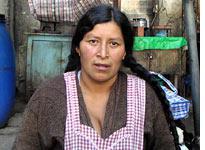 COCHABAMBA, BOLIVIA—"Tell me about your case," I ask Celia Carbollias as we sit on a pile of laundry in the open-air courtyard of San Simon Women's Prison. Around us, inmates shoot the breeze while they attend to their beverage stands. Some women mingle with prison guests and sip soft drinks at an improvised cafe, complete with umbrellas and plastic Coca-Cola chairs. Others knit scarves and paint designs on placemats, which are sold to the outside world through a local organization. A few look up from their work and eye me coolly, unfazed by the gringa visitor. The quiet buzz of women's voices is punctuated by the squeals of their children as they splash in puddles of water that have spilled over from the prison laundry.
She tells her story. Two months ago, a man approached Carbollias in the street on the outskirts of Cochabamba and offered her $50 to carry a packet of cocaine on the bus to an apartment in the city center. A poor food vendor, abandoned by her husband and with three children to feed, she accepted out of desperation, she explains, fully aware that she was committing a crime. When she arrived at the prearranged meeting spot 40 minutes later, she was greeted by three policemen who said they had witnessed the transaction and had tailed her bus to the apartment. She was promptly tried and sentenced to 10 years in prison under U.S.-supported anti-narcotics legislation—the notorious Law 1008.
Carbollias, who entered the prison two months ago, says she is still reeling from the injustice she suffered. "My trial was unfair. I had witnesses in my defense, but they didn't let me present them," she protests, twirling her long braid in her lap with agitation. She claims that the prosecution even produced three false witnesses during her trial. "They made dishonest statements about me: that I had falsified my name, for one."
Though hard to verify, stories such as Carbollias' abound behind the walls of San Simon. Nearly all the prison's 90-odd inmates are incarcerated under Law 1008, enacted in 1988 under pressure from the United States. A pillar of the U.S. strategy to squeeze drug production in Bolivia, Law 1008 covers all drug crimes here. Many of San Simon's inmates hail from Chapare, where they were arrested by UMOPAR, the U.S.-funded special drug interdiction force that operates in this coca-growing region.
Law 1008 has been controversial from the get-go and has led to the imprisonment of far more desperate peasants than drug kingpins. The law eased the burden-of-proof standard for prosecutors, swelling Bolivia's prison population during the 1990s. A police report alone was sufficient to obtain a conviction for Law 1008 cases.
A May 2001 reform of the criminal code restored the presumption of innocence, but problems with the application of the law persist. The issues range from shoddy police work to the sluggishness of the courts, and political pressure on judges to obtain convictions and hand down stiff sentences for narco-trafficking is acute. Prison terms for drug offenders are usually disproportionately long.
Under Bolivian law, there is no life imprisonment, and the maximum sentence for any crime, including premeditated murder, is 30 years. But drug convicts often get upward of 15 years, and many inmates at San Simon are puzzled about the severity of their sentence. Carbollias, for one, insists that her crime was an isolated event, undeserving of such a long prison term. "The prosecutor accused me of enriching myself through a life of narco-trafficking, but I am poor, and I only carried drugs that one time."
"1008 is widely regarded as a draconian law that violates the constitution of the state," Jorge Baldivieso declares as we sit in his office at the Pastoral Penitenciara, an arm of the Catholic Church that serves the Cochabamba prison population. Instances of coerced self-incrimination are common, he says. "For example, the police will tell a detainee, 'If you sign this, we won't arrest your wife.' I heard of a case when they withheld medication from a diabetic until he signed a confession."
Godofredo Reinicke is head of the government's human rights taskforce in Chapare. He blames the injustice on the millions of U.S. dollars that pour into Bolivia every year to fight the drug trade. As Reinicke sees it, UMOPAR has an incentive to detain people without cause in order to inflate the perceived drug problem and keep the flow of dollars coming. UMOPAR cites a huge volume of drug possession cases, he says, which "gives the impression that [drug] production is terrible. But we haven't seen these quantities."
A billboard along the main highway in Chimore, Chapare, offers payment for information about drug crimes. Informants often plant cocaine on unwitting persons or in public transportation. Maxima Pacu, for example, was arrested along with her fellow passengers when police boarded a bus and seized drugs stuffed in the foam of a seat cushion. "I think it could have been planted by a man who left the bus in the middle of the journey," she asserts as she invites me to buy a soda from her beverage stand.
Made of brick and crumbling cinder block, San Simon looks like it should be condemned. Three stories of cells tower over the courtyard where the women congregate. Pots clang as inmates idly cook a meal in the makeshift kitchen toward one end of the patio. A plastic tarp is strung up to protect them in case of rain. The sound of scrubbing can be heard from the prison laundry, and women pin up clothes on the lines that crisscross the courtyard. Small stands stocked with crates of Coca-Cola bottles, popcorn, and Barbie dolls are clustered along the prison wall. Owned by inmates, proceeds from sales supply basic necessities and occasional indulgences to the prisoners. The stench of food, soap, and sweat wafts in the air.
Nearly all the prison inmates are cholitas, women from the poor indigenous underclass who wear the traditional costume of long braids, a full skirt, and a bowler or sunhat. Many risked a severe penalty to commit a crime with a large payoff. Some of San Simon's inmates were busted for a night spent stomping coca, the first step in cocaine processing, which pays a lucrative 100 Bolivianos (about $12).
Precursor chemicals for cocaine production, such as ether and lime (calcium oxide), are illegal in Chapare but easy to purchase elsewhere in Bolivia, so people traffic in the contraband substances to earn a small profit. Lime that costs 8 Bolivianos (about $1) in Cochabamba can be sold for 50 Bolivianos (less than $7) on the black market in Chapare. "Why would you risk your liberty for that?" demands Reinicke. "It's a problem of poverty."
Children are also victims of the system. In Bolivia, the young accompany their mothers to prison and spend their childhood behind bars. Maxima Pacu arrived at San Simon with her 5-month-old baby, Fernanda. The little girl, now 3 and half years old, has spent nearly all her life in prison.
The children are free to come and go from the prison. They act as runners for the inmates, replenishing the stock of the prison stores with trips to the Cochabamba market. "We call them 'taxis,' " inmate Rose Marie Almanza explains. She has three children who entered the jail at ages 11, 9, and 6 and have lived the past four years behind bars. "I think of my children," she says, "how they could be living outside."
On the squalid concrete patio, eight children are absorbed in a game of marbles. But they play a version that uses only one real marble; little bits of paper stand in for the missing ones. Enthralled by the game, they play like any children—oblivious to their peculiar situation.
---